Felipe "Preguiça" Pena is one of the most talented Jiu-Jitsu fighters in the world. Having dominated prestigious competitions, such as the ADCC, the IBJJF World championships, the Abu Dhabi Pro championship, Copa Pódio's HW GP, and Brazilian Nationals (Brasileiro), Pena has cemented his prominence in the grappling world.
Hailing from Belo Horizonte, Brazil, Felipe Pena started his Brazilian Jiu-Jitsu journey at the tender age of 14 when he joined Gracie Barra Belo Horizonte's kids' program. He started training because he was influenced by his older brother Augusto Vieira Carsalade. 
As a teenager, Felipe was slow and lazy in training because he was overweight. This was where he got his nickname "Preguiça" from. 
"I think in the beginning I really wasn't cut out for it," Felipe Pena shared with Graciemag. "I didn't much like training when I started out, and I'd mostly just lean against the wall, talking to friends." Even though Pena did not feel like training too hard he eventually found how to deal with bad days in BJJ.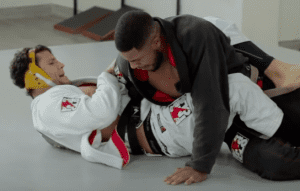 He admitted that he didn't like the sport at first but he loved the environment. He enjoyed being on the mats with friends. Who would expect that this chubby "slow and lazy" kid who used to take every chance he'd get to skip the rolls would grow up to be a well-decorated Jiu-Jitsu monster!
The nickname became his source of motivation to push and train harder. This wasn't easy considering that the Gracie Barra BH Academy training was competition-focused. By persisting, he started to like the sport, and he gradually increased his training time. And then he started competing, started to feel excited by it, and the rest is history.
When Pena earned his blue belt, adult team leaders Sérgio Benini and Marcelo "Uirapuru" took care of his tuition. While training with Sergio and Marcelo, Pena was encouraged to compete.
He represented the Gracie Barra – Belo Horizonte Academy in a number of tournaments the whole year-round. After seeing much success in the sport, Felipe Pena decided to pursue grappling full-time as a profession.
Through grit, hard work, and his natural talent, he succeeded in making a name for himself by defeating his opponents in important competitions in the purple belt and brown belt divisions. 
He would later on broaden his training regimen by traveling to the United States several times to train with Romulo Barral at Gracie Barra Northridge in California. Romulo Barral is a BJJ legend and was named "The Number 1 BJJ fighter in the world" by Gracie Mag in 2007.
Now, Romulo Barral is notorious for his unpassable guards and inescapable sweeps. Barral's world class Spider Guard and X Guard were the sources of his opponents' frustration and the cause of their demise in competitions. Needless to say, Romulo Barral was instrumental in molding Felipe Pena to become the sinister open guard player that he is today. Felipe Pena also specializes in back attacks, garnering the most submission wins by delivering a nasty choke from the back.
By the end of 2012, Pena earned his black belt under GB-BH instructor Vinícius "Draculino" and Marcelo Azevedo. 
Today, Felipe Pena is revered for his well-rounded game and for being highly technical. This notorious choke specialist reigns supreme in both the gi and no-gi circuits, which is quite rare in this sport. He is able to demonstrate explosiveness at times and slow, deliberate executions at other times. 
Felipe Pena Gets Suspended in 2015
Pena's momentum in winning at competitions was put to a halt in 2015 when he was suspended by the International Brazilian Jiu-Jitsu Federation (IBJJF). Pena was suspended for one year following a failed banned substance test conducted during the World Championship. 
As they say, and as should be, his comeback became exponentially stronger than the setback. He returned with a vengeance and dominated the European Open, Marianas Open, Abu Dhabi Pro, UAEJJF Tokyo, Rio de Janeiro Grand Slams, and more. 
He continued competing with so much firepower after his suspension which helped to keep himself busy competing in major tournaments in 2016 and bagged the top spot among BJJ's highest earners that year. 
It was no different in the years that followed. Felipe Pena was hard at work training for back to back competitions against the biggest names in the sport. Although injured, Pena bagged his first IBJJF World title in 2018 and made a repeat in 2019. He also won in other prestigious events that year, such as  Abu Dhabi World Pro and the Marianas Invitational.
In 2019, Pena faced Andre Galvao in one of the most epic battles in the ADCC. During the fight, Galvao aggressively forced a huge takedown which brought Pena down on the commentator's table. Pena's ribs were seen to swell immediately afterward.
The superfight lasted 30 minutes with Galvao winning by getting the two points he needed during the overtime. This secured Galvao's fourth straight ADCC championship win.
The Jiu-Jitsu world came to a stand-still during the pandemic. With the strict restrictions in place, promotions and organizations had to stop competitions while the world battled against pandemic. Jiu-Jitsu didn't stop for Felipe Pena who conducted live online seminars and released his BJJ instructional World Class Back Takes From Bottom.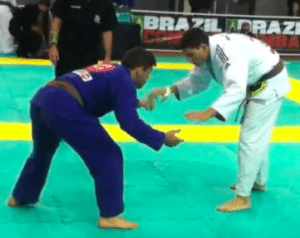 Pena had a strong start this year, crushing it in the biggest pro Jiu-Jitsu event in Brazil, the BJJ Stars Heavyweight Grand Prix. The event saw high profile grapplers, like Leandro Lo, Nicholas Meregali, and Roberto Jimenez. He dominated leglock specialist Luis Panza in the quarterfinals. Pena's Guillotine choke was the only submission win throughout the entire Grand Prix. 
The semi-finals was nothing short of a stylistic match between Pena and Dream Art fighter Erich Munis. It was a tough one but Pena stacked advantage points via near sweeps to secure him a slot in the finals.
Felipe's final match was a tough one with both grapplers scrambling and coming close to scoring. It seemed impossible to pass tactical fighter Gutemberg Pereira's intricate guard. Pena's double-pant grip and bear-trap sweep gave him the 2-point lead against Pereira. Felipe was lauded for solving the seemingly unsolvable Berg puzzle.
In June of this year, Pena also dominated his bout with 2020 European Open champion Patrick Gaudio in the BJJ Stars VI main event with an impressive collar choke submission finish. 
It was unfortunate that Felipe Pena had to withdraw the much-awaited rematch with Nicholas Meregali slated on August 1 of this year. Pena had a pectoralis major (chest) injury. 
His treatment would span over six weeks, and Pena expressed excitement over his comeback after his treatment. The two have met in the quarterfinals of absolute division of the 2018 Worlds. Nicholas Meregali won the round via submission, and the rematch would have been a great comeback for Pena. 
What Lies Ahead for Pena
Apart from delivering deadly chokes from the back, Felipe Pena is also famous for being the first grappler to have ever beaten the otherwise undefeated Gordon Ryan at the time – and twice at that! The first one was through a devastating rear naked choke in the Studio 540 Supermatch on December 17, 2016. They would later meet the following year at ADCC 2017 where Pena, once again, defeated the heel hook specialist.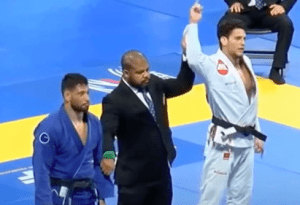 The two are long-standing rivals on and off the mats. Their back and forth social media exchanges keep fans on their toes. Their exchanges are far from civil – something you can expect from Gordon Ryan who has a knack for posting snarky remarks and getting under his opponents' skin. Pena is one of the grapplers who isn't afraid to call Gordon "The King" Ryan out, throwing jabs and counters on social media:
"If you really believe that this fight would be different today prove it, don't be making excuses on the internet like a spoiled little boy. No mimimi, no false arguments, no tangling, no proclaiming yourself king for some fools to believe you!"
He calls Gordon Ryan a liar in an interview and is looking to fight the BJJ topdog again. The Felipe Pena and Gordon Ryan re-match is definitely something raving fans are hoping to see in the future. 
Felipe Pena expressed keen interest in joining the MMA circuit, a pivot that quite a number of the biggest names in Brazilian Jiu-Jitsu, such as Garry Tonon, Mackenzie Dern, Gabi Garcia, Gilbert Burns, Ryan Hall, and legendary BJ Penn, have made over the past years:
"I really want to test myself in MMA. I've been wanting this for some time now and it's something that doesn't go away. I'll definitely migrate someday, at least try, right… But I still don't know when that will happen. I'm training from time to time, fixing things, so when it happens, I'll be in the best shape. However, I still don't have a forecast for that to happen."
While this planned pivot isn't set in stone yet, we can expect more BJJ action from Pena. This year, Pena taught at the recently concluded 7 Day Beach BJJ Camp with Marco Canha, Michelle Nicolini, and FFion Davies as well as Felipe runs a top quality YouTube channel. As the pandemic winds down, we can expect more competitions and seminars from this well-rounded pound-for-pound Jiu-Jitsu champion in the coming years. 
In Conclusion
Felipe Pena has truly shown that when you add focus, discipline and hard work that you can achieve anything. He started off as a chubby overweight BJJ practitioner who through persistence and effort became a true savage on the mats and ultimately winning the biggest BJJ and grappling competitions in the world.
A true example of what BJJ can give to a person's life when they place effort into the BJJ journey, Felipe Pena is an example of a true champion that BJJ helped find their full potential.