Once you've wrestled, everything else in life is easy.
If you want to be a lion, you must train with lions.
My opponent is my teacher, my ego is my enemy.
There is no losing in jiu jitsu. You either win or you learn.
Always assume that your opponent is going to be bigger, stronger and faster than you; so that you learn to rely on technique, timing and leverage rather than brute strength.
Everyday I turned a 'you can't' into a 'you can,'
Fight, overcome difficulties, control your emotions – and you will win. The real drug is to train like a madman, really like a madman. Of course, I am grateful for my strength.
It is not important to be better than someone else, but to be better than yesterday.
Climb the mountain so you can see the world, not so the world can see you.
More enduringly than any other sport, wrestling teaches self-control and pride. Some have wrestled without great skill - none have wrestled without pride.
In order to become a wrestler, one should have the strength of a weight-lifter, the agility of an acrobat, the endurance of a runner and the tactical mind of a chess master.
Anyone can wrestle until they are tired.
I am a shark, the ground is my ocean, and most people can't even swim.
If you think, you are late. If you are late, you use strength. If you use strength, you tire. And if you tire, you die.
I shoot, I score. He shoots, I score.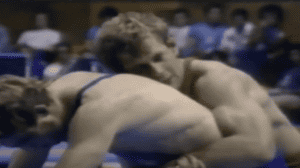 A truly revered icon of Soviet Greco Roman Wrestling, Anatoly Bykov was born on March 10th, 1955 in Russia. Bykov is a true legend of