Gordon "The King" Ryan is undeniably one of the greatest Brazilian Jiu-Jitsu fighters of all time. He is arguably the best no-gi grappler the sport has ever seen, dominating countless no-gi and submission-only matches against the biggest names in the BJJ realm. His mind-numbing profession record of 144–9–3 and his controversial persona earned Gordon Ryan a wide global fan base consisting of both BJJ athletes and non-BJJ practitioners alike.
Fans have mixed reactions because the BJJ superstar was never shy about his opinions on things. Heck, he put his heart on his sleeve many times! He is proud of his accomplishments and he's not scared to call people out. This has put him in hot water many times, but BJJ just isn't the same without The King and his sparkling personality.
Gordon Ryan's Life Growing Up
Was he just another loud, privileged kid? His humble past will surprise you. Long before his fancy Instagram posts and nice cars was a determined kid who had nothing and worked to get everything.
Gordon Ryan was born on July 8, 1995, in Monroe, New Jersey. When he was 7-years old, his parents and grandparents got into a legal debate that ended with Gordon, Nicky, and his parents getting kicked out of the house they shared with their grandparents. What many don't know is that Gordon Ryan and his family had to grow up in an impoverished area. They had no money to their name, so they had to start over. 
He started his Brazilian Jiu-Jitsu journey training with Miguel Benitez when he was only 15 years old. He only trained briefly with the famed MMA fighter.
His parents struggled to make ends meet, so they didn't have enough to pay for his Jiu-Jitsu classes. He had to use his savings to pay for his training. He then worked at a yogurt store when he was 17. 
Gordon Ryan, later on, met Garry "The Lion Killer" Tonon, and they became great friends. Gordon was a four-stripe white belt while Garry Tonon was a fresh brown belt and rising talent. Ryan joined Tonon's class in Brunswick BJJ and worked on his technical abilities and submission-only game.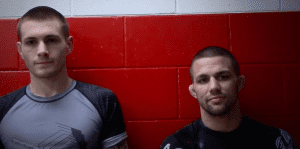 Fully determined to continue training BJJ, he did heavy work at DPW (Department of Public Works) 40 hours a week and trained with Garry at night as well as trained with Tom Deblass who really helped cement Gordon's BJJ fundamentals. Eventually, he was able to afford to travel to the city and train, but Garry would never let him pay for their travel. Eventually, he was able to survive on his own. He was 20, then, and was already able to pay for everything.
In 2015, Gordon shocked BJJ fans when he, a purple belt at that time, fought and won against BJJ black belt Jordan Tabor via submission. This would foreshadow the slew of victories Gordon Ryan would later on have.
The King entertained the idea of going full-time in the sport and went full-on camp. He would travel with Garry Tonon to New York to train under Renzo Gracie Academy's head coach and one of Tonon's mentors, John Danaher. 
This became the game-changer he needed.
Joining the Danaher Death Squad
Among the things that help Danaher's students succeed and win at competitions is the Ashi Garami system of leg locks. Gordon Ryan would soon develop his lethal Ashi Garami game under Danaher and quickly build a name for himself. He, alongside the other DDS members, became among the first to specialize in leg locks, especially the heel hook. Prior to John Danaher's leg lock system, BJJ gyms weren't focusing on leg attacks, giving Gordon Ryan and the team the advantage.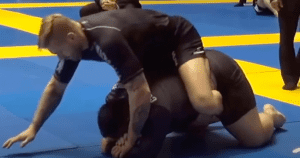 Gordon Ryan is considered the tip of the grappling spear of the Danaher Death Squad, the BJJ competition team coached by the grappling master himself, John Danaher. The DDS is composed of BJJ elite fighters – champions and medalists in top BJJ competitions such as the ADCC – like his brother Nicky Ryan, Garry Tonon, Craig Jones, Oliver Taza, Nick Rodriguez, Ethan Crelinsten, and Eddie Cummings. 
What makes the DDS different?
John Danaher is a well-respected coach not just because of the lethal BJJ systems he's built. His philosophy has created such an enormous impact on the sport. Whereas most competitions are won by points, Danaher teaches his students to hunt submissions in competitions – to enter point-based tourneys with a submission-oriented gameplan. As such, the Danaher Death Squad has swept many competitions by submission victories and became a force to be reckoned with.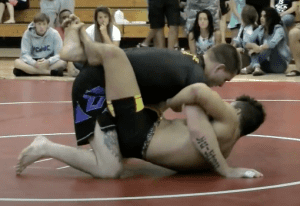 After just six months of outstanding performance as a brown belt, Gordon Ryan was awarded his black belt. He became Garry Tonon's first black belt. The ceremony was celebrated with Tom DeBlass and John Danaher who were both instrumental to Gordon's Jiu-Jitsu growth and success. 
Gordon Ryan earned his black belt in just 5 years – truly a rare feat in Jiu-Jitsu, as most practitioners take up to 10 years to get to the black belt. 
Gordon Ryan's Competition Winning Streak 
How great of an athlete is Gordon Ryan?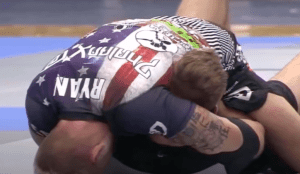 Gordon Ryan hands-down is one the greatest no-gi grapplers and submission artists of all time. Eighty percent of his wins were nailed through submission. He has only been submitted once in his entire adult competition life. If you ask any Jiu-Jitsu practitioner, you're likely going to be told to expect many losses on your way to greatness. It is quite impossible to win almost all of your fights in a tough sport like Brazilian Jiu-Jitsu – unless you're Gordon Ryan. 
This devastating loss happened during his match with long-time rival Felipe Pena in the Studio 540 Supermatch. Felipe Pena escaped Gordon Ryan's heel hook, got Ryan's back, and delivered his winning rear-naked choke.
They met again in the ADCC 2017 absolute finals. Once again, Felipe Pena won against Gordon Ryan, but not via submission. On and off the mats, Gordon Ryan and Felipe Pena continue to call each other out. To date, you can see that the two just can't relax on social media.
Gordon Ryan is highly technical and is a master of misdirection. He is known to have three signature moves that help him deliver a strong podium finish: 
Shoulder Crunch Sweep from Butterfly Guard

Rear Naked Choke with one or two arms
One of Gordon Ryan's biggest feats is becoming a three-time ADCC World champion. Now, this is a big deal because the ADCC is the biggest and most prestigious no-gi competition in the entire world where the who's-who in the sport gather to compete.
He made such a big splash on his first foray into the ADCC. His first ADCC win was in 2017, after defeating BJJ legends Keenan Cornelius, Romulo Barral, Xande Ribeiro, and Dillon Danis in the -88kg division. He also earned a silver medal in the absolute division. These make his ADCC debut nothing short of remarkable. He returned to the ADCC in 2019 and became the ADCC 2019 World Champion in the -99kg division. Furthermore, he returned to cement his domination in the absolute division when he submitted event top dog Marcus "Buchecha" Almeida on his way to an Absolute gold finish.
Will he come back to fight in the ADCC 2022 championship against BJJ beast Andre Galvao? The fans sure hope so and are completely hyped about the possibility. This is supposed to be among the most heated and most anticipated matches in the entire history of the ADCC. 
The Eddie Bravo Invitational is another stage that Gordon Ryan dominated throughout his career. The EBI has a no-gi submission-only BJJ format, and Gordon Ryan, fresh from getting his black belt, joined Garry Tonon, a 2-time EBI champion, and competed in the EBI's 6th installment. 
The EBI is a wildly popular competition because of its unique ruleset.  In the first, ten-minute regulation period, there are no points, penalties, or advantages. Fighters can only win via submission in that period.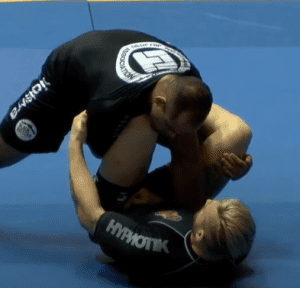 If neither competitor nails a successful submission during that regulation period, the competitors move on to three overtime periods. The grapplers take turns starting in either the back position or in the spiderweb. The fighter with either the fastest escape time or fastest submission wins.
Gordon Ryan crushes it at EBI 6. He would later return to once again dominate the middleweight division and win the title at EBI 8 and keep his absolute title at EBI 14 where he had to fight against one of the greatest grapplers, Craig Jones.
He has won back to back in a multitude of other events, but the ADCC and the EBI became among the strongest platforms that catapulted him to BJJ fame and glory. He undoubtedly became the biggest draw for promoters. Gordon Ryan paved the way for other elite grapplers to make more money through promotions.
Gordon Ryan challenges the "pay-to-compete" model, impacting the future of competitive grappling enormously. 
DDS Breaks Up
The Danaher Death Squad delivered an announcement that rocked and saddened the BJJ community. They were going to split up. 
They dropped the bomb in the middle of 2021. John Danaher shared the reason behind the split being: 
"A combination of factors revolving around disagreements in regards to the physical location of a future school, personality conflicts, conflicting values and an inevitable tension between the team brand and the growing individual brands of members were the main factors."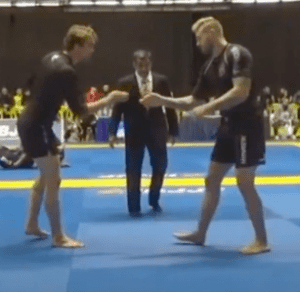 Fans were left confused and conflicted because the famous and tight-knit BJJ competition team was split right smack in the middle. Gordon Ryan, Oliver Taza, and Garry Tonon are joining John Danaher starting New Wave Jiu-Jitsu and opening their own gym, while, Nicky Ryan, Craig Jones, Ethan Crelinsten, and Nicky Rodriguez are starting B-Team Jiu-Jitsu. 
Other than John Danaher's post on the breakup of the competition team he first built and coached, New Wave Jiu-Jitsu didn't say much about the reason behind the split. Nicky Rodriguez, however, openly shared his two cents on the Jason Chambers podcast:
"There was some issues within the team. Certain people had certain issues with, really, one person… You got to cut the poison out. Whatever is hurting the team or hurting the majority of the people you have to eliminate that and focus on competition. At B-Team, we're focused on getting better, and that's all we're focused on… We're doing our best to keep out distractions and all the negativity. That's our reason for doing our own thing."
His remark left many to speculate. It will be interesting to see them competing against each other in future events, although, based on remarks made, it appears there was no love lost between the former DDS team members. Nicky Rodriguez and Gordon Ryan are likely to meet in the heavyweight division.
The Death of Big Gord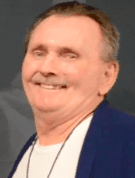 In December 2020, Gordon Ryan shared the sad news of his father's passing. Gordon "Big Gord" Ryan Sr. was ever so supportive of his sons' career and truly showed the world what a good Father is as everyone could see Big Gord's eyes shine with happiness every time he was with his sons Nicky and Gordon.. When the DDS members moved to Puerto Rico, he joined them. The cause of his death remains unknown to the public.
Earlier that year, Gordon Ryan surprised his father with a Cadillac CtS V, which he bought from his Jiu-Jitsu prize money. Big Gord was a car guy, and this was something Gordon Ryan wanted to do since he was young. Gordon mused that one of his best memories was the time spent in his dad's white Corvette, en-route to the beach, listening to old rock and roll. It is evident from Gordon's posts that he and his dad were pretty tight.
Gordon Ryan's Health Condition
In May 2021, Gordon Ryan announced that he's taking a leave of absence from competitions:
"It saddens me to make this post. My stomach isn't cooperating with me anymore," Ryan began. "Most of you by now know it's been an uphill battle for 3 years ever since the staph antibiotics messed up my stomach. Effective immediately, I will be taking a leave of absence from competition. My stomach is at a point now where I can't train properly. It was always an issue, but it's been progressively getting worse as time goes on.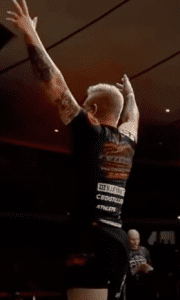 "In training, I'm essentially useless because I'm always so nauseous," he continued. "While I have been showing up on competition day, I don't believe it's professional for me to have camps like I have been and showing up to compete," he continued. "The future for myself as an athlete is uncertain, but the future as a coach is definite. I was supposed to compete once a month until October, I've pulled out of all of them and don't plan on making a return until my stomach is 100% better, if it ever is."
He later added:
"Once we can rebalance the microbiome in my stomach and replenish the bacteria needed to fight the yeast infection, I should be good to go. Fingers crossed we get it in order, which we should."
It's hard to imagine no-gi BJJ without Gordon Ryan. On October 20, 2021, he made his comeback and competed against UFC welterweight Philip Rowe. It was a 15-minute exhibition match at Who's Number One. 
What Lies Ahead for Gordon Ryan
Before he got sick, Gordon Ryan had signed with ONE Championship and was slated to fight Shinya Aoki. There are also talks of him going head-to-head with Andre Galvao in ADCC 2022, as well.
Gordon has been busy teaching seminars. He taught at a seminar in Brooklyn in February; he also taught in the seminar hosted by FloGrappling in April. He also recently concluded another one with Tom DeBlass last September 24, 2021 which was regarded as one of the best BJJ seminars in the world.
This year, he also released "Systematically Attacking From Half Guard, Part 1," the newest addition to his wildly successful series of instructionals. This BJJ instructional series focuses on Gordon's half-guard game and focuses on leg lock entries, sweeps, and back takes. Furthermore, he also covers the half-butterfly guard, knee shields, deep half, and scorpions. These are techniques he has mastered throughout his no-gi grappling career.
Even while on hiatus, The King has kept himself busy sharing his expertise with BJJ fans through seminars and through his instructionals. 
On September 11, 2021, ADCC posted something that hints at the Gordon Ryan vs Andre Galvao ADCC 2022 match happening: 
"Galvao won his 4th consecutive ADCC superfight against Felipe Pena. ADCC 2022 will have the greatest ADCC competitor, Andre Galvao face off against 3X ADCC champion and current double gold champion, Gordon Ryan."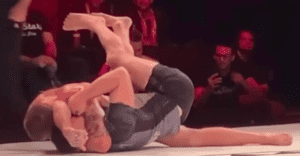 While Ryan had already signed a huge deal with ONE Championship, he stated that his main focus, for now, is the ADCC 2022. However, should he decide to make the MMA pivot, he will be competing under the ONE Championship promotion.
He is also eyeing the IBJJF World Championship gold, solidifying his dominance in both the gi and no-gi circuits of the sport. 
Final Thoughts
Love him or hate him, this blunt and relentless fighter is undoubtedly one of the greatest fighters we will ever see. He has reigned supreme even as BJJ evolved and churned powerful opponents. We definitely hope to see more action, BJJ instructional videos, and social media jabs from the highest-paid professional grappler in the world, Gordon "The King" Ryan.