The world of Arm wrestling has produced many superstars. Whether you talk about Cleve Dean, who dominated the sport around the 80s, Guinness record holder John Brzenk or seven-time WAF champion Levan Saginashvil, the list of Arm wrestling legends is never-ending.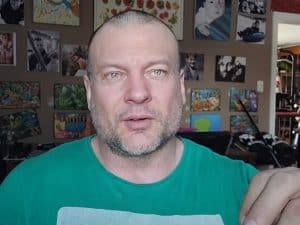 One such legend that has dominated the sport for decades is Devon Larratt. The 6.5-foot Canadian giant is a master of technique, power, and speed often showing multidimensional abilities to defeat opponents. Larratt has won many championships in his career, and today, we will learn more about this master arm wrestling technician.
So how was the early life of Devon Larratt? How did Larratt begin his career in Armwrestling? What are the titles and accolades Larratt won in his career?
If you are a Devon Larratt fan and want to know more about his early life, career, and achievements, this article is for you. This post will walk you through the details about Devon Larratt and why he is a role model for many aspiring arm wrestlers.
Devon Larratt's Personal and Physical Details
| | |
| --- | --- |
| Name | Devon Larratt |
| Nickname | No Limits |
| Date of Birth | 24 April 1975 |
| Born | Victoria, British Columbia |
| Country | Canada |
| Sport | Armwrestling |
| Height | 6.5 feet/195.58 cm |
| Weight  | 102.15 kg/225 LBS |
| Forearm | 38 cm |
| Biceps | 43.5 cm |
| Elbow to Fingertips (EFT) | 21.1 inches/53.6 cm |
| Favorite Technique | Top roll and defensive hook |
Devon Larratt – Early history
Devon Larratt spent his childhood in Victoria, British Columbia, Canada, and has been interested in arm wrestling since he was a teenager. His grandmother was his first opponent, claiming to be "Alberta's best arm-wrestling woman". This incident sparked his interest in Armwrestling, paving his way to becoming Canada's top arm wrestler.
He molded his 6.5-foot physique while working on his farm and later honed his Armwrestling skills at Alberta's oil fields. He competed against other workers at the oil fields, which helped him understand that strength and size are not enough to guarantee success for the sport.
He joined the Canadian military at the age of 21 and served in the Elite Joint Task Force 2 for 16 years. Joint Task Force 2 is one of the most elite military units in the world, a true tier 1 special operations unit and well known amongst the international special operations community.
During his time with the Canadian Special Forces, Larratt continued to compete in Armwrestling and honed his skills while serving the military. His military career also includes seven Afghanistan tours, and he got injured in one of his deployments.
Larratt credits his Armwrestling success to his military commitments as they helped him gain physical strength, endurance, and technique. Larratt also competed in other sports, including Judo, long distance running and basketball, all which helped him gain stamina and strength.
Larratt holds a black belt in Judo and at one time prior to going full out in the military, he considered becoming a professional MMA fighter. After thinking of the long term benefits of competing in MMA vs being a professional special forces soldier, Devon decided to stay in the army, having served a truly respectable and honourable career in the Canadian Armed Forces.
Devon Larratt's Arm Wrestling Career
Larratt competed in various arm wrestling tournaments in Canada and represented his country at several international events. He got his first breakthrough when he made his first tournament appearance at 18. Although the competition didn't provide positive results for the Canadian legend, Larratt learned his lessons after competing with professional arm wrestlers.
Larratt continued to compete in various tournaments throughout Canada, defeating various heavyweights of his country. He made his international debut at 24 and represented his country at world events in Japan.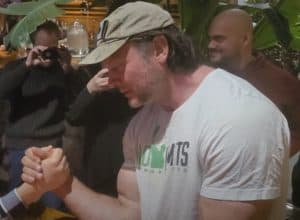 The tournament bore fruitful results for the Canadian as he defeated Krister Jonsson. However, Larratt lost to Guinness record holder John Brzenk and ended in the third position in the 100 kg competition.
Larratt gained a lot of exposure during his first international competition, helping him build his reputation. He continued his training during deployments and competed in various tournaments after returning from military commitments.
Larratt dominated the Ontario Championships between 2003 and 2004 and defeated various arm wrestlers, including Mike Gould and Robert Graham. However, John Brzenk repeated history by defeating Larratt in a super match in 2004 in Washington. 
The defeat against Brzenk encouraged Larratt to train harder, helping him defeat Ron Bath in 2006. Larratt considers this victory special because it helped him celebrate everyday life, especially after getting shot during a deployment in Afghanistan. 
Devon Laratt's Success at ArmWars
Larratt began his ArmWars journey with a win against Ron Bath in 2007, and he replicated his 2006 performance against Bath only to do it better. Fans at the Trafford center erupted with cheers as Larratt won a 6-0 clean sweep. 
Despite defeating several Arm Wrestling heavyweights, Larratt couldn't find a way to beat John Brzenk. However, his luck changed in 2008 as he became the first man to defeat Brzenk in 25 years. The win propelled Larratt's Arm Wrestling career to new heights, and many considered him the number one arm wrestler worldwide.
Two years later, Larratt officially became the number one arm wrestler after defeating Don Underwood (4-3), Travis Bagent (5-2), and Tim Besnan (5-1). Larratt continued his dominance in 2011 and successfully defended his right-hand title. However, he lost his left-hand title at UAL Backyard Brawl to Travis Bagent.
World Armwrestling League
After gathering success at various MLA and UAL tournaments, Larratt joined Steve Kaplan's World Armwrestling League (WAL). The new league took inspiration from the US military bases in Afghanistan, where Armwrestling was famous, and Kaplan integrated this idea into a league and started WAL in 2014. 
Larratt joined the league and defeated Marcio Barboza, securing the left-hand title. However, Barboza got the better of Larratt in the right-hand match by 3-0. The total prize money for the inaugural WAL championships was $150,000 (US), spread across various weight classes.
Larratt retained his left-hand heavyweight title in 2015 after Barboza withdrew from the championship due to an injury. However, arch-rival John Brzenk halted Larratt's winning run by defeating him. Although Larratt won the first set in the right-handed match, Brzenk dominated the next rounds with his superior hand control.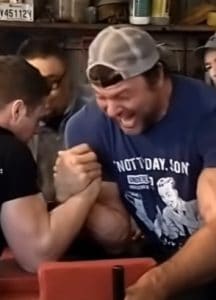 Despite undergoing left-elbow surgery, Larratt had a successful run in 2016. He defeated top contenders, including Ron Bath, Matt Mask, and Marcio Barboza and defended his titles. He continued his dominance in 2017, defeating Matt Mask and defending his left and right-hand legacy hammers against challengers Zhao Zi Rui (China) and Budelewski. 
The year 2018 saw Larratt fighting many super matches against tough contenders. He won against Jerry Cadorette at WAL 402 and later defeated Matt Mask at WAL 405. However, his winning streak ended when he lost to Michael Todd in the right-handed championship at WAL 406.
Ukrainian arm wrestler Denis Cyplenkov also defeated Larratt at ArmFight 50 by 6-0. The match forced Larratt to rethink his Armwrestling techniques and strength training and cost him his left-handed legacy hammer. Likewise, Michael Todd received the right-handed legacy hammer after defeating Larratt at WAL 406.
Despite having a dismal second half in 2018, Larratt bounced back in 2019 and defeated various tough contenders. He started the year by defeating Todd Hutchings at WAL 501, followed by a WAL 504 win against Dave Chaffee. Larratt showcased his impressive Armwrestling skills and continued his winning run by defeating Wagner Bortolato (Brazilian champion) and Ryan Scott (Australian champion).
Laratt in KOTT – King of the Table
The 2021 King of the Table match buzzed the internet by storm. It became the most anticipated match in Armwrestling's history as Larratt and Todd took center stage. Although Todd had defeated Larratt in their previous encounter, Larratt wanted to get his legacy hammer back.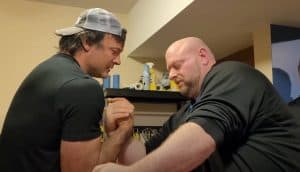 Devon took the match seriously and came in the biggest he's ever been, looking like a true beast. Larratt was training heavily and eating a lot of pancakes with Canadian maple syrup to get ready for the match.
Larratt took control of the match and avenged his previous defeat with a clean sweep of 6-0. Larratt's performance and dominance surprised many arm wrestlers, and even Todd considered Larratt the most formidable opponent he had faced. 
Larratt continued to dominate the KOTT platform as he defeated John Brzenk later in 2021. It was an exciting fight, and Larratt controlled the match with his impressive wrist and hand control. 
Devon Larratt – Titles and Match Results
Devon Larratt has been a brutal force in many Armwrestling competitions and has various titles and wins. Below is the list of titles won by Devon Larratt.
World Armwrestling Titles
Year
Title
Position
Hand

2014

WAL Championships

1

st

Place

Left Hand – Heavyweight

2015

WAL Championships

1

st

Place

Left Hand – Heavyweight

2015

WAL Southern Regionals

1

st

Place

Left Hand – Heavyweight

2016

WAL Championships

1

st

Place

Right Hand – Heavyweight

2016

WAL Northern Regionals

1

st

Place

Right Hand Heavyweight

2017

WAL Championships

1

st

Place

Right Hand Heavyweight

2017

WAL Championships

1

st

Place

Left Hand Heavyweight
Ontario Championships
| | | | |
| --- | --- | --- | --- |
| Year | Opponent | Hand | Result |
| 2003 | Rob Graham | Right Hand | Won (3-0) |
| 2003 | Mike Gould | Left Hand | Won (3-0) |
| 2004 | George Gottschalk | Left Hand | Won (3-0) |
| 2004 | Greg Boyes | Right Hand | Won (3-0) |
| 2004 | Mike Bowling | Right Hand | Won (3-0) |
Super Stars
| | | | |
| --- | --- | --- | --- |
| Year | Opponent | Hand | Result |
| 2004 | Marcio Barboza | Right Hand | Won (2-0) |
| 2004 | Jacob Abbott | Right Hand | Won (2-0) |
ArmWars
| | | | |
| --- | --- | --- | --- |
| Year | Opponent | Hand  | Result  |
| 2007 | Ron Bath | Right Hand | Won (6-0) |
| 2008 | John Brzenk | Right Hand | Won (6-0) |
| 2008 | Marcio Barboza | Left Hand | Won (5-1) |
| 2008 | Travis Bagent | Right Hand | Won (5-1) |
| 2010 | Travis Bagent | Left Hand | Won (4-3) |
| 2010 | Tim Bresnan | Right Hand | Won (5-1) |
| 2010 | Don Underwood | Right Hand | Won (4-3) |
| 2010 | Richard Lupkes | Right Hand | Won (6-0) |
| 2011 | Don Underwood | Right Hand | Won (4-3) |
Mike Classic
| | | | |
| --- | --- | --- | --- |
| Year | Opponent | Hand | Result |
| 2005 | Sylvain Perron | Left Hand | Won (3-0) |
| 2005 | Simon Perron | Right Hand | Won (3-0) |
| 2006 | Ron Bath | Right Hand | Won (3-1) |
| 2009 | Sylvain Perron | Left Hand | Won (3-0) |
| 2009 | Mike Gould  | Right Hand | Won (3-0) |
Besides performing well at WAL and ArmWars tournaments, Larratt has won AAW Federation, Arm Fight 50, Buffalo Fitness Expo, and World events. He also became the first man to defeat world number one arm wrestler John Brzenk (6-0) in 25 years.
Hafthor 'The Mountain' Bjornsson vs. Devon 'No Limits' Larratt
The exhibition boxing match between Bjornsson and Larratt was an exciting event as Larratt accepted the fight with just 5 weeks of formal training due to the fact that Thor's previous opponent, Eddie Hall, was injured and could no longer compete. Larratt didn't stand a chance against the 6.9-foot giant, but fans loved him for accepting the challenge.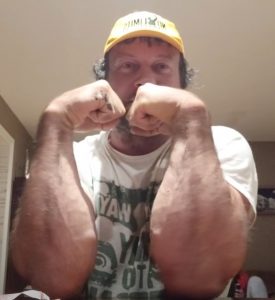 Larratt showed the world how brave and humble he was in accepting the fight, Devon trained with one of the best MMA trainers in the world, Firas Zahabi at the Tristar Gym in Montreal, Quebec, Canada. Devon trained day and night, changed his diet and went to each training session as a perfect student and with only 5 weeks to prepare, improved his cardio and boxing tremendously.
One thing that must be noted about Devon Larratt is the fact he cannot fully extend his arms due to years of arm wrestling training. Although he has a long reach, his arms extend 70% at max to what a normal person's arms can extend. This is a huge disadvantage in boxing as it makes it much harder to hit the opponent at distances.
The Dubai arena saw fans cheering for both boxers, and as the match started, the crowd buzzed with excitement. Bjornsson was aggressive from the beginning and started attacking a defensive Larratt with his mighty left hand. 
Despite getting shots from different angles, Larratt landed a right hook on Bjornsson. However, it didn't bother Bjornsson, as he left Larratt defenseless with his reach and superior footwork. Bjornsson's left hook was enough to stun Larratt, and the referee had to stop the fight.
Bjornsson won the fight with TKO in the first round but showed his respect and classiness towards Larratt and congratulated him for accepting this challenge on short notice. Bjornsson's coach also appreciated the courage and willpower of Larratt and wished him all the best for his future.
What's Devon Larratt's Favorite Arm Wrestling Technique?
Devon Larratt is a versatile arm wrestler and uses various Arm wrestling techniques to defeat his opponents. He can adapt to the current situation and adjust his grip and Arm Wrestling skills.
Larratt's table IQ is one of the best in the business, allowing him to execute moves depending on the current situation. He employs various moves during a match, including press, kings move, top roll, and hook. He truly is an intelligent arm wrestler, speaking of arm wrestling as a grappling martial art in which Grapplezilla absolutely agrees with him.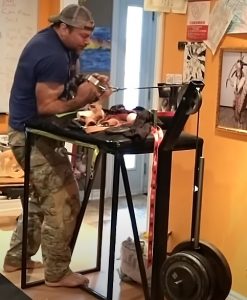 So which is the favourite technique of Larratt? Besides employing other Arm wrestling moves in a match, Larratt uses the top roll technique to good effect. He won several matches using this technique. Larratt's incredible endurance also plays a crucial part as he can hold his position longer than his opponents.
His superior technical skills and high endurance levels help him drain his opponent's strength without overpowering. This arm wrestling tactic ensures that he retains all the power to crush his opponent when going for the kill.
Devon Larratt's Specialized Arm Wrestling Training
A true master of the sport, Devon has tried literally everything to increase his strength for arm wrestling. After years and years of testing theories and principles of arm wrestling, Devon has come up with an extremely specialised method of strength training for arm wrestling.
Devon is an advocate of building up the body in a slow and sure manner, focusing a lot on building hand, wrist, thumb, finger, forearm, bicep and tendon strength with highly precise and small lifting movements. Like a sniper hitting a mark at 2 km, ever so exact and precise, the same goes with his physical training. He uses many types of hand grips which he attaches to an arm wrestling training pulley system as well as martial art belts to wrap in an unorthodox manner around the hand and thumb.
Devon is an advocate of training at a safe pace but focusing on consistency. He trains between 3 to 5 times a day in his house in Ottawa. Generally training sessions are 5 exercises of 5 sets each with extreme focus on technique and exact movement.
Over everything, Larratt advocates getting as much table time as possible. This means arm wrestling with your local club or friends and working on arm wrestling from different angles and positions to build up the stamina, strength and technique needed to be a formidable opponent in arm wrestling.
Devon Larratt vs Levan Saginashvili
After winning KOTT 1 and 2 against Michael Todd and John Brzenk, Larratt faced Georgian Arm Wrestler Levan Saginashvili in KOTT 4. The event occurred on June 25th 2022 in Dubai, with fans witnessing the epic battle between Larratt and the world's number one arm wrestler.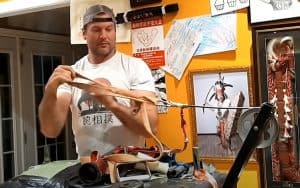 Levan Saginashvili is an explosive puller, so Larratt needed to rely on his experience and technical skills to try to stop the brute and raw strength of Saginashvili.
The match between Larratt and Saginashvili was the biggest match in Arm Wrestling, both athletes being at the top echelons of the sport as well as amazing ambassadors for the sport of arm wrestling.
Levan Saginashvili would go on to defeat Devon Larratt 6-0. Devon, although getting a small injury early, would give it is all but ultimately Levan showed why he was what Devon considered the pinnacle of his arm wrestling career. Devon being the class act he is, took the loss like a champion and handed Levan the Legacy Hammer.
Final Thoughts
Devon Larratt is a living Arm wrestling legend and continues to dominate the sport. Although injuries halted his career at different junctures, his determination to overcome and defeat injuries and opponents is outstanding. 
He is a true warrior who is not even afraid to fight in unknown territories. Although age may not be on his side, Larratt will continue to help grow the sport of Arm Wrestling, motivate young arm wrestlers, entertain his fans and defeat opponents with superior technical skills and experience. Devon Larratt is a true Grapplezilla.