If arm wrestling is the sport that excites you, you would probably know why people consider Cleve Dean as an arm-wrestling legend. His physical prowess was unquestionable, as he racked up over 90 world arm wrestling titles under his name.
Despite this legend passing away in 2011 from a heart attack, arm wrestling experts still believe he was the best that arm wrestling has seen and would have been the reigning champion if he was alive.
So how was Cleve Dean's early life? Which are the titles that Cleve Dean won? Which was the most challenging match of Dean's career?
If you are keen to know more about Cleve Dean's early life, career, and achievements, you have landed on the right page. This article will give you a brief insight into Dean's early days and how he became a world-class legend.
So without further ado, let's get started.
Cleve Dean's Personal and Physical Details
| | |
| --- | --- |
| Name | Cleve Dean |
| Nickname | Arm Breaker |
| Residence | Pavo, Georgia |
| Country | USA |
| Date of birth | 15 December 1953 |
| Died | 10 May, 2011 (58 years) |
| Fight style | Top roll |
| Forearms | 56cm/22in |
| Biceps | 61cm/24in |
| Weight | 385lbs/175kg |
| Height | 6'6 ft/198cm |
Cleve Dean – Early History
Cleve Dean grew up in Pavo, Georgia, spending most of his time harvesting tobacco and cotton and raising hogs. These engagements helped him gain sheer physical strength and helped him win many accolades throughout his career.
Although Dean had a colossal physique, he had a pleasing personality and loved travelling to different places and meeting new people. He had a passion for exploring new places, and as he progressed more in his arm-wrestling career, Dean travelled to different parts of the United States and other countries, including Japan, Sweden, and Italy.
Career
Dean was different from other arm wrestlers. He had developed immense strength, stamina, and determination while working at his father's hog farm. In short, he developed his farmer strength through manual labor rather than spending hours in the gym.
While Cleve was unique with his training, many reports suggest that he had the strength to pick up the rear end of a 7-ton John Deere or full-grown hog without breaking a sweat. In an interview with the People Magazine, Dean explained that he developed his skill and strength working on his father's hog farm.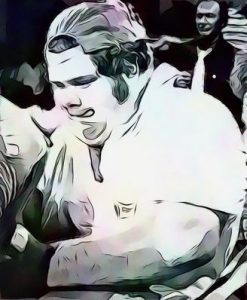 Dean competed in local events in the early days of his career but soon shot to fame in 1977. Although he lost in the final match in December 1977, the arm wrestling community had witnessed the birth of a legend. 
His determination paid off, and he went on to win the heavyweight title in October 1978 at the World's Wristwrestling Championship. Dean wanted more despite winning the title as many top competitors were missing from the event.
In 1978, Dean contacted Tony Celeste (owner of the Arm Wrestling International (AWI) to set up a fight against the best arm wrestler. Since Virgil Arciero was the top contender, Tony managed to put him on board for the event.
The event got finalized, and 15 November 1978 was the date that changed the life of Cleve Dean. It took two rounds and a half-hour break in between for Cleve Dean to bag the unofficial "best arm wrestler in the world" title. He overpowered a professional arm wrestler in both the rounds and earned $2,500 with the win.
It was the biggest stage Dean had played, and as he celebrated his win with his supporters, the crowd erupted with cheers, marking the beginning of a new era. However, Arciero managed to defeat Dean in 1980 at the Chicago events. 
Dean competed in various events after that and racked over 90 titles worldwide.
Cleve Dean – Titles and Accolades
As we mentioned earlier, Cleve Dean won more than 90 titles in various competitions worldwide. Here are some of his significant wins in various events.
Supermatch Titles
Special event during a Boxing competition in Las Vegas (1978)
Opponent: Virgil Arciero
Hand: Right
Result: Win (2:0)
DaVinci Eastern States Open A.W. Championships (1980)
Opponent: Dan Mason
Hand: Left
Result: Win (2:0)
Tournament Titles
AAA Sit-Down National Titles (1979 & 1980)

AAA Stand-Up National Titles (1980, 1981, 1984, 1985, 1986, 1994, 2001, and 2005)

AWI World Title (1983 – Pro Heavyweight)

IWC International/World Titles (1981)

WAF World Titles (1994, 2001, and 2005)

World Wristwrestling Championship (Petaluma) Titles (1978, 1979, 1980, 1983, 1984, and 1985)

WPAA World Titles (1981, 1982, and 1983)

Yukon Jack World Title (1994)
Apart from competing in various tournaments, Dean also appeared in various Hollywood movies, including Slyvester Stallone's "Over the Top" in 1987. 
According to Cleve Dean, the movie had a scene where he had to arm-wrestle Stallone's character as the final contender. However, the makers dissolved the idea as Dean's colossal palms would have engulfed Stallone's hand. So Ox Baker replaced Cleve Dean in the scene. 
Besides appearing in movies, Dean has judged many competitions, including the Strongest Man competition and has appeared in various promotional events for celebrities and sports personnel. 
Which was The Most Challenging Match of Cleve Dean's Career?
According to the legend, he has competed in various tough matches throughout his career. However, he considers the match with Steve Woodall as his most challenging game as both wrestlers struggled to secure a win.
The match lasted for 30 minutes, and two of the best arm wrestlers were bleeding while trying to get a better grip on each other's hands. Although Dean lost that day, he never lost to Woodall after that. But he believes that it was one of the best moments for his career, which paved his way to train harder. 
What is "Dean Team"?
Dean Team is an initiative of Cleve Dean's daughter Ruth Dean to form a family-based arm-wrestling group. This unit consists of siblings, nephews, daughters, and nieces who dream to continue the quest of Cleve Dean to dominate the sport of arm wrestling. 
Final Thoughts
Although Dean has left for his heavenly abode, his legacy as the best arm wrestler in the world still lives. His achievements over the years are unforgettable, and it would be challenging for anyone to fill his shoes. While we can expect Dean Team to fulfill his quest, the legend will inspire aspiring arm wrestlers to follow his steps.