The sport of arm wrestling is highly technical and an extreme power sport not for the faint-hearted. In order to be a champion in arm wrestling, especially the heavyweight division, one needs to be a completely different type of animal.
Heavyweight arm wrestling is one of the hardest power sports in existence and since 2017 there has been one name synonymous with ruling the division – Levan Saginashvili.
Levan Saginashvili, simply known as the Georgian Hulk is a physical specimen towering at a height of 193cm and weighing a hefty 170kg of Georgian muscle. The Georgian Hulk has blown through the competition and is the undisputed champion of Arm Wrestling.
Who is Levan Saginashvili
Born on September 15th, 1988 in Tbilisi, Georgia, Levan Saginshvili grew up as many young boys in Georgia, loving sports (especially soccer), watching cartoons and not liking going to school, although Levan was not fond of school, he did like learning geography. A notable fact of a young Levan is the fact that he learned how to speak Russian by watching cartoons and even surprised his teacher with his good level and understanding of the Russian language as Levan's mother tongue was Georgian.
Levan started playing soccer as a kid, eventually joining a local club and showing promise with his soccer skills.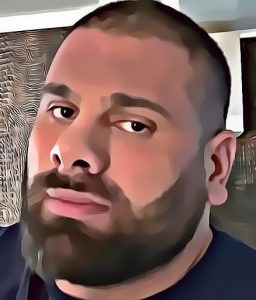 How Did Levan Saginashvili Start Arm Wrestling
While he was a young teen, Levan got into Arm Wrestling by accident when he walked into an arm wrestling gym and the coach at the gym asked Levan to try the sport out, Levan fell in love immediately with Arm Wrestling although at the time he did not go full force into training in the sport.
Levan's passion for Arm Wrestling would grow more and more as he would watch YouTube videos of arm wrestling and his arm wrestling idol, the great John Brzenk.
Later when Levan was an older teenager he joined a fitness gym in order to get stronger, he noticed an arm wrestling table at the gym and decided to give it a try. Levan was lucky that at the same time, a famous Georgian arm wrestling mentor named Lado Khutsishvili, who was well known for his arm wrestling training routines was there. Khutsishvili noticed that Levan had the perfect proportions for arm wrestling, specifically Levan's hand and wrist size (which are enormous).
Meeting Lado Khutsishvili had a huge impact on Levan as Lado let Levan know that Arm Wrestling at higher levels is not just a hobby but can be a career. So, at the age of 20, a year later, he started studying and training in Arm Wrestling. 
It must be mentioned that although Levan was a good soccer player and even considered trying to play soccer professionally but never went forward with it as he was very concerned about getting injured playing professionally, so the decision was made and Saginashvili went with Arm Wrestling.
Levan Saginashvili's Arm Wrestling Career
From the start of his career, Levan Saginashvili has been a force to reckon with and never looked back. His first real showing against top tier arm wrestling talent was in 2013 against Andrey Pushkar in the left hand category at the Georgian National Arm Wrestling Championship where Levan placed 2nd place in the left arm category and 3rd place in right arm category in the 100kg+ Seniors Male division. Saginashvili would compete with his long time Georgian rival and now friend Gennady Kivikvinia in the right hand division during that tournament.
Levan has an incredible record, having dominated in both the left arm category and right arm category since 2017. Levan has literally won every major competition and is considered the top heavyweight arm wrestler in the world.
Saginashvili has won the World Arm-Wrestling Championships (WAF) 7 times, won the European Arm Wrestling Championship 6 times, won the World Cup in 2017, won the top 8 in 2019 in Rum, Poland as well as many other supermatches.
It must be noted that Levan received the merit of first degree by the Georgian Ministry of Internal Affairs in 2013 after winning the gold medal at the World Police and Fire Games in Belfast, Northern Ireland, UK.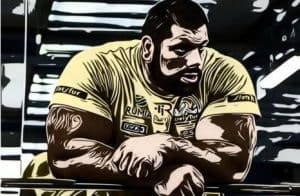 Levan Saginashvili's Hardcore Training Routine
Saginashvili has a very specific training routine with weights, especially specific arm wrestling based exercises. Levan uses extremely heavy dumbbells and weights in order to keep fit for competition as well as he uses many different angles in order to maximise the effectiveness of each exercise.
He also is a heavy advocate of putting in a lot of table time practicing arm wrestling itself with his training partners. During his arm wrestling sessions, Levan uses a multitude of different angles with emphasis on both building strength and increasing technical armwrestling proficiency. Levan is a monster of a man with 60cm Biceps and 50cm Forearms which enable him to lift unimaginable weights.
Levan shares many of his workouts on his YouTube channel and is always surprising the arm wrestling community with his insane feats of strength including a 134kg bicep curl and 84kg bicep curls for 10 reps one arm.
Levan Saginashvili vs Devon Larratt
The biggest match in arm wrestling, Levan would face Devon Larratt on June 25th in Dubai at KOTT 4 (King of the Table 4).
Levan would go on to defeat the arm wrestling legend Devon Larratt and show why is is considered the best arm wrestler in the world.
Winning 6-0 against the Canadian in dominant fashion, Levan would once again find success at the arm wrestling table. Devon took the loo like a true champ and handed Levan the Legacy Hammer, which Levan surely will hold onto for a long time.
What's Next for Levan Saginashvili
Levan Saginashvili will also guest star in the Netflix movie "Extraction 2" with Chris Hemsworth, which is a huge honour for the Georgian Arm Wrestling star. They started shooting Extraction 2 in 2022 and expect Levan to make a great impact in the movie with his Hulkish size and looks.
Running a few successful social media accounts, Saginashvili will continue to grow his popular YouTube channel as well as Instagram account. Levan has very entertaining arm wrestling content and is always adding great new content for his fans to see.
In Conclusion
A true Georgian Hulk, Levan Saginashvili is sure to continue beating the best of the best in arm wrestling for years to come. Fans around the world are always looking forward to watching Saginashvili smash the competition whenever he competes. 
Athletes like Levan Saginashvili come once a generation and it is a true pleasure to watch his dominance in the past and to watch him win in the years to come.