Peter Paltchik is one of the best global judokas under the -100 KG category. He is also a European champion.
Born in Yalta, a coastal city in the Crimean Peninsula, on the 4th of January, 1992, he was born with issues in his bones and several other health problems. His birth was a very tedious one, and his mother endured long hours of pain while giving birth to him, and she went through labour for more than two days.
Start of a New Journey
Peter and his mother migrated to Israel when he was only 9 months old, followed by his grandparents two years later. His grandfather introduced him to judo when he was very young. His grandfather took him to a Judo training center since the doctor advised that he should get involved in sports, even combat sports, to develop his weak bones. At 4 years of age, Peter stepped on the mats of a Judo club called Samurai Club run by Pavel Musin in Rishon Lezion, unbeknown to the fact he would become one of the best Judokas in the years to come.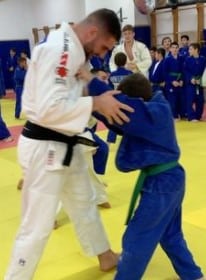 That is when Peter fell in love with this form of martial art. He says that Judo helped him focus all his raw energy, power, and abilities on the sport. Peter instantly knew he was skillful and was capable of doing things that his peers weren't able to do. That is when he felt that Judo was his true destiny.
Judo's Influence on Peter Paltchik
Judo helped shape the character of Peter. As a Judo practitioner, he explains that one gives respect right after entering the Dojo. Judo is a Japanese art form, so showing respect is a very important principle that is taught in the Dojo.
Fighters show respect by bowing down towards the carpet before they step on it and towards the trainer. Even before a fight commences and after the fight, they acknowledge each other's strength and sportsmanship by bowing. This practice taught Peter the value of respect. The daily training sessions disciplined and molded his character, as Peter is known as one of the most respectful, humble and good natured Judo competitors in the IJF.
Early Stages of His Career
Peter started acknowledging that he was capable of competing for medals and prizes when he was 9 or 10 years old. Still, it was not until he was 16 that his journey into professional Judo began.
He joined the Israeli Judo Cadet team when he was 16 and won his first national cadet championship, junior championship and the U-23 championships when he was only 17 years old, a year on after joining the cadet team.
To top it off, he managed to join the Israeli senior Judo team under Olympic Bronze Medalist Oren Samadja at just 18 years old.
A Test of Paltchik's Warrior Character
In 2011, Peter bagged his first prize in the U-21 category held in Lumel, Belgium; his first significant achievement in professional Judo combat. Everything was going as planned for Peter, and he was the second-ranked Judoka worldwide in the U-23 category. He felt invincible, and he felt nothing could jeopardize his flow until a nasty injury caught up to him.
While in training, he fell awkwardly, resulting in an unfortunate knee injury. The injury on his knee was a case in which even the doctors were unwilling to take the risk of performing surgery. He was able to find a doctor who was willing to conduct the procedure. The surgery made him lose more than a year of training and athletic development as he was waiting to recover. He questioned himself, wondering if he should continue with the sport.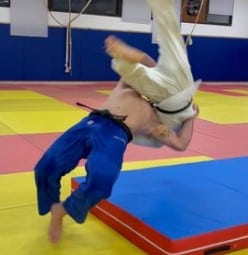 He began teaching in schools, assisting students with school work and other assignments, and coaching young children in the art of Judo. In the evenings, he began working as a bartender. These turn of events led him to wonder if he could ever return to the world of competitive Judo. Almost three years had passed by, and his life was very stagnant, and it felt like an eternity for Peter.
Paltchik's Road to Redemption
One fateful night, while working his usual night shift at the bar, Peter surprisingly came across a man whom he was very familiar with. He was Oren Smadja, the head coach of Israel's senior Judo team. This meeting is an event of much significance that would later on turn out to be very crucial in Peter's road to redemption.
Upon seeing Peter working at the bar, his coach was surprised and asked Peter what he was doing there; Peter reciprocated the same. After understanding the situation, his coach had to try and convince Peter that this was not what he was meant to do. The coach advised him to re-join the team and start training. Smadja reminded Peter of his potential of becoming an Olympic Gold medallist.
After returning from his night shift, Peter could not sleep as he kept on thinking of the conversation that he had with his national coach at the bar. In the end, Peter decided to re-join the team and again chase becoming a gold medallist. This
In 2015, he came face to face with Naidan, a Mongolian Olympic champion, in the quarter-finals held in Qingdao, in the Judo Grand Prix. This Mongolian opponent was a resilient and sturdy fighter. His opponent used a very menacing skill on his shoulder during the fight. Instead of falling on his back, Peter maneuvered his body so that he wouldn't fall and lose. He dislocated his shoulder since he pulled that stunt instead of falling on his back. He tore the ligaments in his shoulder. This injury kept him away for nine months.
He used that period of healing as a second chance. That was the juncture in his life when he started to believe in himself honestly. He decided to get back on track, and there was no stopping his commitment to reaching his target. He returned to focus on healing and was stuck to the task 100%.
He finally married his long time girlfriend Daniel Youlzary after a couple of months post-surgery. He even decided against going for their honeymoon as he did not want to miss any part of training or physiotherapy. After entering 2017, he began to succeed in the tournaments he took part in. He was desperate to thrive, which motivated him every day.
Peter Paltchik's Major Victories
| | | | |
| --- | --- | --- | --- |
| Medals | Competition | Venue | Year |
| Gold | Grand Prix | Cancun | 2017 |
| Bronze | Grand Slam | Abu Dhabi | 2017 |
| Bronze | European Championship | Tel Aviv | 2018 |
| Gold | Grand Prix | Tbilisi | 2018 |
| Bronze | Grand Prix | Budapest | 2018 |
| Gold | Grand Prix | Haag | 2018 |
| Gold | Grand Slam | Abu Dhabi | 2018 |
| Bronze | Grand Slam | Paris | 2019 |
| Bronze | Grand Slam | Ekaterinburg | 2019 |
| Bronze | Grand Prix | Zagreb | 2019 |
| Gold | Grand Prix | Tel Aviv | 2020 |
| Gold | European Championship | Prague | 2020 |
| Gold | Grand Slam | Paris | 2020 |
| Bronze | Judo Masters | Doha | 2021 |
| Bronze | Olympics – Mixed Team | Tokyo | 2021 |
| Silver | Grand Slam | Tel Aviv | 2021 |
| Silver | Grand Slam | Paris | 2022 |
| Bronze | Grand Slam | Tel Aviv | 2022 |
Finding Motivation After Setbacks
To reach his goal is what keeps Peter Paltchik motivated still. Through all the complexities he has faced in life, all the ups and the downs, one thing has kept him going: the hunger to reach his goal. The hunger to become an Olympic judo champion. 
Peter learned many lessons from the mistakes he made when he was younger. He has realized that sometimes it is best to let go. He used to train like there was no tomorrow. He was always trying to build and push himself to the maximum that it did not cross his mind to slow down and take care of his body.
His biggest regret was that his return to the Israeli senior team after the injury to his knee was long-delayed. He, on the flipside, believes that everything that happened to him steered him to the situation he is in right now. It all manifested to make him stronger mentally, as a person and a fighter.
He somehow takes all his setbacks as a blessing in disguise, and they remind him of why he set out in the first place to reach his target of becoming an Olympic champion. To keep striving for the top with utmost care and responsibility is the biggest challenge.
Paltchik Becomes European Judo Champion
The whole world went through hardships due to COVID in 2020, but Peter resolved to use the lockdowns to his advantage and keep training to grow stronger and stay in top condition.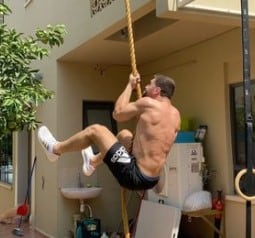 Paltchik started working on his flexibility and strength and some other aspects to help him recover from his previous injuries. Giving attention to all those minute details worked a wonder on him.
In the Judo Grand Slam, Budapest, Hungary (2020), he was confident and followed the game plan, but it was not meant to be. 
Realizing the mistakes from the previous tournament, Peter Paltchik then conquered Europe by securing gold in the European Seniors Championships, Prague (2020), officially bagging himself the title of European Champion. He beat Russia's Arman Adamian in the final to get that title. 
A Career High
Although Peter won the European championship and earned himself the title of European champions, he claims that the most significant mark in his career was when he won the gold medal in Abu Dhabi in 2018. The poor relationship between Israel and Arab nations contributed to this sweet taste of victory. This competition, he claims, changed him as an individual and a sportsperson in his country.
Every year, there would be problems with security clearance and political complications. They somehow managed to get into the country that year. Even after that, they were not permitted to leave their hotel except for competing in the tournament.
With all those factors involved and the pressure of competing in the unforgiving territory, winning gold was an exceptional point in his career. He has great pride and emotion in winning that competition because he sensed that his passion won over politics for the first time.
Peter Paltchik in The Olympics
Finally getting a chance to represent Israeli Judo in the Tokyo Olympics, Paltchik faced off against the best in the world. Peter would compete in the Men's 100kg weight category as well as in the mixed team category.
One of the favourites to win a medal in the 100kg category, Peter beat his first opponent, Lkhagvasuren Otgonbaatar of Mongolia. Paltchik would defeat the tough Mongolian and move on to the quarter finals against Aaron Wolf of Japan. Paltchik would give his all and show the heart of a lion but would eventually lose to Wolf, who would go on to win the Gold medal.
Paltchik would get another chance during the tournament as he was placed in the repechage round against Canadian Judoka Shady El Nahas. A truly world class match, Shady El Nahas would eventually beat Peter and move on to the Bronze medal match.
Although Peter was out of the men's competition, he would once again have a chance to win an Olympic medal in the mixed team event. Peter would show the world why he is considered one of the most dangerous Judo competitors in the world as he would beat Italian Judoka Nicholas Mungai in his first match, win his 2nd match by way of armbar against Brazilian Judoka Rafael Buzacarini and win his 3rd match against Russian Judo Heavyweight Tamerlan Bashaev. 
The Israeli Mixed Judo team won the Bronze medal, a true team effort showcasing Israel's Judo talent and especially showcasing Peter's high level Judo as his efforts had a direct impact on the team's Bronze medal.
One of the most talked about finishes of the event was Patchik's armbar on the Brazilian Judoka, Buzacarini. Brazil is especially known for its Ne-Waza (ground fighting) abilities, with many of the Judoka also having a heavy Brazilian Jiu-jitsu background, thus giving them a huge advantage when it comes to submissions and escaping submissions. 
Peter had been training heavily on his ground game with Gabriel Kitober who was the ground/Ne-Waza coach for the Israeli National Judo team as well as a high level Brazilian Jiu-jitsu Blackbelt. Kitober worked a lot with Peter in improving his ground game. Peter's dedication to improving his ground game showed itself with the submission victory over Buzacarini, ultimately leading to the Bronze medal victory.
Role of Teammates
It's crucial to have teammates that share the same goals as you. Teammates should push each other to the limit and support each other during trying times. That is what Peter says a team should consist of. They do not feel satisfied until they achieve their targets.
Paltchik truly believes teammates become a source of inspiration and a pillar of support. They stick together through thick and thin. They don't stop at bronze or gold medals, and they keep pushing and pushing till someone achieves gold. Team spirit is vital in sports and training camps. They become like a family away from family.
Being part of one of the most amazing national Judo teams in the world, the Israeli National Judo Team, Peter Paltchik is surrounded by not only world class Judo talent but also a truly supportive team. The character of those on the Israeli team is the highest you can find, they are like a family and support one another through thick and thin.
In Conclusion
The story of the struggles and rise of Peter Paltchik is a very inspiring and humbling lesson for anyone who has followed his journey till now. Being born in a poor area of the world with crooked bones, his mother having suffered days of pain while giving birth to him, migrating to another country while he was only nine months old. All these factors put together give us a source of inspiration to keep going forward even when the going gets tough.
Peter Paltchik is a living example for every individual alike in this world, as there is always light at the end of the tunnel. There came a stage in his career when he felt that he was at the top of the world. 
Since he was a little boy, he felt special and earned rank after rank in Judo. He even joined the senior competition team at a very young age. Only when he thought nothing could go wrong, he faced his first injury to the knee that ruled him out of the combat sport for more than a year.
He came back from that horrible incident and competed again to have his ligaments torn. That, again, set him back for several months. Any of us would have given up if such horrible events happened to us, but Peter Paltchik saw it as a challenge to strive more to reach his goal of becoming a world champion someday.
A man's character is judged not by what he does when he is at the top, but by what is done when he is at the lowest point in life.
Peter Paltchik's life story is a lesson that perseverance, hard work, and belief in oneself are the key to achieving success. He is a true warrior, a true sportsman and a true Grapplezilla.