BJJ practitioner Gabriel Kitober is a truly world class BJJ instructor, not only has had a profound effect on spreading BJJ and grappling in Israel, but he is the ground coach for the Israeli National and Olympic Judo team.
A truly phenomenal Jiu Jitsu practitioner and an incredible person, here is a spotlight on the Brazilian Jiu-Jitsu journey of Gabriel Kitober.
We'll detail how Kitober started in Judo and was introduced to BJJ and began training under legend Osvaldo Alves. Then we'll go over his journey throughout the world and how he settled in Israel.
Kitober's Early Start In Grappling
From the time Gabriel Kitboer turned three years old, he was on the mat learning grappling. His first martial art was Judo, which he exclusively trained from ages 3 to 10 at the Nissei Academy in Laranjeiras, eventually Gabriel would return full circle to the world of Judo in his later years.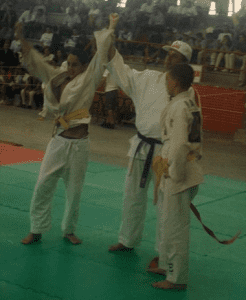 Kitober would actually stop training Judo at age 10 and started practicing Taekwondo at the Naja Academy which was one of the very first Taekwondo academies that was founded within Brazil that Ktober would train at for a couple years.
Gabriel Kitober's First Experience with BJJ
Kitober's first experience with BJJ was an amazing way to get introduced to Brazilian Jiu-jitsu. Gabriel's father was actually close friends with Reila Gracie, who just happened to be the daughter of Carlos Gracie Sr. Reila encouraged and convinced Kitober's father to let him try a Jiu Jitsu class at the Gracie Barra gym in Tijuca.
During this time, Gabriel was living with his father during a holiday from school and had months to train. The start of his Jiu Jitsu journey training under Carlos Gracie Jr, Marcio Feitosa, and Eduardo de Lima.
Gabriel loved training at Gracie Barra, but as the holiday with his father ended, Gabriel had to return to his mother's home. Unfortunately due to the fact Gabriel's mother lived in Flamengo, Gabriel could not continue training at Gracie Barra Tijuca, which was too far for Kitober to travel daily.
Although far from the Gracie Barra academy, Gabriel was lucky to find another BJJ school to train at and would continue training at the Gracie Humaita Academy with Royler Gracie. During his years training at Gracie Humaita, Gabriel would earn his yellow belt and win his first Brazilian National BJJ Title.
Kitober's bout with Hepatitis and Return to Training
Kitober's life changed dramatically when he was 15 years old. He was diagnosed with Hepatitis and had to stop training.
It took two years for Gabriel to get over the illness and unfortunately during this period, it took away his passion for Jiu Jitsu. Gabriel didn't want to train anymore, but a friend kept trying to make him go train.
Eventually this friend got Kitober to start training again and joined him at Fabricio Martins' school in south Rio. This reignited Gabriel's love of Jiu Jitsu and he started training seriously again.
In his first year back, Kitober would take 2nd at Brazilian Nationals and earn his blue belt from Fabricio Martins. Gabriel would also place 3rd in the world championships as well.
Gabriel Kitober Begins Training Under Osvaldo Alves
After earning his blue belt, Gabriel wanted to continue training under Martins, but once again he had the issue that he lived far away from the academy. Instead, Martins would encourage Kitober to train at his Master Osvaldo Alves' academy, which was nearer.
Oswaldo Alves was one of the best BJJ instructors in Rio at the time, 9th degree BJJ red belt and a true legend within the martial art who generally would take in many BJJ champions and improve their game prior to large tournaments and BJJ competitions. Under the guidance of Alves, Kitober would take his Jiu Jitsu game to another level and would stay with Oswaldo Alves through the rest of his time in the lower ranks. 
Gabriel actively competed in major BJJ competitions from 2000 to 2005 and during this time having placed in a major tournament at every belt level during this period. 
Kitober would win the Brazilian National Championships twice as a blue belt and 2 more Brazilian National titles at purple belt and brown belt. Gabriel would also take silver in the world championships in the absolute category at the purple and brown belt level (which is a very difficult division to medal in as there are no weight limits).
In 2005, Master Alves would award Kitober with his BJJ Black Belt. In the beginning of 2006, Gabriel would need to take some time away from competing as he had a very delicate surgery on his nose that needed time to recover and heal properly.
Kitober Travels the World
Fresh off being promoted to black belt, Gabriel would then travel the world and train in various countries. His first stop was in England, where he was invited by Lucio Rodrigues to help him build an academy in Preston.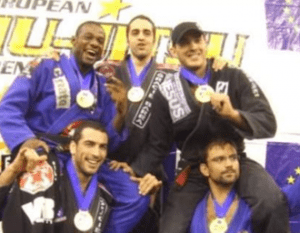 Kitober would spend all of 2006 and most of 2007 living and training in England. Although Gabriel enjoyed living there, England's Jiu Jitsu scene was still small and wanted to compete at the highest level.
This would lead to Kitober coming back to Brazil and staying there for two years. Then in 2009, Kitober would travel to the US to compete at the FILA World Grappling Championship. An event that he would take gold and become the world champion in.
While he was still in the US, Kitober's friend Ricardo Pires invited Gabriel to stay with him in Las Vegas. Pires was the head MMA coach at Warrior Training Center and offered Gabriel the position of head grappling instructor.
Some of Kitober's students included UFC veterans like Forrest Griffin, Matt Brown, and Matt Riddle.
Kitober Moves to Israel
Gabriel would only stay a short time in Las Vegas before traveling to Israel to visit family that lived there. While visiting, he felt a connection to the country and wanted to stay and help better develop the Jiu Jitsu scene in Israel.
Although the BJJ scene in Israel was small at the time, Gabriel would teach many seminars with huge amounts of people participating in them. Many Israeli BJJ Blackbelts took the opportunity to learn from Gabriel as he presented top tier knowledge as well as an impeccable ability to teach.
Gabriel Kitober and Israeli National Judo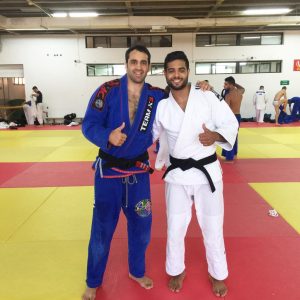 He would soon open a school there in 2010, but Gabriel would then get a huge opportunity. The Israeli Judo Federation approached Kitober and Former 1992 Olympic Judo Bronze Medalist and Israeli Judo National Coach,Oren Smadja recognized Gabriel's talent, especially when it came to teach BJJ specific for Judo and offered Gabriel a coaching position for the Israeli National Judo team.
They immediately developed a connection and Kitober accepted the offer to be the groundwork coach. A position that Gabriel has held for over a decade and continues to hold to this day. 
Gabriel specializes in understanding the needs of high level Judokas when it comes to the ground game as BJJ for Judo is much different than regular BJJ due to the rules and needs of Judo players. Gabriel's influence on the Israeli Judo ground game can be seen when Peter Paltchik submitted a Brazilian Judoka Rafael Buzacarini via arm bar in the 2020 Tokyo Olympics, a true testament to the level of coaching Kitober has provided his students.
Kitober Moves Back to Brazil 
In 2014, Gabriel had to move back to Brazil for a short time to help with problems in his family. During this stay, Kitober would decide to join GFTeam since Osvaldo Alves had stopped teaching Jiu Jitsu.
GFTeam had a very similar aggressive and technical style to Kitober and he fit right in with the team. Kitober joined the GFTeam squad for the Brazilian Team Nationals in 2014 and took first place.
He would then move back to the US for a short time and coach at X3 academy in Atlanta, Georgia. During his stay in the US, Kitober would compete in various IBJJF tournaments and enjoy his days in the US with BJJ friends such as Rodrigo Artilheiro, Bruno Frazatto, Amaury Bitetti and Roberto Traven. 
Gabriel Kitober's Jiu Jitsu Game
Gabriel has developed quite a special Jiu Jitsu game that he created by learning from various BJJ legends. Everyone from Osvaldo Alves, Fabricio Martins, Royler Gracie, and Carlos Gracie Jr had a hand in developing his world class BJJ game.
Gabriel has spent a tremendous amount of hours rolling and training with the best Brazilian MMA and BJJ fighters in Rio such as Paulo Filho, Amaury Bitetti, Ricardo Silva and Fredson Paixão among many other top level BJJ competitors.
Even his time as the ground coach for the Israeli National Judo team has sharpened his throws and takedowns, especially in the latter years as he has directly coached Israeli Judo stars such as Peter Paltchik, Sagi Muki and Ori Sasson.
All of these elements put together created Kitober's game that is aggressive, yet fundamentally sound with a strong emphasis on pressure passing and cross choking,
What's Next for Gabriel Kitober
Gabriel has been living in Israel for the past few years and is still coaching groundwork for the National Judo team of Israel. Through Jiu Jitsu, Kitober has been able to travel the world and help grow the martial art.
He has been an incredible ambassador for BJJ and has been very influential in its development within Israel.
Not only is he a phenomenal Jiu Jitsu instructor, but a great person that's helped many in his journey learn the art of Brazilian Jiu Jitsu.