Nicholas Meregali is considered by many as one of the best BJJ athletes of the modern era. For years, he was the star athlete of Alliance and won 2 world titles while flying their banner.
Let's take a closer look at Nicholas Meregali and how he became one of the best Gi grapplers in the world. Detailing his road to becoming a world champion and his high level Jiu Jitsu game.
We'll also detail his move to the Dream Art team and the controversy he caused at the 2021 IBJJF BJJ Worlds.
Nicholas Meregali's Early BJJ Training
Nicholas started his Jiu Jitsu training at 16 after his younger brother began training. He and his brother would begin training with each other under Jefferson Adan at Team ACJJ in Santo Antônio.
Early on, Meregali showed that he had the potential to be a top BJJ competitor. Once he got his blue belt, Professor Adan encouraged Nicholas to frequently compete.
He would keep competing and win the CBJJ Brazilian National Championship at just 17 years old.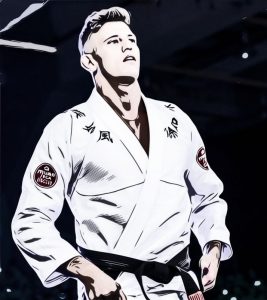 Meregali Joins Alliance BJJ
After winning his first Brazilian national title, Meregali wanted to take his BJJ game to the next level. In order to do that, he felt that he needed to move to another academy.
This would lead to Meregali joining Mario Reis at his Alliance BJJ academy in Porto Alegre. The two would quickly develop a close bond and Nicholas's Jiu Jitsu would flourish.
At purple belt, he would win every major Jiu Jitsu title before earning his brown belt. Then at brown belt, Nicholas would continue evolving and win not one, but two double gold world titles for a total of four world titles. 
Winning double gold at both the 2015 and 2016 world championship events. Mario Reis would promote Meregali to black belt after his world title win in 2016.
Meregali's First Year at Black Belt
In Nicholas' first year at black belt in 2017, expectations for him were high, but he was up to the challenge. His first real test at black belt would come at the 2017 Pan Championship.
Unfortunately, he met multiple time world champion Leandro Lo in the semifinals and lost 3-0. Meregali would bounce back in the absolute beating his first two opponents, but would lose to Lo again 2-0
Disappointed in his performance, Mergali would go back to the academy and work even harder. Preparing for his first world title appearance as a black belt.
This time, Mergali would not come up short and he made his name known to the Jiu Jitsu world. He would submit his first 3 opponents including legend Lucas Leite to meet his rival Leandro Lo in the finals.
Nicholas would get his revenge and take out Leandro Lo to win his first world title at black belt.
Nicholas Meregali's 2nd World Title in 2019
2018 was a decent year for Nicholas, but he would come up short at that year's world championship event. Losing to Mahamad Aly in the semifinals of his division and Marcus Buchecha in the absolute semifinals.
The losses only drove Meregali to have the best year of his young career in 2019. Going on an unbelievable unbeaten streak leading up to that year's world championship.
He would continue this streak in the heavyweight division, submitting all of his opponents to win his second world title. Meregali would also submit his first opponent in the absolute division before losing to Keenan Cornelius 2-0 in the quarter finals.
After winning the world title, Nicholas would end 2019 strong, Submitting multiple time BJJ world champion Roberto Abreu and winning the inaugural BJJ Stars GP in Brazil.
Meregali's Jiu Jitsu Game
Nicholas Meregali is known for his deadly De La Riva and lasso guard. He specializes in these guards and has swept numerous world champions during his career.
His signature sweep of course is the hook sweep and is considered to be the best at this sweep.
Meregali is also known for his ability to finish his opponents. Not settling for a decision and always hunting a submission to win a match.
Of his 49 career wins, Nicholas has won 36 of them by submission giving him a 73% finish rate.
Meregali Leaves Alliance BJJ
Right before the 2021 IBJJF World Championship, the Jiu Jitsu world was stunned by a mass exodus from Alliance BJJ. Isaque Bahiense would cut ties from Alliance and set his academy Dream Art Project out on their own.
Two of the biggest names to leave Alliance were world champions Anna Rodrigues and Nicholas Meregali. 
Nicholas' departure was especially stunning due to his close relationship with coach Mario Reis. He would fly the Dream Art Project flag a short time later at the 2021 World Championships.
Meregali Creates Controversy at The 2021 Worlds
Going into his 4th world title event, Meregali was the heavy favorite going into the event. Many expected him to win his 3rd world title.
In his first match in the ultra heavyweight division, Nicholas would put multi time champ Roberto Abreu to sleep. Using a loop choke that he used to beat Abreu in their first meeting.
In the semi finals, he would have a close match with Ribeiro Jiu Jitsu standout Victor Hugo. During the match, Meregali would give the finger to someone in the crowd that was heckling him for stalling.
The IBJJF has a strict zero tolerance policy when it comes to respect on the mat. Nicholas was disqualified from the tournament and was not allowed to compete in the absolute finals against Felipe Pena.
If Nicholas did not lose his composure and give the finger to a spectator, he could've well won it all. Not just in his division, but also in the absolute division.
That lapse in judgment will be a blemish on a stellar career. 
What's Next For Nicholas Meregali?
Nicholas Meregali will look to put his actions at the 2021 Worlds behind him and focus on his future. 2022 has just started and Meregali has a big year ahead of him.
Meregali will continue training with the Dream Art Project and look to redeem himself for what he did in 2021.