One of the best grapplers to have ever competed in multiple grappling sports and won at the highest levels of competition is Leonardo "Leo" Leite.
A true master of Judo, BJJ and MMA, Leo is a true master of the arts he has practiced. A world class Judoka who twice won the Brazilian World Championships in 1999 and 2000 in the +100kg weight category, Leo showed that the crossover and mix of Judo and BJJ is a natural mix and can be used to dominate competitions.
Leo Leite's Early Years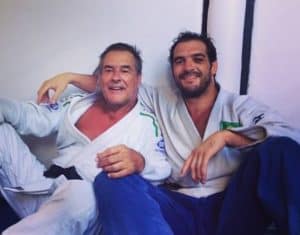 Born in Rio de Janeiro, Brazil on March 23rd, 1978 into a family that is no stranger to sports, Leo would have the home background and genetics that would enable him to go far in combat sports. Leo's father was an avid practitioner of BJJ and thus had a huge impact on helping guide Leo towards the right training path in his martial arts journey.
Leo Leite's Judo Journey
Leo's first taste of the martial arts was in 1984 when he was introduced to the Japanese grappling martial art of Judo. He would train under master Omar Brazil in the Federal club for the next 4 years until deciding to move to train at the Clube de Regatas do Flamengo in 1988.
Leo was a true Judo talent, having natural ability that would eventually earn him a place on the Brazilian National Judo Team in 1997 with his being placed as leader of the Brazilian National Judo Team in 1998, a position he would hold until 2012. Leo would win 3 Pan American Gold Medals, 2 South American gold Medals as well as a multitude of medals in International Judo Competition. Leo was also part of the Brazilian Olympic judo team in 2008 and 2012. 
Leite is also a well known Brazilian TV announcer for Brazilian Judo and MMA events.
Leo Leite's BJJ Journey
It was in 1993 that Leo Leite decided to also train in BJJ as an aid to his Judo Ne-Waza (ground fighting) game in Judo, especially in regards to submissions, after his father decided to take Leo to start training BJJ at the tender age of 16.. Leo would train under Alexandre "Gigi" Paiva who ran the Alliance BJJ Rio de Janeiro school.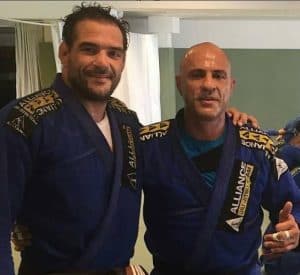 Leo was an absolute natural at BJJ, once again showcasing natural talent for the grappling martial art and also competing and winning in BJJ competitions.
One of the biggest accomplishments in Leo Leite's BJJ career was his first BJJ Mundial Win (World Championship) in 1999. Leo was a brown belt at the time and was preparing to compete in the Brown belt division when his master decided to award him his blackbelt 2 weeks prior to the World Championships. At first Leo was not so happy about getting a BJJ Black Belt 2 weeks prior to the Mundials but he decided to trust his master and compete in the Black Belt division.
Leite's master was right as Leite would go on to defeat all his opponents and meet a true legend of the sport, Mario Sperry in the finals. Leite would go on to beat Mario Sperry and win the world championships in the +100kg weight category. 
Leo would go on to win another Mundial in 2000 as well as compete for years to come, winning many tier 1 level competitions. An amazing BJJ competitor, Leo would be known for his world class takedowns as well as takedown defense, his knee slide guard pass and Clock Choke (Relogio choke).
Leo Leite in MMA
Having dominated both BJJ and Judo, Leo Leite decided to enter the world of Mixed Martial Arts. Leo would start fighting in 2013 with the Brazilian MMA promotion called Luta Contra o Crack where he would win his first fight against Alessandro Macedo via way of Rear Naked Choke. 
Leo would then go onto fight and win his next three MMA fights before joining Legacy fighting Championships in 2015 where he would win his next 3 fights.
2016 would be a pivotal year as Leo would win another 3 fights before signing to Bellator in 2017. Now in Bellator, Leo was in the big league of MMA. His first fight was against MMA and UFC veteran Phil Davis, which was an action packed fight but would see Leo lose via decision. Leo's second Bellator fight was also a truly amazing fight to watch but would unfortunately also end in a loss via decision.
Leo Leite is currently training for his final fight in LFA Brazil against Claiton Trassante on May 13th, 2022 in Rio de Janeiro and is expected to show the world that he has the heart of a lion and the abilities of a true MMA gladiator.
In Conclusion
A true martial arts master, Leo Leite has shown the world that it is possible to train and win at the highest levels of Judo, BJJ and MMA. It is about focus, having a good attitude and belief in one's self, something that Leo Leite truly excels at.