One of the most important and influential grapplers to ever have competed, Mario Sperry was truly a pioneer in nogi grappling, MMA and submission wrestling. He absolutely dominated the competition in the first ADCC's as set forth the blueprint to practicing BJJ without a gi.
Born in Brazil in the city of Porto Alegre in 1966 and eventually moving to live in Rio de Janeiro, Mario started his martial arts journey in the Japanese art of Judo under the famous Brazilian Judo instructor George Medhi. Mario loved Judo and would train very hard in the art and eventually went to learn BJJ under the ever so famous Carlson Gracie when Mario was a brown belt in Judo.
Mario Sperry BJJ
Mario immediately fell in love with Brazilian Jiu-jitsu and trained like a man possessed, having earned his blue belt within a one month period. Mario would continue training under Carlson Gracie and eventually earn his BJJ blackbelt under Carlson Gracie. Mario was an absolute monster on the mat, having decimated his competition every competition without conceding a point nor advantage and ultimately winning the Brazilian Jiu-jitsu world championship title 3 times and the Brazilian National BJJ Championships 3 times. Mario Sperry was also the first person in history to make a Gracie submit having submitted Royler Gracie with a clock choke.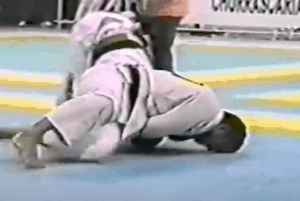 Mario was such a beast on the mat that they named him "Ze Maquina" (Jose Machine) which Mario changed to the nickname "Zen Machine" due to the fact that he always had a calm zen-like demeanor while dominating opponents in competition.
Mario Sperry Submission Wrestling and ADCC
Sperry was an absolute force to be reckoned with in grappling and submission wrestling, he won the first ADCC submission wrestling championships in both en -99kg and absolute category as well as winning several ADCC superfights against BJJ and grappling legends such as Enson Inoue, Roberto Traven, Renzo Gracie and Fabio Gurgel. 
Mario Sperry Vale Tudo and MMA
A true pioneer in modern MMA, Sperry was one of the co-founders of the Brazilian Top Team (BTT) alongside Murilo Bustamante, Ricardo Liborio and Bebeo Duarte. All of the founders came from Carlson Gracie's team but felt that Carlson's viewpoint on how an MMA fighter needed to train was outdated as Carlson wanted to oversee every aspect of the fighters training whereas the Brazilian Top Team wanted to bring top level coaches from each discipline to give world class training and build a better overall MMA fighter, meaning wrestling coaches to teach wrestling, boxing coaches for boxing, Muay Thai coaches for Muay Thai and of course BJJ for MMA with the founders of BTT.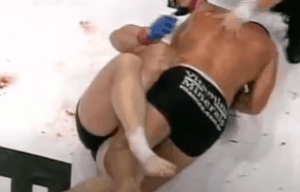 Mario and the BTT proved that their formula was the winning formula with many of their fighters winning in their matches in top MMA organizations such PRIDE, UFC and Affliction.
One of the most exciting MMA fighters to watch in the cage, Mario Sperry was able to showcase how BJJ could dominate in MMA, he used very effective strategies to use the cage .
to his advantage in striking and taking down opponents, he then would be very dominant on the ground, establishing top game and submitting opponent by submission and ground and pound but that is not where Mario stopped, he would evolve each and every match, showcasing his striking skills and incredible heart.
One of the most important fights in MMA history that does not get enough spotlight was Mario Sperry vs Igor Vovchanchin. Vovchanchin at the time was the most vicious and dominant MMA fighter in the world, he was a vicious striker with very effective takedown defense and dangerous ground and pound that most people thought was the best MMA fighter in the world and impervious to Brazilian Jiu-Jitsu. Sperry would meet Vovchancin at PRIDE 17 and it turned to be one of the most important fights of MMA history as Mario was able to stand toe to toe with Igor and submit him on the ground with an arm triangle choke (Kata-Gatame) to win the MMA bout. It was a huge win for Mario, a huge win for BJJ and a huge win for BTT as it once again showed that BTT's MMA formula was effective.
Sperry would go on to fight 17 professional MMA fights with a record of 13 wins and 4 losses and be a catalyst in Brazil's MMA transformation from being one dimensional BJJ fighter dominant to being multi-art and complete MMA fighters entering and winning MMA competitors around the globe.
Coaching Champions
After retiring from MMA, Mario would go on to coach many MMA and UFC champions as well as spread his knowledge throughout the world to over 15,000 students of which he has helped over 500 reach the level of blackbelt. Mario is a 6th degree BJJ Blackbelt, a Blackbelt in Judo and has a vast amount of experience in MMA, this makes him one of the most sought after and experienced martial arts instructors in the world.
Mario has trained a ton of world famous fighters including Rogerio and Rodrigo Nogueira, Ricardo Arona, Alistair Overeem, Luke Rockhold, Rashad Evans and many more. He currently owns and operates Mario Sperry Brazilian Jiu-jitsu in Miami Florida and is always coaching world class athletes around the world.
Mario Sperry Instructional Videos
One of the reasons Mario Sperry became so famous and so loved was due to his famous instructional video series called "Vale Tudo", which had 3 Volumes, it was an instant hit duet to Mario's charisma and ability to teach highly efficient Vale Tudo, MMA and BJJ techniques to the masses. Mario also had a BJJ series called "The Master Series" which was 2 volumes and a truly outstanding series as well as he had a no-gi submission wrestling video series called "Secrets of Submission Grappling" which was the first true submission grappling video series that had specialized techniques and strategies that were suited better for submission grappling.
Mario also starred int he famous BJJ and MMA documentary called "Day of The Zen" which was a documentary of Mario's training and life in Brazil at the Brazilian Top Team during the PRIDE FC years. Day of The Zen would go on to motivate thousands of future MMA fighters and is still considered on of the best MMA documentaries of all time.

Mario Sperry's latest video series is through BJJ Fanatics named "Pressure Passing for Older Guys" which is once again a true masterpiece and tackles the specifics needed for older BJJ practitioners when trying to pass the guard.
In Conclusion
A true pioneer and visionary in combat sports, BJJ and MMA, Mario Sperry will always be remembered for pushing boundaries, fighting against the best in the world and helping the advancement of BJJ and MMA globally. Mario is a true hero for many BJJ practitioners including those at Grapplezilla and we are sure he will continue to make waves in the BJJ and MMA community in the years to come.