One of the purest and hardest sports on the planet, wrestling has been practiced for thousands of years. Wrestling is inside us all, when we are children we wrestle with friends and siblings, it is a sport that no matter how much money you have or where you come from, once the match starts it is human vs human with the best person winning.
There are tens of thousands of wrestling coaches around the world, all trying to bring the best out of their athletes and motivate them to become the best wrestler that they can be.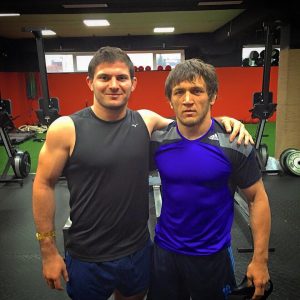 That said, there are very few coaches that truly live, breathe and exuberate wrestling like hidden gem Hanoch Rahamin does. Hanoch truly lives the wrestling lifestyle, his passion for wrestling pours out of him when he is teaching wrestling and speaking about the sport he truly loves. Here's Hanoch's story and everything you need to know about him.
Who is Hanoch Rahamin?
Born in Oguz, Azerbaijan on April 18th, 1993, Hanoch was born into a culture that truly appreciated sport, especially wrestling. Azerbaijan is a country in the Caucasus that has a rich wrestling history with early beginnings in cultural Azerbaijani wrestling called Gulesh which is a centuries old style of wrestling that has influenced the grappling culture of Azerbaijan.
Hanoch left Azerbaijan with his family in December 1996, moving to Israel to build a life in the holy land.
You could say being an athlete was in Hanoch Rahamin's blood as his grandfather was a multiple time Azerbaijani Weightlifting Champion as well as his younger brother, Daniel Rahamin, is also an accomplished wrestler.
How did Hanoch Rahamin Start Wrestling
When Hanoch was 12 years old, he started to go to the local wrestling club that was set up for Kavkazi kids. Kavkazi is a Russian term for people who come from the Caucuses, mainly the countries Azerbaijan, Georgia, Armenia, and the Russian Republics of Dagestan, Ossetia, Chechnya, Ingushatia and a few other small Russian republics.
Hanoch's first wrestling class had around 20 kids who loved to wrestle and just as kids do, had a blast learning the techniques of freestyle wrestling and trying them out on one another each night.
Early on, Hanoch exhibited natural wrestling talent and quickly would start wrestling under Georgian Wrestling coach Sergo Simonian, who taught very high level Georgian and Russian Freestyle Wrestling that Hanoch Rahamin would build his incredibly strong wrestling base on. 
Hanoch Rahamin's Early Wrestling Career
Early in his wrestling career, Hanoch showed he had what it takes to compete with the best. Hanoch would win his first Israel Freestyle Wrestling Championship at 14 years of age. When Rahamin was 15 would go on to take the silver medal at the Cadet Level.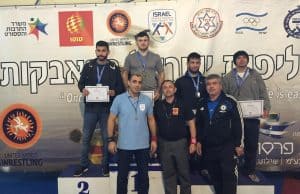 The next years would show the Israeli Freestyle Wrestling scene why Hanoch Rahamin was on a totally different level than the local competition Where Hanoch would take Gold each year when he was 16, 17 and 18 at the Cadet, Junior and Senior Level.
Hanoch would also compete in Greco Roman Wrestling even though he did not train exclusively in Greco, winning 4 Israeli National Greco Roman Wrestling Gold Medals, 2 Solver and 1 Bronze. The decision to start wrestling in Greco Roman was due to the fact that Israel is a very small country and getting more competition experience would help prepare Hanoch for the International Wrestling Competition Scene, and they were right.
Hanoch would ultimately be a 15 time Israel National Wrestling Champion and go on to represent Israeli Internationally.
Hanoch Starts Wrestling in Major International Tournaments
Showing true wrestling skill and having dominated the Israel Wrestling scene, Hanoch would start wrestling in major International Wrestling tournaments as well as start to participate in multiple world class training camps each year.
Hanoch would compete in the 74kg weight category in a minimum of 2-4 Grand Prix's as well as the European Freestyle Wrestling Championships and the World Freestyle Wrestling Championships for many years during his career. Hanoch would be internationally recognized for his world class shoulder throw, fearlessness and impeccable wrestling grit that would be seen over and over in competition. 
Hanoch's best placement was 7th place at the 2017 World Championships in Paris, France. He would receive a very bad knee injury during his first bout against former world champion representing Russia, Khetag Tsabolov, in which Hanoch tore his MCL. Showing true wrestling grit, he decided to continue wrestling in the tournament, beating the Australian National Wrestling Champion before having to pull out of the tournament due to injury as he could no longer walk.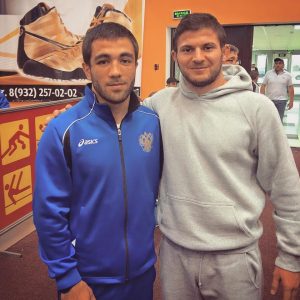 During this period, Hanoch would train with the best of the best as he would attend multiple wrestling camps in Dagestan, Russia, Georgia, Azerbaijan, Turkey and other countries. Each camp would be a few weeks long, often training with top tier national teams such as Russia, Georgia, Azerbaijan and Turkey.
Having the privilege to train in such a world class manner gave Hanoch an immense amount of wrestling knowledge and experience that he would eventually give back to his students.
Hanoch Rahamin and DopamineO
After retiring from International Freestyle Wrestling competition, Hanoch wanted to continue working in the field of Wrestling and started DopamineO alongside good friend, business whizz and Freestyle Wrestler, Sagi Geva.
DopamineO is a 2 pronged business, the first prong is DopamineO Fitness Rubber Bands and Fitness System also simply known as Dopa Bands. Dopa bands are specifically designed for use by Wrestlers and combat athletes as well as can be used by any athlete that wants that extra edge in their sport. Hanoch and Sagi took a lot of time to research and develop the best quality fitness bands that would last through the rigors of use that a Wrestler would need when training with them. 
The ultimate goal of Hanoch would be for Dopa bands to become the TRX of fitness bands, with every serious athlete using Dopa bands in their fitness routine.
DopamineO Gym is the second prong of the business. Located in central israel, DopamineO Gym is a world class Wrestling, MMA and Wrestling Fitness Gym that has become an institution for anyone wanting to learn how to properly wrestle, compete in wrestling, learn wrestling for BJJ and MMA as well as increase their overall fitness.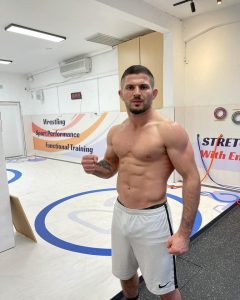 Fighters from all around Israel and even the Palestinian territories have come to DopamineO Gym in order to learn how to properly add wrestling to their skill set. It is not uncommon to see Jews, Arabs, Christians, Druze, Bedouins and Arabs from the territories training together in their pursuit of becoming the best wrestler possible under the guidance of Hanoch Rahamin.
What differs DopamineO Gym with other gyms is Hanoch's teaching ability as well as all coaches that teach at the gym are personally vetted by Hanoch and Sagi, so students can be sure they are getting the best quality instruction possible. 
Hanoch and Sagi had one motivating factor, it was that DopamineO Gym would never be a gym of ego, it would be a gym that invests in their team's skills by bringing in top level coaches and fighters from around the world to train and build the competitors skillset up.
How Did DopamineO Gym Start?
The passion for the sport of Wrestling burns ever so bright in Hanoch Rahamin and his love for coaching students from all backgrounds and levels of wrestling was a major catalyst for his decision to start DopamineO Gym with Sagi.
Hanoch wanted more than anything to see the growth of Israeli Wrestling when he was a young wrestler as when he was young, the wrestling scene was not so evolved. They would not have a place to train everyday and no one to truly push athletes in a way he saw when he was training abroad.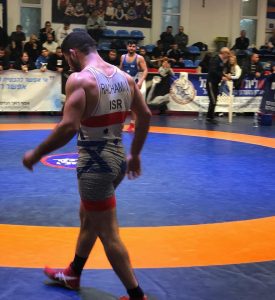 The ultimate goal of DopamineO Gym is to be the biggest MMA gym in Israel that will produce world class talent in MMA, BJJ and Wrestling as well as the "National Home" for all Israeli fighters to train and build themselves, regardless if it is in Wrestling, BJJ, MMA and other Combat Sports. DopamineO Gym so far has been a real success, even through the Covid years, they have maintained a good team, a great gym energy and all their students are improving each and every training session.
What's Next for Hanoch Rahamin?
The future looks extremely bright for Hanoch Rahamin, he has a great gym and resistance band company and he is happy as he is working in his passion, Wrestling.
Hanoch will continue the torch of Israeli Wrestling, growing the sport in his beloved country, building up future wrestlers and fighters as well as helping people build the best person they can be. Hanoch is a true champion, on and off the mats and he is a true Grapplezilla.