Wrestlers, Judokas, BJJ practitioners and MMA fighters are always looking for a special edge when it comes to conditioning for their sport. It is very common to see grappling athletes trying to improve their overall physical fitness off the mats in order to dominate their opponent on the mats and over the years we have seen the evolution of grappling fitness routines from the bodybuilding routines from the days of old to modern functional fitness routines based upon crossfit.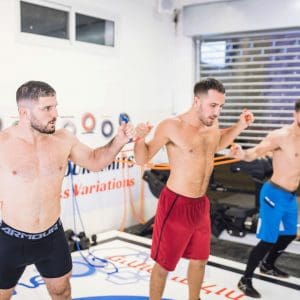 With so many different types of grappling conditioning routines to choose from, it can get quite confusing in regards to which one you should choose in order to get in the best shape possible.
Regardless of what type of workout off the mats you do there are always going to be some attributes that no matter what the grappling sport you practice, you will need to have in order to compete at the highest levels. These would be a strong grip, flexibility, strong core muscles and god like stamina in your arms – especially when trying to dominate in the clinch and go for a good grip to takedown the opponent.
The great news is that there is an extremely simple piece of wrestling fitness equipment that not only can provide you with all of the attributes mentioned above but you can also improve your wrestling, judo, sambo, BJJ and MMA technique at the same time too.
What we are talking about is called DopamineO, pronounced Dopamino and it has been used for decades by top Olympic wrestlers from Russia, the former USSR and many of the top wrestling countries in the world as a way to aid a wrestler's conditioning in a functional and efficient manner. In fact these Russian resistance bands have been accredited as a big contributor to the high levels of sport specific fitness we have seen Russian athletes exhibit in past global sporting competitions.
Who are The Guys Behind DopamineO
DopamineO has been developed by 2 wrestlers, Hanoch Rahamin and Sagi Geva, both who are well versed in wrestling, fitness and diet. The rest of the team at DopamineO all come from a wrestling, BJJ and Grappling backgrounds and have perfected their wrestling fitness bands with a lot of research and development thus providing the best wrestling fitness rubber bands on the market.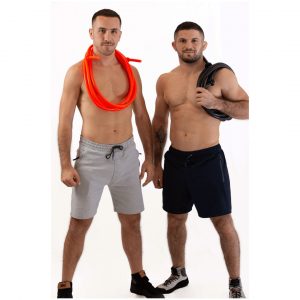 Hanoch Rahamin was a multiple time Israeli National Freestyle and Greco-Roman Wrestling champion as well as has competed multiple times in the European and World Freestyle Wrestling Championships. Hanoch has wrestled the best of the best and beated many national champions from around the world. Hanoch lives and breathes everything wrestling having trained in dozens of world class training camps in Russia, Dagestan, Georgia, Azerbaijan, Turkey and more. A true master of the sport of wrestling, Hanoch is deeply knowledgeable in the sport of wrestling as well as is an expert in wrestling fitness, he is intelligent, extremely driven and is an excellent coach, having coached many wrestlers, MMA athletes, nogi bjj competitors and those looking for a healthy way to get in the best shape of their life.
Sagi Geva is a serious wrestling enthusiast as well as a true health and fitness aficionado. Sagi is an extremely intelligent, highly knowledgeable and driven guy who truly believes in Dopa as a training method as well as has made his goal to bring Dopa to the world as he believes it is the absolute best method of training for those wanting functional healthy fitness options.
They truly care about the quality of the product they have built and it can be seen by their daily use of it as they originally developed DopamineO for their own use for simply getting in better shape for wrestling competitions.
DopamineO produces the highest quality grappling elastic bands on the market which they simply call "Dopa". They also have developed a complete training system for use of the Dopa and they have even developed sport specific training plans for different sports such as Wrestling, Judo, MMA, Boxing, BJJ, Swimming and overall Fitness. All of these programs have been developed with top notch professionals in their field giving experienced input on each movement and its use in the sport it is meant for.
Are There Athletes Who Use Dopa Resistance Bands?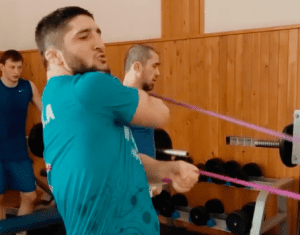 Many famous wrestlers including the great Alexandr Karelin, Buvaisar Saitiev, Abdulrashid Sadulaev, Geno Petriashili, Magomed Zubairov, Vladimer Khinchegashvili and Roman Vlasov use Russian resistance bands each wrestling practice in order to build incredible arm conditioning and fine tune their wrestling movements while improving strength and stamina. 
Top level Brazilian Jiu-Jitsu athletes have also recently gotten into using Dopa in order to gain a better sport specific conditioning for BJJ such as Rodrigo Artilheiro and Gabriel Kitober, both of which are advocates for adding DopamineO training to their overall BJJ conditioning routine.
Sambo athletes also can really benefit from Dopa training as it is excellent at producing the type of conditioning that Sambo fighters need. A huge proponent of Dopa training for Sambo is European Combat Sambo Champion and MMA fighter Tariel Abbasov. Tariel uses Dopa daily and accredits Dopa training to really develop the conditioning needed to win gold in International Sambo competitions.
Wrestling rubber bands have been used heavily in the hearts of wrestling in Russia, Dagestan and Novosibirsk for decades, they are part of every wrestling practice and are now coming into the global grappling community as a tool to get into the best wrestling shape possible.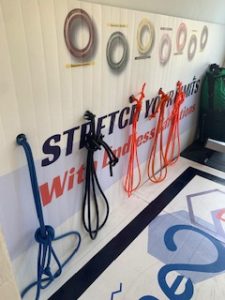 The biggest benefits of Dopa are the fact it is portable, can literally be done everywhere, it develops both cardio and strength as well as it is 100% sport functional training. There are so many cases of high end Olympic athletes using Dopa bands in their training and this can be seen on daily videos on their Instagram posts and YouTube training videos.
What are The Types of Dopa Exercises 
There are dozens of different individual movements that can be done with the dopa bands. That said, DopamineO has broken all movements into a few different themes, pulling movements, pushing movements, movements that work heavily on the transverse plane, movements that combine all of these movements and dynamic movements that also include footwork on top of upper body movement.
An example of a pulling movement would be the Dopa Band Snapdown, which comes from the wrestling movement called a snapdown. This is the bread and butter of Dopa and works all your posterior chain muscles of the upper body, it also conditions the arms and helps keep a wrestler used to staying low in their stance.
If we are looking for an example of a pushing movement, a simple example would be punching with the DopamineO bands which is very commonly done by pro boxers who use Dopa in order to increase boxing stamina outside the ring.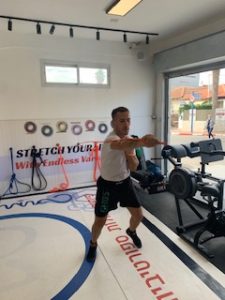 Movement on the transverse plane is one Dopa's best attribute as this is where Dopa  shines. A great example would be the upright lawn mower power pull where you pull the Dopa from one side to another while having straight arms. This move is excellent for all combat athletes as well as tennis players, golfers, hockey players, baseball players and crossfit athletes.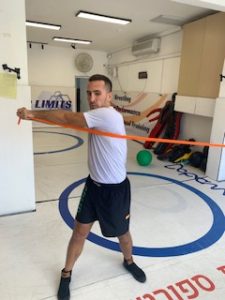 An example of a Dopa movement that combines 2 or more movements would be the Dopa propeller movement. This is a great movement for Wrestlers, Judokas and Samboists as it resembles a mix of penetrating for a fireman's carry, going for a single and setting up good clinch positioning while changing levels. A set of Dopa propellers is a great cardio exercise and works most muscles in the body.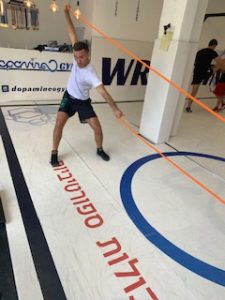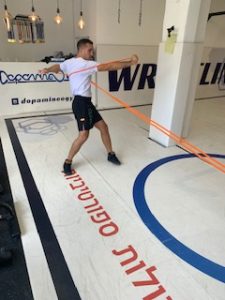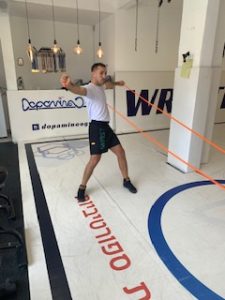 Last but not least would be a full body example, one that uses footwork. This would be practicing shoulder throws with the DopamineO Bands. In this case you use pulling movements, transverse plane moments, heavy abdominal use and quick footwork going as there is quick directional change during the movement. It is a real calorie burner and a secret of many Dagestani Wrestlers and Olympic Judo champions.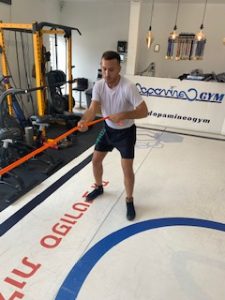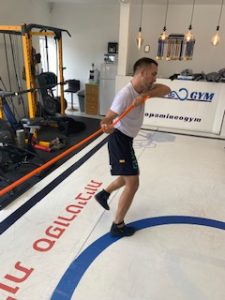 Dopa Resistance Bands for BJJ
BJJ athletes and enthusiasts can really benefit from using DopamineO resistance bands. There are many specific drills both in a standing position as well as on the ground that can help athletes develop more stamina and power in movements like shrimping, dropping into a leg lasso, top game passing the guard and more. 
Generally where Dopa excels is placing resistance in the basic movements that can be found in BJJ, a good example would be placing the Dopa around your waist while connected to wall mount and moving forward on all fours then turning directions, all with resistance pulling you backwards, this emulates the type of resistance and cardio that one would have when trying to pass the guard aggressively.
Dopa Resistance Bands for Wrestling
All styles of wrestling from Freestyle Wrestling to Greco Roman Wrestling to Folkstyle Wrestling can benefit from using DopamineO Wrestling Resistance bands to increase their wrestling fitness as well as polish their wrestling technique.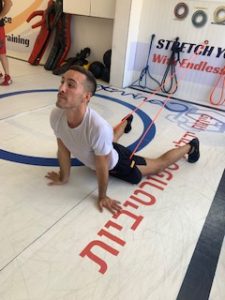 There are dozens of great exercises that can benefit wrestlers and emulate wrestling drills and positions such as the wrestling underhook, hip throw setup, fireman carry setup, arm drags, sprawls, penetration steps and overall hand fighting stamina development.
There is absolutely no doubt that using resistance bands will aid your wrestling, the Russian national wrestling teams constantly use them and so should you if you want to take your wrestling conditioning to the next level.
Dopa Resistance Bands for Judo
Judo is no stranger to the use of rubber resistance bands for improving their overall Judo conditioning. Judokas call the bands Uchikomi Bands and generally they have a piece of a Judo gi connected to each end of the Uchikomi Band.
Unlike Uchikomi bands, Dopa resistance bands do not have a piece of the Judo gi attached to each end of each side of the band but Dopa bands are of much much better quality than Uchikomi bands as well as Dopa bands come in many different sizes and resistance levels.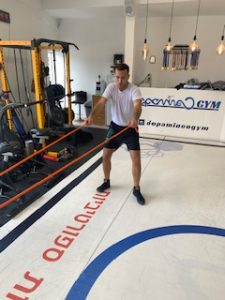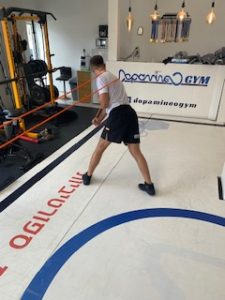 One of the most surprising things that happened during the development of DopamineO's product line was the absolute success they had supplying Judo teams with Dopa bands as they never thought Dopa bands would be used outside the wrestling community and yet they were a hit with many sport communities including Judo. This came down to a few reasons which were the high quality of the resistance band, the service that the crew at DopamineO gave their customers and the fact that finally there was a one stop shop for fitness resistance bands for fighters.
Judokas have so many different ways to use Dopa bands and improve their Judo technique at the same time. Many Judo movements can be practiced with Dopa and done with full explosiveness without worrying about ripping the resistance band.
What Makes DopamineO Different Than Other Fitness Bands
There are so many different types of fitness band producers in the market, most just buy cheap products and place their logo on the band. 
Dopa is totally different as this is a wrestling resistance band made for wrestlers by wrestlers. Dopa has evolved from the early days when they started. The team at DopamineO are constantly improving the product, they are looking at new technologies in production that will give the perfect stretch and feel that a fitness band needs.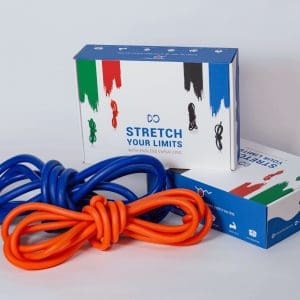 Dopa bands have really even resistance compared to other bands on the market, they also last a much longer time than other fitness elastic bands on the market. DopamineO also provides several different thicknesses and resistance levels so that you can choose the type of workout you want, they have wrestling fitness bands that are more geared towards high endurance as well as they have wrestling fitness bands that are more geared towards power and strength.
Whatever your goal is, they truly have you covered and you can be assured it is a high quality product that can take the rigors of a strong grappler going as hard as they can while using the Dopa bands.
Where Can I Get DopamineO Bands
In the past, quality wrestling rubber bands were an absolute nightmare to get hold of but now that DopamineO has developed their product, it is as simple as going to the DopamineO website at www.dopamineo.com. They have great customer service and an outstanding product that they stand behind as well as all the guys at DopamineO use the Dopa each and every day in their daily wrestling practices.
In Conclusion
Grapplezilla has a really close friendship with DopamineO, we have seen the company grow from 2 wrestlers wanting to get the best advantage possible in their training to a proper wrestling fitness equipment company.
We have seen their factory, seen how they develop their product and seen how they truly care about bringing the best wrestling resistance bands on the market.
This is why Grapplezilla is writing about DopamineO and their amazing Dopa bands, we use them daily, we have seen top level Russian Olympic Wrestling team members use them daily and we just want to recommend to our readers the best possible grappling and wrestling based equipment on the market…and DopamineO bands are just that.
Dopa bands are must for anyone serious about their wrestling and grappling conditioning, they are not expensive, they take up little space and can be trained with anywhere. This is why the best of the best use Dopa and why Grapplezilla highly recommends DopamineO to our readers.
Dopa bands simply are a must have piece of grappling equipment, period.