Roberto "Spider" Traven is an underappreciated legend in Brazilian Jiu Jitsu. He has practiced the martial art for nearly 40 years and done it all.
Everything from winning world championships, competing in MMA, and running successful BJJ academies. Traven's Jiu Jitsu journey is a special one and it's an honor to share with you.
We'll take you through how he got started in Jiu Jitsu and how he achieved his black belt in record time. Then we'll go through his competitive career in BJJ and MMA, detail the development of his style, and his success as a coach.
Traven discovers Jiu Jitsu
Roberto Traven grew up in the Ipanema region of Rio de Janeiro and was very active growing up. He would play numerous sports and would find success in just about anything he participated in.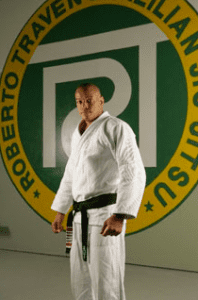 When he was 16, he heard that there was a phenomenal Jiu Jitsu practitioner near him named Romero "Jacaré" Cavalcanti. Those that knew Jacaré said he was a 'sinistro' grappler that was one of the best around.
Traven became interested in learning from Cavalcanti and would make a trip to his academy. Once Roberto stepped on the mat he was hooked.
Jiu Jitsu had become something that he wanted to do for the rest of his life.
Traven's sprint to black belt
Roberto's dedication to Jiu Jitsu was apparent and quickly became one of Jacaré's top students. Often training three times a day with his training partners Fabio Gurgel, Leo Vieira, and Jamelão Conceição.
Training multiple times a day with some of the world's best grapplers made Traven progress rapidly. In just 4 years, he was able to earn his black belt.
An almost unheard of feat at the time and is still one of the fastest time frames to black belt ever.
Traven's early coaching career
A short time after earning his black belt, Traven would teach Jiu Jitsu at Academia Strike. He would often get one of his top students Muzio de Angelis to assist him in class.
When the owners of the academy closed Academia Strike, the two went into business together. Opening their own academy called Academia Muzio & Traven.
Traven moves to the US
Roberto and his now business partner Muzio would have a lot of success with their academy from the start. He would also find success in BJJ competition winning the Brazilian Nationals in 1995.
But even though the business was doing great, Roberto began traveling around the world more. Particularly in the US, where he started to see more opportunities for him. 
The sport of MMA was growing and saw that opening a gym in the US would be incredibly lucrative. Traven would end his partnership with Muzio and move to the US.
There he would begin his MMA career, continue competing in BJJ, and open a Jiu Jitsu school.
Roberto Traven's MMA career
After Traven settled in the US, he would make his MMA debut at UFC 11 in Augusta, Georgia. It would be a successful debut as he defeated his opponent Dave Berry by TKO.
Spider would then make the trip to Moscow to fight in a one night tournament for Absolute Fighting Championship in 1997. He would finish all 3 of his opponents in the first round to boost his record to 4-0.
Roberto would then have his next 3 fights for the Japanese promotion Rings. Going 2-1 in the promotion and taking his first professional loss against UFC champion Dave Menne.
Traven would fight 4 more times and retire with a 6-4-1 record after his last fight against John Salter.
Traven's time as a BJJ competitor
For over 4 decades, Roberto competed at the highest level in BJJ. Before moving to the US, he won the Brazilian Nationals in 1995 in the heavyweight black belt category.
Once he moved to the US in the late 1990s, he would hit his prime as a BJJ competitor. In 1998 and 1999, Spider won back to back BJJ world championships and beat some of the best grapplers ever.
Beating Roberto Godoi, Otavio Duarte, and John Machado in 1999 and UFC legend Minotauro Nogueira in 1999.
He would cap off his amazing two year run by winning the absolute division at the second ADCC Championship Tournament.
Then later in his life after taking a break from competing in BJJ, Traven would return to competition. From 2014-2016, Roberto would dominate the Masters 4 division and win 3 IBJJF Masters World Championships.
Roberto Traven's BJJ game
Roberto is considered one of the best guard players of his era. At heavyweight, he moved like a smaller grappler and was constantly active off his back.
Constantly going for sweeps and using his powerful grips to control his opponents. This is how he earned the nickname the Spider.
His guard was also considered one of the most impassable guards in all of BJJ. In his 30+ years of competing, Roberto could probably count the times his guard was passed using both hands.
Roberto Traven and his Rickson Gracie story
Roberto has a special Rickson Gracie story that happened in the mid 90s at the Pico Academy in Brazil. On this trip, he went with Fabio Gurgel and a few other black belts to train with the great Rickson Gracie.
Usually whenever visiting black belts would come to train with Rickson, the same thing would always happen. Gracie would dominate even the highest level world champions and submit them multiple times during a roll.
Spider was coming off his first world championship win and had a different game that Rickson hadn't seen yet. 
When they began their roll, Traven went to guard and used his patented guard game. He couldn't sweep him, but he was able to stuff Gracie's passing attempts.
Rickson tried as hard as he could, but he couldn't pass Roberto guard and was frustrated. Their roll ended with Rickson visibly upset.
Traven admitted his moral victory was short-lived and the next day of training with Rickson training didn't go as well. 
In their second roll, Rickson passed Traven's guard within the first minute and submitted him. Then proceeded to do it multiple more times before the round expired.
When Roberto was asked what he learned from that training session during an interview with BJEE, he stated: "How to tap. Hahaha! I'm getting very good at it."
Traven also stated that the training session was humbling.
Roberto Traven's Jiu Jitsu school
Since the late 1990s, Traven has made his home in Atlanta, Georgia, where he opened his school Roberto Traven BJJ. For many years, Traven's school was an Alliance affiliated school, but in recent years left the affiliation.
His BJJ school is one of the longest running academies in the Atlanta area, where he has taught thousands of students. 
Roberto Traven becomes a coral belt
in 2021, Roberto Traven was awarded his coral belt after nearly 33 years as a black belt. A feat rarely reached in Jiu Jitsu that only the most passionate and dedicated Jiu Jitsu practitioners reach.
Jiu Jitsu has been Traven's passions for 5 decades and he has achieved everything one can in the martial art. From winning world championships to building a successful BJJ academy. 
He exemplifies the spirit of Jiu Jitsu and has had an amazing journey through the martial art. Roberto is a person that we can all look up to and strive to be like.