In an age where wrestling is at its highest level of competition ever, there has been one wrestling star who has been at the forefront of the Freestyle wrestling world, Abdulrashid Sadulaev.
There has been no wrestler who has dominated the competition like Sadulaev has in the past decade. Sadulaev, nicknamed the tank, constantly destroyed the competition in pure dominant fashion, facing the world's best freestyle wrestlers at the highest levels of wrestling competition all while doing so in humble fashion.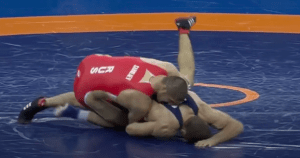 Who is Sadulaev
Born to a family of Avar descent and the youngest of four siblings in the farming village of Tsurib in Dagestan, Russia on May 9th 1996, Abdulrashid Bulachevich Sadulaev would not start wrestling until the age of 13. 
Sadulaev would quickly find success in wrestling and quickly join the prestigious Gamid Gamidov Wrestling Club under the guidance of world class coach Shamil Omarov after graduating grade 11. Sadulaev would learn the best of Dagestani Wrestling and perfect it's techniques and tactics. 
The Gamid Gamidov Wrestling Club is Dagestan's Olympic reserve sports school and would be the perfect place for Sadulaev to perfect his wrestling skills and perfect them he did as he would go onto win his first world title under the Russian flag in 2012 at the age of 16 at the Cadet Level of wrestling, a truly amazing accomplishment considering he only started to wrestle at age 13.
A true athlete and sportsman, Sadulaev is extremely humble, very religious and a very hard worker on the mat, this has paid off as he is a man of action over words and we can see it in his dominance on the international wrestling stage. Sadulaev's wrestling style is one of pure dominance, power, strength, speed and high mat IQ. He is extremely fast, agile and flexible as well as mentally on top of his opponents. He uses superior positioning, efficient counter-attacks, quick footwork and world class hand fighting to defeat his opponents time and time again in freestyle wrestling competition.
When asked how he has gotten so incredibly good at wrestling, Sadulaev simply accredited his success in wrestling to his belief in God and his practice of Lezginka – a type of folkstyle dance originating in the Caucuses, this has become a heartwarming quote and insight into the humble nature of the world's best wrestler.
How Good of a Wrestler is Abdulrashid Sadulaev?
Having represented Russia and wrestled over 130 international matches at the very highest level of freestyle wrestling, Abdulrashid Sadulaev is synonymous with one word, victory.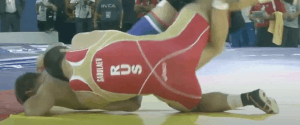 Sadulaev has only lost twice since starting international competition in 2012, the first was in 2013 against Gamzat Osmanov of Azerbaijan by tech fall at the Memorial Heydar Aliev tournament in Baku and the 2nd being when Sadulaev lost to the American wrestler Kyle Snyder at their first meeting at the finals of the 2017 World Freestyle Wrestling Championships in Paris.
A true champion, Sadulaev started his senior wrestling career at 86kg but in 2017 moved to 97kg. Abdulrashid Sadulaev has won the Russian nationals several times, he has won many memorial tournaments as well as the Golden Grand Prix Ivan Yarygin twice which is known as the world's hardest wrestling tournament. Sadulaev has won the European championships 5 times, a Gold Medal at The 2020 Individual Freestyle Wrestling World Cup, he has won the European games 2 times, he has won the Freestyle World Wrestling championships 5 times and he won the 2016 Olympic Freestyle Wrestling Gold and Gold at the 2020 Tokyo Olympic Games. Sadulaev is the current captain of the Russian National Freestyle Wrestling team.
It is often said that when your heroes become your admirers then you have attained true success, in an interview, the great Russian wrestler Buvaisar Saitiev said that when he watches Sadulaev wrestle, he sees no holes in Sadulaev's wrestling style, Sadulaev simply has a perfect style for freestyle wrestling.
Sadulaev and Snyder, Snyderlaev
It was 2016, Sadulaev had won the freestyle wrestling gold medal at Rio Olympics in the 86kg category and Sadulaev simply had no competition in the category and wanted a new challenge in his wrestling career. It was 2017 and Sadualev decided to move to 97kg in order to find that new challenge and he did when he met Kyle Snyder (who was also an Olympic gold medalist in the 2016 Rio Games but at the 97kg division) in the finals of the 2017 World Wrestling Championships in Paris, France.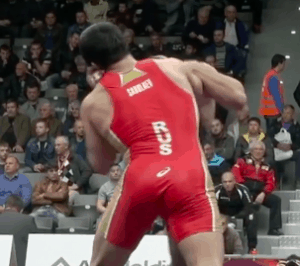 It was a very close match, 2 Olympic Gold medalists, the 2 best wrestlers on the planet meeting to see who was the baddest man on the planet and it would be a very interesting lesson for Sadulaev, one that would create a burning fire inside him to become the best.
Sadulaev would go on to lose to Snyder 6-5 and take the Silver medal, it was apparent that although Sadulaev was technically superior, it was Snyder's physicality and strength that made a difference in the match. Sadulaev and his coaches were ever so patient after the loss and saw that Sadulaev just needed more time to build his body up properly in order to be physically prepared for the highest levels of the 97kg weight class.
Sadulaev vs Snyder 2
It was slated as the biggest wrestling match of all time should the 2 meet again at the 2018 Freestyle World Wrestling Championships in Budapest, Hungary and they did meet in the finals once again.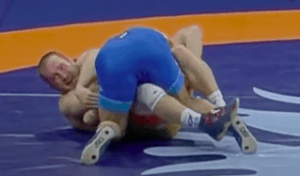 This time it would be different as Sadulaev and his coaches came fully prepared with the proper training, the proper time to build his body into the 97kg weight class and a proper game plan. Sadulaev would go on to beat Snyder in an absolutely stunning manner, Abdulrashid Sadulaev pinned Kyle Snyder in the first minute and 10 seconds of the match. It was a victory that will be remembered in wrestling's history as the manner in which Sadulaev beat Snyder was one of class and technique at it's finest. It was a victory not only for Sadulaev but for Russian wrestling as the entire Russian wrestling team raised Sadulaev up in the air and celebrated with the highest levels of joy and happiness. Sadulaev had beaten Snyder's strength with wrestling technique, a truly wonderful way to avenge his loss to Snyder the year before.
Sadulaev vs Snyder 3 at The 2020 Tokyo Olympics
Tokyo 2020 would see Sadulaev run through the best of the best at the 97kg weight class. His first match was against the ever so talented Sharif Sharifov where Sadulaev won 5-0, Sadulaev would go on to beat Elizbar Odikadze of Georgia 10-0. Sadulaev's 3rd match would see him pitted against Cuba's Reineris Salas 4-0 and thus be placed to face Kyle Snyder in the gold medal match.
Sadulaev  pressed hard and showed why he is considered the best wrestler in the world by beating Snyder 6-3 and thus winning the Olympic  Freestyle Wrestling Gold medal and now having the superior record against Snyder at 2-1.
Final Thoughts
Sadulaev is still on the war path to victory on the International Wrestling scene with the 2021 Tokyo Olympics in his sights. He is on his way to being the best wrestler of all time and is certain to have a positive impact on Russia's future wrestlers with his knowledge, humble character and winning attitude. There is one thing that is certain, Sadulaev will always be remembered as one of wrestling's most impressive athletes and a hero to many aspiring young wrestlers around the world.