One of the greatest tragedies to hit the arm wrestling world was the death of the great Andrey Pushkar. He was an incredibly dominant Arm Wrestler who was the guy to beat in the first 2 decades of the 2000's. Andrey Pushkar was the perfect package, strong, intelligent, had killer instinct and the endurance to beat the best of the best…and he did beat the best of the best.
Andrey Pushkar's Early Years
Born August 6 1985 in Kremenets, Ternopil Region, Ukraine, Andrey Anatoliyovych Pushkar grew up in an area of the world where men exemplified strength and toughness.. When Andrey was a child, he loved to watch action movies like many kids and after watching the movie Commando starring Arnold Schwarzenegger, Andrey was so impressed with Arnold's strength that he made the decision that he was going to be a professional athlete when he grows up.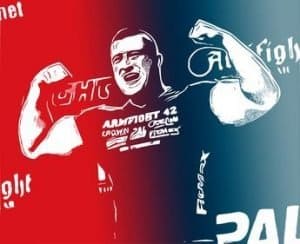 Andrey's passion for sports was heavily influenced by his father Anatoly Pushkar as during Andrey's youth, Anatoly would compete in many different martial arts tournaments, often taking Andrey along to watch as a spectator. To add more to Andrey's passion, Anatoly was also the town's Arm Wrestling champion, so Arm Wrestling was in the Pushkar blood as we can see.
Having an excellent level of natural strength, Andrey decided to compete in the local "Cossack Fun" competition in Kremenets where he lifted a weight of 70kg and incredible 52 times in a row. This led Pushkar to start training and competing in Olympic weightlifting and powerlifting – both of which he excelled at. Behind the scenes, Andrey Pushkar's father had a deep belief that the best way to develop an arm wrestler is to start in the sports of powerlifting and weightlifting thus advising Andrey to take the sports up.
How Did Andrey Pushkar Start Arm Wrestling
Being a fan of strength and power sports as well as being competitive in nature naturally pointed Andrey in the direction of Arm Wrestling. Andrey would watch his father dominate the arm wrestling table against family and friends. The Pushkar household would often see father and son training in Arm Wrestling, with Andrey's goal being to beat his father. Eventually Anatoly noticed that when Andrey was 12 years old, it was starting to get harder to beat his son with Andrey beating his father at the young age of 14. The duo quickly understood that Andrey had a real talent in the sport of Arm wrestling. His father was a true mentor and was Andrey's coach during his career.
Andrey Pushkar Starts Competing in Arm Wrestling
The true start of Andrey Pushkar's arm wrestling career was at the young age of 17 when he competed in the European Arm Wrestling championship where Pushkar came in 2nd place at the EAF Championships in the heavyweight division. This would be his first arm wrestling championship of many to come. In 2003 Andrey would also take the Gold medal at the World Arm Wrestling Championships as well as a gold at the World cup.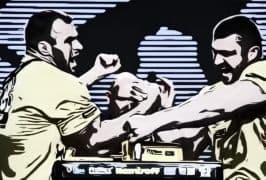 Andrey would go onto be a 15 time World Champion, 16 time European Champion and win the World Cup 7 times. Andrey won 200+ medals in Ukrainian arm wrestling competition. Pushkar is one of the very few humans on the earth to have beaten Denis Cyplenkov in competition, a feat that is very respected in the Arm Wrestling community.
Pushkar was said to be a huge fan of John Brzenk, being fond of Brzenk's body stature and the fact John would dominate the competition in all weight classes while only weighing 100kg and evening into his 50's.
Andrey Pushkar's Training and Nutrition Regimen
A truly disciplined athlete, Andrey would train 3 times a week for 1.5 to 2 hours for building strength for Arm Wrestling. Andrey had a very specialised training routine that he built and developed specifically for himself as well as Andrey Pushkar had incredibly strong arms and was extremely flexible for his size. Andrey would regularly bench 200kg and use 45 dumbbells to develop both the strength and endurance needed to be an Arm Wrestling Champion. Pushkar was an advocate of specialized training thus he rarely trained his legs as he believed the leg muscles were not useful for Arm Wrestling.
Andrey also was very educated about what type of foods he ate. Pushkar would aim to eat a lot of protein, lots of vegetables and eat low amounts of animal fat. Andrey would generally eat between 4-6 meals a day, always with high protein amounts in the meal. The go to protein sources that Andrey would eat were fish, meat, eggs, protein shakes and milk. Pushkar would also eat most of his daily carbohydrates before lunch. Last but not least, Andre Pushkar was fond of supplements as he would take protein powder, creatine, various vitamins and amino acids.
Pushkar was a very large man, standing 6 foot 4 (1.92 m) and weighing 125kg of raw muscle as well as he Arm Wrestled both with his right and left hand.
Andrey Pushkar's Achievements and Legacy
Andrey was a very educated and intelligent individual having graduated from the Kremenets Regional Humanitarian and Pedagogical Institute and Faculty of Accounting and Auditing at the Ternopil National University of Economics in Accounting.
Andrey also served as the Ternopil National University of Economics Arm Wrestling coach from 2005 until the time of his death. Andrey both coached University students as well as children in the sport of Arm Wrestling. Andrey was given the Honored Master of Sports of Ukraine in 2006 in Arm Wrestling.
A true ambassador for the sport of Arm Wrestling, Andrey Pushkar was not only a champion on the Arm Wrestling table but also off the table. Pushkar wanted to give back to those who needed it the most and led a movement called "Pushkar's Team School". The concept of Pushkar's Team School was to provide people who were refugees, poor, disabled and underprivileged a no cost free gym as well as free training in self defense in order to build up their confidence and motivation in order to help them become the best they can be.
Pushkar was a hero in the Ukraine, having won many national awards and honors such as the "Together with the Olympians" award, the 2105 Heroes of the Sport Year in the Ternopil Region award and he even received a 25 Years of Independence of Ukraine jubilee medal from the Ukrainian President.
How did Andrey Pushkar Die?
On his way to pull Denis Cyplenkov in the Golden Tour Professional World Cup in Poland, Andrey Pushkar died in a severe traffic accident on November 14th, 2018 while on the way to the airport.
Andrey was riding in the car with close friend and fellow Arm Wrestler Oleg Zhokh as well as Oleg's father around the Riven region when their Citroen Berlingo suddenly lost control and swayed into the oncoming lane hitting a truck. According to police, Oleg was the driver of the vehicle.
The truck driver was driven to hospital where he lay in critical condition while Oleg Zhokh's father and Andrey Pushkar died. Oleg Zhokh was in a severe coma for 10 days and eventually woke up from the coma only to wake up to the horror that both his father and one of his closest friends were no longer alive.
Andrey left behind his wife and son. He was heavily in love with his wife and was so proud to have a son that he wanted to be the best father to, sadly this was not the case and the rest is history.
In Conclusion
There is no doubt that Andrey Pushkar was one of the best Arm Wrestlers of all time and had he been alive today, possibly even be considered the best Arm Wrestler of all time. Where Andrey excelled was with his absolute focus and discipline on the table as well as his giving back to the community off the table.
We raise a glass to Andrey Pushkar as he truly is a Grapplezilla and exemplifies everything in what a human should be, brave, resilient, strong and humble.