If you're a fan of the arm-wrestling sport, then you know who Oleg Zhokh is. The man who came to be later known as "The Ukrainian Mutant" won his first world title at 18 years and was the youngest to ever win a world title in a 70kg left-hand category.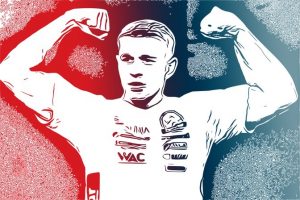 Oleg Zhokh is also known for his massive left arm caused by a congenital disability called congenital hypertrophy. This means he had little to zero strength on his left arm, but he began intensive training and made his left arm into an arm-wrestling God hand.
He won the world title eight times and faced off against some big names in arm-wrestling like Devon Larratt and Denis Cyplenkov. We've written some of the highlights in Oleg Zhokh's career and why this man is one of the best arm-wrestlers in the world.
Oleg Zhokh's Personal and Physical Details
| | |
| --- | --- |
| Name | Oleg Zhokh |
| Birth Name | Zhokh Oleg Sergeevich |
| Date of Birth | October 13, 1992, |
| Born | Ozhenyn village, Ukraine |
| Age | 28 |
| Country | Ukraine |
| Sport | Arm wrestling (Men) |
| Height | 6Ft (182cm) |
| Weight | 78kg |
| Weight class | -70kg |
The Inspirational Oleg Zhokh
Oleg Zhokh began his arm wrestling career when he joined his university in 2009. For his first tournament, he competed with his right hand, in which he ate his first defeat. Moving forward, he decided to train his left hand, which was medically diagnosed to be a "failure of all functions," and he won his first international tournament at the Nemiroff world cup in 2010.
Later on, Oleg Zhokh competed in the A1 Russian tournament in 2012, where he landed himself in 8th place in the open weight division category. Not quite tragic since he won himself the honorary title "Honored Master of Sports In Ukraine" later in 2012. The honorary title is a big deal for the Mutant since he was told as a child that he would never be good in any sports.
After conquering world titles in his division, defeating world champions and competing in the various international level competitions, Oleg Zhokh was genuinely inspirational. By 2018, Oleg Zhokh, with his deformed hand, won 8 world titles.
 

Some of the world titles Oleg Zhokh triumphed in 
World Championships

Gold

Sao Paulo 2012 left hand/70kg

Gold

Alma-Ata 2011 left hand/70kg
European Championships

Gold

Antalya 2011 left-hand/60kg 

Gold

Gdansk 2012 left-hand/ 70kg

Bronze

Moscow 2010 left-hand/ 60kg
The Tragedy and The Comeback
On November 14, 2018, Oleg Zhokh, his father and his friend Andriy Pushkar, another world class arm wrestler, unfortunately had a car accident while driving in the Rivne region. His father and friend Andriy died on the spot due to a traffic collision. However, Oleg Zhokh miraculously survived but was in critical condition. He survived with a fractured left arm and multiple bruises. Oleg Zhokh also suffered from brain damage, which was why he couldn't walk.
After three years of rehabilitation and intensive training, Oleg Zhokh returned to the world of arm-wrestling and took another world title. The Mutant shocked the world as he won his first comeback at the World Armwrestling Championship 2021. He competed in the 80kg senior left-hand category and marched out victoriously. Oleg Zhokh is currently a 9-time world champion.
The Heart of a Champion
Oleg Zhokh is an inspiration to us all. He is the actual definition of a true warrior. From being born with a congenital disability to using it as his weapon, he is a true master of strength. Oleg Zhokh not only inspires people with disability but regular people like us to never give up on our dreams. 
 The man is honestly a living legend, and he has more accomplishments and titles to win ahead in his career.