During the late 1990's and the first decade of the 2000's were some of the best years for international wrestling and during these years there was one Freestyle wrestler who was on a completely different level than the competition, that wrestler being Buvaisar Saitiev.
Buvaisar Saitiev Early Years
Saitiev was born in 1975 in Khasavyurt Dagestan, Russia and would go on to represent Chechnya in the Russian Wrestling Nationals as he was ethnically a Chechen. 
It was in 1982 at the young age of 6 that Buvaisar Saitiev would start his wrestling career under the tutelage of Sultan Gashimov, Murad and Isak Irbaikhanov at the sports school of the DSO "Urozhai", and then later on at the FSO "Trade Unions" wrestling school. Saitiev would win his first freestyle wrestling competition in grade 3, the first of many to come.
Tragedy struck the Saitiev family when Buvaisar was 13 as his father had passed away in an unfortunate car accident, his mother was left to raise 4 sons and a daughter alone.
When Saitiev was 14 he attended the world famous Yarygin wrestling tournament as a spectator, at this time Saitiev had a belief that if he touched certain wrestling champions, he would attain some of their energy – it was in this specific tournament that Saitiev touched the greatest Freestyle wrestlers in the USSR – Yarygin, Medved and Beloglazov. Perhaps this belief helped set Saitiev's champion mindset. 
Saitiev Takes Wrestling Seriously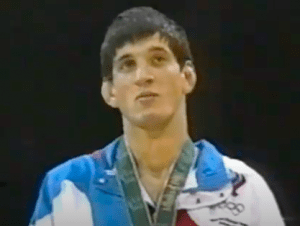 Saitiev made the choice to move from Dagestan in 1992 to train at one of the best wrestling schools in Russia at Krasnoyarsk Siberia, a well known and prestigious Freestyle wrestling school that produced constant world class talent. Saitiev trained in Krasnoyarsk under the world class wrestling coaches Dmitry Mindiashvili, Georgy Bakhturidze and Sergei Khachikyan. In 1995 Saitiev received the certification of Master of Sports in Freestyle Wrestling, a very respectful achievement in the Russian federation.
He started wrestling at the senior level in 1994, winning many international competitions by total domination and starting his famed wrestling career. Once Saitiev graduated from the Siberian wrestling school, he went on to represent Russia internationally and it was at the 1996 Atlanta Olympic Games he became the first Chechen to win an Olympic gold medal and the youngest ever Olympic freestyle wrestling champion, a true feat as at that time the Russian federation was going through rough times economically.
Buvaisar Saitiev Olympic and World Champion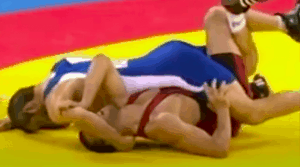 Saitiev's career was simply amazing as he would win 3 Olympic Gold Medals, 6 World Championship Gold and 6 European Championship Gold Medals as well as be voted by FILA as the best freestyle wrestler in the world five times (1996, 1997, 1998, 2003, 2005) and received FILA's (now UWW – United World of Wrestling) Golden Necklace in 2014 which is the highest honorary award one can receive in wrestling and generally reserved for heads of state. Saitiev was so dominant in international wrestling competition that from 1995 to 2000, Saitiev was undefeated in all competition, he did not lose a single fight.
Buvaisar Saitiev's Wrestling Style
A true master of wrestling, Saitiev had a style that was truly amazing to watch as Saitiev's technique was highly efficient with noticeable control over himself at all times, sometimes wrestling softly and relaxed and sometimes wrestling hard and strong. He had a simply amazing wrestling par terre, the highest level hand fighting and counter wrestling that could give him the advantage out of any attack the opponent made on him. Saitiev's mentality and composure were a true sight to see as he was always calm and focused, a true sign of a champion when facing the world's best competition year after year with victory being the result.
Life After Wrestling for Saitiev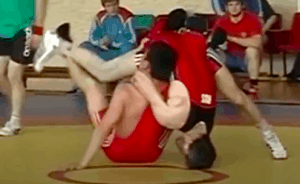 Saitiev retired from wrestling on May 26, 2009 after a 14 year international career and in 2016 Buvaisar Saitiev was elected Deputy of the state Duma to be a member of the committee for physical culture, sports, tourism and youth affairs as well as he is an advisor to the head of the Chechen Republic Ramzan Kadyrov and the head of the Republic of Dagestan Ramazan Abdulatipov.
A true intellectual off the mat Saitiev has won many awards and honours such as "The Order of Friendship" from the Russian President as well as several other distinguished Russian awards honours. He is an avid fan of the Russian poet Boris Pasternak and has been said to recite Pasternak's poem "My Sister Life" prior to every wrestling match.
A family man, Saitiev is married with 3 sons and 1 daughter as well as is the brother of the 2000 Sydney Olympic Freestyle Wrestling Gold medalist and World Champion Adam Saitiev.
In Conclusion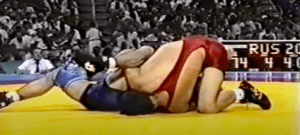 A true hero to many people, Buvaisar Saitiev continues to help his country, to build wrestling in Russia and to give back to his community, he is the true personification of a Master of Sports in Russia, he is a champion in his heart and soul and he is to many considered the best wrestler of all time.