Sambo has taken the world by storm with many Samboists dominating in major MMA competitions such as the UFC. This grappling based martial art was developed in Russia and has evolved over the years, and while we may have various Sambo fighters worldwide, nobody does it better than Vladislav Koulikov.
Vlad Koulikov is a top tier Sambo, Judo and Brazilian Jiu-Jitsu expert and has helped develop No-gi Sambo for submission grappling. He has won many tournaments and titles and has represented the USA in various championships worldwide.
So how were the early years of Vlad Koulikov? How did he start his career in Sambo? What are the titles and awards that Vlad Koulikov won?
If you are a Sambo enthusiast and want to know more about Vlad Koulikov, you have landed on the right page. This article will help you learn more about this world champion competitor's early life, career, and achievements.
So without further ado, let's get started.
Personal and Physical details
| | |
| --- | --- |
| Name | Vladislav Koulikov |
| Nickname | Vlad |
| Date of Birth | 24 December 1974 |
| Born | Moscow, Russia |
| Age | 48 (as of 2022) |
| Country | USA |
| Sport | Sambo and Brazilian Jiu-Jitsu |
| Height | 5 ft 10 in (1.78 m) |
Vladislav Koulikov – Early History
Although Koulikov represented the USA in many tournaments and championships, he is originally from Russia. Vlad was a bright student and took a keen interest in studying various subjects, such as world literature, history, and the Russian language.
Besides studying these subjects, Vlad loved martial arts and started training in Sambo. Koulikov's father was a boxer and wrestler and had immense strength, so strong that he had the ability to rip off chains or bend coins which had inspired Vlad to start training in Sambo.
After moving to the US as an immigrant in 1996, Vlad searched for a Sambo gym but had no luck finding one as Sambo gyms were rare to find in the US at that time. Instead, Koulikov enrolled in a grappling club and started training in Brazilian Jiu-Jitsu.
Sambo Jiu-Jitsu Fusion
After joining a grappling club in the United States, Vlad immediately fell in love with this BJJ. Since Jiu-Jitsu and Sambo have similar grappling techniques, it suited his fighting style. He mixed his previous training with the new martial art form, creating a fusion.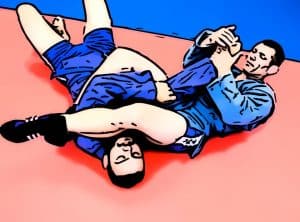 Although both Jiu-Jitsu and Sambo have their restrictions and strengths, Vlad considers that employing Sambo techniques in Jiu-Jitsu has enhanced his performance. It provided him with an added advantage over his opponent during a fight.
After incorporating his Sambo techniques with the techniques of Jiu-Jitsu, Vlad's martial arts skills evolved, helping him balance his Sambo skills with Jiu-jitsu. 
Although it took him some time to employ and adjust his Sambo background with his new martial art form, he managed to create a perfect fusion.
Vlad Koulikov's Career
Vlad began training in Russian martial arts from a very young age. As he idolized his dad and wanted to be an athlete himself, in 1984 Koulikov joined the best Sambo School in Russia, Sambo 70, eventually attaining Master of Sport in Sambo. 
During his early training days, Vlad trained hard and participated in various local tournaments. Although he lost in his first attempt, his dedication and rigorous training paid off with several victories.
He made his mark in the world of Sambo when he won silver and gold in the all Soviet cups. It boosted Vlad's morale, and after he moved to the United States, he represented the USA team on many occasions.
MMA Career
Besides representing the USA team in various competitions worldwide, Vlad joined the MMA to showcase his Sambo and Jiu-Jitsu fusion at the octagon. However, things didn't work out as planned, and he managed to win just once out of the four MMA fights he had.
Vlad lacked an MMA camp and proper guidance from experts, so he exited the MMA circuit after two consecutive defeats. Although he started his MMA career with a win over Juan Berrios in 2001, he lost his last two fights against Roland Fabre and Nakapan Phungephorn in 2002.
Here are the stats of his MMA career:
Vladislav Koulikov against
Juan Berrios – Win (31 May 2001)

Joe Scarola – Draw (30 June 2001)

Roland Fabre – Loss (18 April 2002)

Nakapan Phungephorn – Loss (9 November 2002)
However, he has never lost an MMA match by submission or knockouts.
Vlad Koulikov – Medals and Titles
Besides securing gold and silver in different All-Soviet tournaments, Koulikov has achieved many accolades and titles representing the United States at various competitions. Here are the titles won by Vlad Koulikov in various tournaments.
Grapplers Quest Competition

– Vlad has won various titles in several Grapplers Quest tournaments, including the Most Technical Fighter Award in the first Grapplers Quest in 1999. 

North American Grappling Association (NAGA)

– Vlad has also earned many accolades in various NAGA tournaments.

US Open

– After training Jiu-Jitsu in the United States, Vlad has had three successful runs in the US Open.
Vlad has also represented the USA team in the 2008 World Championship in combat Sambo as well as was the 2017 World Combat Wrestling Champion.
Vlad Koulikov as an Actor
Koulikov also found his way in Hollywood movies, apart from winning various tournaments at different levels. You can witness his acting skills in famous movies, such as John Wick (2014), Choke Artist (2014), and Salt (2010). 
Although he had more minor roles, he played all his characters in these movies to perfection. Audiences loved his performance, especially his character as Chenkov's father in the movie Salt.
Sambo Fusion and Koulikov Grappling Academy (KGA)
After taking up coaching as his next assignment, Koulikov founded his academy Koulikov Grappling Academy (KGA), in Warwick, New York. He also recently opened Sambo Fusion in Edinburg Texas and is passionate and determined to pass on his fusion techniques to the next generation.
Vlad also ran Ultimate Sambo with his X-wife and trained many Sambo fighters in this academy. He also trains students at Asylum gym in New Jersey.
Final Thoughts
Although we may not see Vlad Koulikov as an athlete more often, he will undoubtedly raise Sambo and grappling champions in the future. His fighting skills and fusion of Sambo and Jiu-Jitsu have earned him many accolades and inspired many young athletes to join the race. Koulikov is a world call instructor, knowing exactly how to teach students and help them become proficient in Sambo, BJJ and Submission Grappling.
With so many titles under his belt and a determination to produce more champions in the future, Vlad is undoubtedly a Sambo master.