A true warrior and great BJJ coach, Roy Neeman has one of the most interesting BJJ journey's around. He has an amazing story that is both motivating and inspirational. 
Roy Neeman was born in the small Moshav (Town) of Lakhish, Israel on April 1st, 1978. Although Lakhish was a very small Moshav, it  had many athletes such as Yoav Bruck who reached the Olympic finals in Swimming.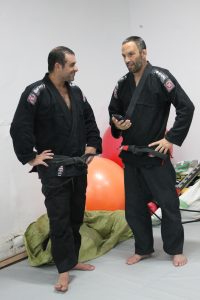 Like most children, Roy loved to play soccer and basketball, and the usual kids' competition of who could do the most pushups, pullups, and handstands. Roy was a naturally gifted athlete, coming from an athletic family, his brother being the Israeli Long distance running champion. Neeman's first taste of the martial arts was in Karate, but not at a serious level as it was extremely down south in rural Israel, and due this, there were not a whole lot of options to choose from.
Roy's Early Life Challenges
When Roy was a teen he got into a severe motorcycle accident in which he was lucky to survive as he broke his skull in 4 places as well as crushed his eye socket. 
Having to pick himself up after the accident to find someone to take him to the hospital as it was in rural israel and due to the fact it took a long time to find someone, he nearly died due to losing a large amount of blood. 
Roy had passed out and his mother and father were shouting in the hospital to get a doctor to start attending to Roy. Fortunately he was rushed for emergency brain surgery to take out blood clots that had developed and miraculously survived.
Roy Neeman's Military Service
Due to the fact that Roy had gone through such a horrific accident and surgery, the army did not want to accept him for his mandatory army service. Roy, being a warrior at heart, refused to accept this outcome and decided to volunteer and after getting past 6 different medical committees he was accepted into the army.
A true fighter in spirit, Roy not only joined the army but eventually went into one of the most elite units in the IDF, the Oketz dog handling unit and had an incredible service in he had the opportunity to do many interesting things during his army career. Roy would be honourably discharged several years later.
Neeman Trains Kung Fu in China
After completing his mandatory army service, Roy, who always wanted to learn proper martial arts, decided to move to China to study Kung-Fu at an actual Shaolin Monk school.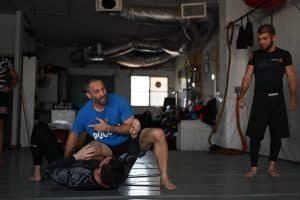 Roy would train from 6 in the morning till 7 at night with only breaks for breakfast, lunch and dinner. He would spend one year training in China and train everyday regardless if it was 30 degrees in the summer or -15 degrees during the winter, Neeman would be practicing his Kung-Fu skills each and everyday, fully dedicated to become the best martial artist he could be.
Shaolin Kung Fu training was extensive with a lot of focus on learning all types of weapons such as the staff, long sticks, short sticks, bladed weapons such as the sword, broadsword, and spears.
During this period Roy would learn Sanda, which is a type of chinese kickboxing mixed with Shuai Jiao takedowns. This would be beneficial later on in Roy's MMA career as Sanda helped him understand the timing and transition between striking to take downs.
You could say Roy's first look at ground fighting happened by accident as one day a fight broke out in the dining room between a student form England and a student from the US. The English student mounted the American and started to punch him over and over again with the American helpless. 
The Kung fu masters did nothing to break up the fight and Roy had seen enough, Roy quickly jumped in to stop the fight before things got carried away. This event led to Roy losing faith in the Chinese master's credibility and led him to decide to leave China.
After leaving the Shaolin academy Roy was traveling throughout China and met a Canadian guy who showed Roy a book about Ken Shamrock, Ken's life and Ken in the UFC. Roy learned that Ken would run tryouts to join his Lion's Den team in San Diego which led Roy to jump on a plane to go tryout for Ken Shamrock's team.
Roy Neeman, San Diego and BJJ
Roy had arrived in San Diego, highly motivated to try out for Ken Shamrock's team, only to find out that Shamrock had closed his gym because he owed money to the IRS.
A bit frustrated by the news about Shamrock's gym, Roy decided to go to the beach for a walk only to meet destiny as he would meet his future coach Joao Cunha on the beach. Upon first meeting Joao, Roy mentioned the reason he came to the US was to train with Ken Shamrock, in which Joao replied "Ken Shamrock? He lost to a small guy. Come try BJJ". Roy accepted the invitation to come learn from Joao at the academy and started his BJJ journey. 
Joao Cunha came to San Diego from Brazil and won the gold medal at the Pan American Brazilian Jiu Jitsu Championships a total of 6 times. Joao was easily one of the most active young competitors on the BJJ scene at the time and it was a perfect place for Roy to learn Jiu-Jitsu, especially as Joao Cunha didn't have sparring partners thus enabling Roy to constantly train with a BJJ Blackbelt. 
Roy would live in the Academy to save money, training twice a day as well as working as a mover and lifting weights late at night. Roy truly was living the fighter lifestyle and getting better each and every day. Quickly, Joao recognized that Roy was a true BJJ prodigy and through intense training, Roy earned his brown belt in an astonishing 3 years, constantly competing with the best guys in the biggest tournaments such as the Worlds, Pan Ams and more. 
Roy Goes to Brazil
While Roy was a Purple belt, he went to live in Brazil for a year in a small city called Teresopolis, near Rio de Janeiro. He would train at Pitbull BJJ's main academy under Adilson "Bitta" Lima and join the club's MMA team. 
Bitta was a very talented BJJ and MMA coach, having fought for Renzo Gracie in the 90's and having a solid grasp on what was needed to compete in MMA, placing an emphasis on Boxing, BJJ and Wrestling.
It was here that Roy would meet BJJ champions Delson Heleno and Jair "Sorriso" Goncalves and receive world class training for the year he lived in Brazil.
After completing a year of BJJ and MMA training in Brazil, Roy would return to the US, first stopping off in San Diego to rejoin the tournament scene, competing and winning in several big tournaments.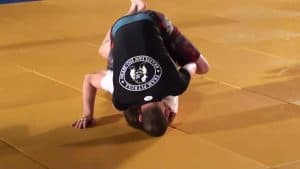 Roy then decided to live in Seattle and join a MMA gym that had over 20 pro MMA fighters training in the gym. The first time Roy arrived at the gym he was submitting all the fighters over and over again and then heard the main MMA coach say "wait till Mario gets here".
A few minutes later, a massive 6 ft 3 in (1.91 m) tall beast of a man comes in named Mario Miranda. Roy and Mario would wrestle for a full half an hour until Mario caught Roy's back off of the turtle, picked Roy up and suplexed Roy on his head. Roy immediately got up but couldn't speak clearly as Miranda slammed Roy hard on the mats. 
Roy's fighting spirit would gain Mario's full respect and they would continue to train together for many training sessions and till this day continue to be friends. Mario would later go on to fight in the UFC as well as win the M-1 Middleweight Championship.
Roy Neeman's MMA Journey
A true student of both MMA and BJJ, Roy actually started training MMA before BJJ. Having fought around 2 dozen MMA fights, most of them in the US and Europe. 
Roy's very first fight was in Arizona at Rage in the Cage, the fight would be in a 9×9 small cage and the use of gloves would be optional. Roy would fight against a very tough Japanese opponent who had a 10lb weight advantage. A highly aggressive fight with a lot of kicks between them Roy would use his superior grappling skills to aggressively take the Japanese opponent down and punish him on the ground which would lead to Roy winning his first MMA fight by way of unanimous decision. 
Roy Neeman quickly understood that MMA can go either way for a fighter and you need to focus on winning and not on looking fancy in the ring as it is not a beauty competition but a sport of skill and toughness.
One of Roy's most memorable fights was when he fought UFC star Frank Trigg at IFC in Tel Aviv as it was a very challenging fight for Roy as Frank outweighed Roy by 15kg (33 pounds), Roy gave it his best but unfortunately lost the bout but walked away with Frank Trigg's full respect after the fight as Roy was fearless in taking the match when many other Israeli fighters only accepted to take much easier fights.
Neeman Moves Back to Israel
Roy would eventually move back to Israel and start training with a friend he had made when living back in San Diego named Eldad Levi. Eldad took Roy to train with Avner Shalom and him at their Muay Thai gym in Herzliya.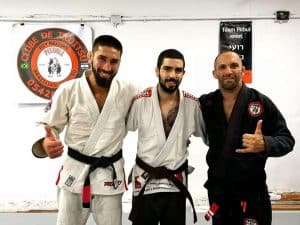 Eldad and Avner ran a highly professional Muay Thai gym and Roy really fit in well as it was a real fighters gym. Roy still needed someone to train on the ground with and decided to go train at the Bat Yam Wrestling club as he heard of a highly talented wrestler name Hanoch Rahamin who was training there and he wanted to train with the best.
Upon arriving at the wrestling club, Roy quickly noticed 2 guy who stuck out of the athletes there due to the fact they were not wearing wrestling singlets but Jiu-Jitsu t-shirts and shorts, the 2 guys being Roy Levi and Jeremy Knafo.
The Beginnings of Pitbull BJJ Tel Aviv
Roy Levi and Jeremy immediately became friends with Roy Neeman and helped him establish his training club in Tel Aviv, which Roy would aptly name – Pitbull BJJ Tel Aviv.
Neeman's BJJ club grew quickly as he would be teaching much more than what was being taught in Israel at the time. Roy would cover everything from spider guard, to take downs, butterfly guard, No gi and gi BJJ as well as MMA focused BJJ.
Some well known BJJ competitors at the time would learn and develop under the supervision of Roy Neeman. Competitors such as Samir Abdolkader, Shay Brand, Roman Rosh, Daniel Purim and Panda would spend many years learning under Roy Neeman and competing under the Pitbull BJJ flag, they would dominate the local Israeli circuit and many of them would go on to compete successfully internationally. 
The great thing about this specific group of guys was that they were never afraid of hard training and would give their all each and every training session, which coupled with Roy's coaching ability, produced many gold medals.
Roy Meets His Wife Natalie
While running Pitbull BJJ, Roy would meet his wife, Natalie Lourie, who would become Israel's first female BJJ blackbelt and highly talented and successful female BJJ competitor. A truly amazing BJJ couple, they really compliment each other and help one another with running Pitbull BJJ Academy in Tel Aviv.
Roy Neeman on Modern BJJ and MMA
Having seen the development of BJJ over the years first hand and at the highest levels of BJJ, Roy is first to mention that the BJJ we see today is much more professional than the BJJ of the past. BJJ today is very specialized, so it is not uncommon to see a BJJ athlete only practice gi or just no-gi as we have seen in the case of Gordan Ryan and Craig Jones.
This has led to very specialized rules which have made it difficult to really understand what a certain belt level of BJJ is. An example would be the IBJJF's leg lock rules compared to that of EBI and ADCC, the rule sets are so specified that it can hold back an athlete when they want to cross over to other competition rule sets and MMA. Roy believes a more open and standard ruleset would create a better overall BJJ athlete, much like what Judo has done.
In regards to MMA, Neeman believes a lot of BJJ coaches are not teaching BJJ for MMA properly as modern MMA has shown us that the fighter who controls position, controls the fight and striking on the ground. Most BJJ coaches only focus on submission and not on specific sweeps and holds that can enable the fighter to deliver an effective ground and pound that has a higher percentage chance of winning when looking at MMA statistics.
Roy Neeman's Advice for People Starting BJJ
Roy has a lot of experience teaching BJJ and has always been open in helping those start their BJJ journey, here are some word of wisdom that Roy tries to emphasize when starting to learn BJJ:
There are 2 types of BJJ practitioners, those who come for hobby and those who come for competition, understand who you are and train accordingly.

Prepare yourself physically, this means you need to understand BJJ is not crossfit and needs a certain way of training in order to get the body ready for the rigors of BJJ training.

Improve your flexibility, this will help you with longevity and overall BJJ performance.

Watch as much BJJ competition as possible, this will give a real understanding of what BJJ looks like and what is effective in BJJ.

Make sure you learn good solid fundamentals as a strong BJJ fundamental game wins most BJJ matches. Also, most advanced BJJ techniques require you to understand the fundamentals of BJJ in order to master them.

Make sure you find a coach you have good chemistry with, one that you trust to teach you. Roy recommends having a coach with a lot of experience as there is a big difference between a coach that watches videos and a coach that has been training and competing in BJJ for many years.

Have patience, BJJ is not a spring but a marathon, everyone has their own speed at which they learn and improve. The main thing is to start and the second main thing is to continue training, the rest will come.

If you want to be a good competitor, compete as much as you can and try to take videos of yourself competing as this will help you understand where you need to improve.

Have small goals and big goals that are yearly. A small goal could be to medal at the next competition where a big goal could be to have full control from the X-guard within the year. Goals will make your training more enjoyable and will help you in the long run.

Don't think about belts as they are not an indicator of your ability but an indicator of your knowledge of BJJ. A good way to look at this is to understand that a good BJJ blue belt is much more technically proficient than a blue belt of 10 years ago. Focus on just being technically proficient on the techniques you know. Receiving a belt is something you cannot control, but getting better technically you can control so focus on what you can control.
Pitbull Brazilian Jiu-Jitsu Tel Aviv
Pitbull BJJ in Tel Aviv is one of the best BJJ schools in the country, with a large student base and many Blackbelts to help lower belts achieve their BJJ goals, it truly is a top level school.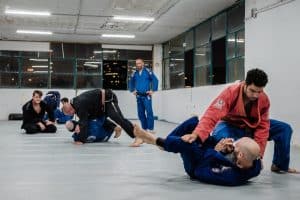 Roy Neeman's methodology of teaching is much different than other Israeli schools, Roy teaches a wide range of techniques in his curriculum from basic to advanced techniques to all of his students as he understands that not everyone learns the same techniques and not all body types are suitable for all techniques. 
His class had a real team atmosphere full of good energy and talent. Roy truly cares about his student's well being and puts everything into giving them the best BJJ training possible.
In Conclusion
A truly amazing person and incredible fighter. Roy Neeman's story is one that shows us anything can be done and no matter how hard things get, you can achieve your goals if you set your mind to it.
Roy is truly a world class BJJ coach and a hidden gem in the international BJJ community.