Rodrigo Artilheiro is one of the most accomplished Brazilian grapplers of all time. Winning numerous championships within Judo, Greco Roman Wrestling, and Brazilian Jiu Jitsu.
He has had an incredible journey through combat sports and I want to share with you Rodrigo's story.  Here is the complete story of Rodrigo Artilheiro and how he became an accomplished grappling athlete and coach.
Rodrigo Artilheiro's Early Years in Martial Arts
Rodrigo Artilheiro was born in Rio de Janeiro and grew up in a family full of Judokas. His father Arnaldo Walmory Artilheiro is a highly respected Judoka, who also had a successful career as a Judo athlete.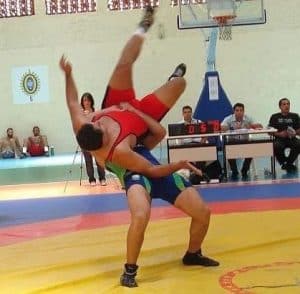 Master Walmory has also worked over 50 years within Brazilian television as a cameraman and well respected director for different Brazilian sports shows.
When Rodrigo was just five years old his father began teaching him Judo and practiced with him daily. As a kid, Artilheiro would be very successful competing in the lower ranks.
After spending a decade training in Judo, Artilheiro would start BJJ training at 16 under Master Carlson Gracie Sr.
Rodrigo Artilheiro's Judo Career
In 2001, Arilheiro would be awarded his Judo black belt by master Jomar Gomes Carneiro who Rodrigo trained with extensively and was an extremely high level Brazilian Judo instructor. From that point, Rodrigo began competing at a high level in Judo to go along with competing in Greco Roman Wrestling.
As a Judo athlete, Rodrigo would be highly successful competing in both national and international competitions. 
Two years after receiving his black belt in Judo, Artilheiro would win the Brazilian national championship. In the finals of that event, Rodrigo would beat Walter Santos, who was a top 5 heavyweight in the world.
In that same year as winning the national title in Judo, Rodrigo would also win his 7th wrestling national title.
His second biggest accomplishment in Judo was winning the title at the Troféu Brasil Judo in 2007. 
Rodrigo Artilheiro's Wrestling Career
Rodrigo Artilheiro is one of the most decorated Brazilian wrestlers of all time. Within his athletic career, Artilheiro has been the most accomplished within wrestling.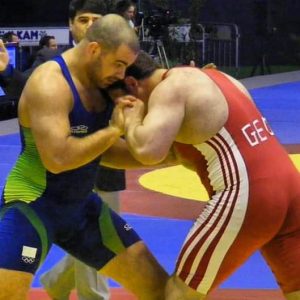 A late comer to the sport of wrestling, Rodrigo actually started wrestling late at 23 years old to help his Judo and BJJ games. Artilheiro was a natural at wrestling and quickly became one of the best Greco Roman wrestlers in Brazil and in the Americas.
As he continued training, Rodrigo became a world class Greco Roman wrestler. Winning an astounding seven Brazilian national titles and winning four of them in four straight years from 2003-2007.
The same year he won his last Brazilian world title, Artilheiro would also win a Brazilian national title in Judo. Rodrigo also competed and placed at numerous international wrestling events.
He would take the Bronze Medal in the Pan American Greco Roman Wrestling Championship to qualify for the 2008 Beijing Olympics. Unfortunately Rodrigo wouldn't be able to compete due to political reasons.
Rodrigo Artilheiro's BJJ Training
At the age of 16, Artilheiro started his journey into Brazilian Jiu Jitsu after eleven years of Judo training. His first instructor was the legendary Master Carlson Gracie Sr.
Rodrigo would train with Master Carlson frequently before he passed away in 2006. He would then start training under Amaury Bitetti, who was a former BJJ world champion and UFC vet.
Bitetti also trained Minotauro Nogueira at the same time Artilheiro was training with him. Rodrigo would earn his BJJ black belt in 2009 and start actively competing soon after.
Rodrigo Artilheiro's BJJ Career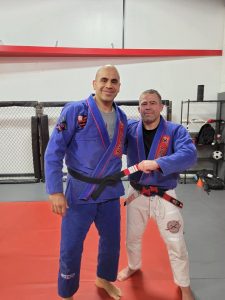 After Rodrigo retired from wrestling competition, jumped right into MMA and BJJ. He'd only have one MMA fight and would turn his focus directly on BJJ competitions.
In 2014, Rodrigo would win a BJJ world title by beating the highly talented Bruno Bastos in the finals.
Rodrigo also competed in multiple ADCC super fights. Most notably beating former ADCC champion and UFC vet Jeff Monson by points.
Rodrigo Artilheiro Coaching MMA Fighters
To add to having a highly successful career as a competitor, Rodrigo has also found success as a coach.
While Artilheiro was competing in Judo and Greco Roman Wrestling, he ran various programs within the city of Rio de Janeiro. Including many social programs to give kids, who couldn't afford to train, the opportunity to learn Judo and Wrestling.
He also worked with many MMA fighters like the Nogueira brothers, Mirko Cro Cop, and Vitor Belfort. This connection with Belfort would actually lead to Vitor inviting Rodrigo to help coach as the grappling coach on the first season of TUF: Brasil.
Rodrigo has coached in top gyms throughout the world from Las Vegas to Croatia and Israel.
Rodrigo Artilheiro Becomes a Krav Maga Instructor
After Rodrigo accomplished everything he could as a combat sports athlete, he took another route on his martial arts journey. After becoming a BJJ athlete, Judoka, and wrestler, Artilheiro took up learning Krav Maga.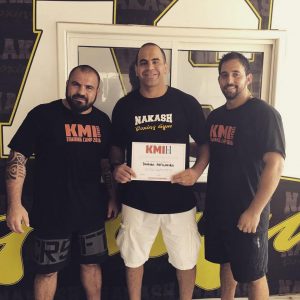 Not only learning Krav Maga, but he went through the long and grueling process of becoming a Krav Maga instructor.
Rodrigo traveled all the way to Israel where Krav was created to go through the process of becoming an instructor. He did his training in that with the Xfighting Israeli Group with Ran Nakash and Itay Dannenberg. One of the most respected certified Krav Maga training organizations in the world.  
Artilheiro is now an official Krav Maga instructor and now even runs his own Krav Maga school called RA Defensive Tactics. A truly world class Krav Maga instructor, Rodrigo has a multi-dimensional viewpoint on self defense with his deep grappling experience and world class Israeli Krav Maga training.
Rodrigo Artilheiro's BJJ Game
Rodrigo Artilheiro has an incredibly well rounded BJJ game that benefited from his training in Judo and Wrestling.
He mixed those abilities along with the classic old school Jiu Jitsu he learned from Carlson Gracie Sr.  and Amaury Bitetti. Developing a great closed guard game that is the perfect fit for his world class Judo and Wrestling skills, giving him attack abilities from wherever he is. Rodrigo is known to have great BJJ for MMA.
Artilheiro is also known for developing quite an effective leg lock game. All of this vast knowledge and skills has also made Artilheiro a highly respected coach in the BJJ community.
Rodrigo Artilheiro's Career in Sculpture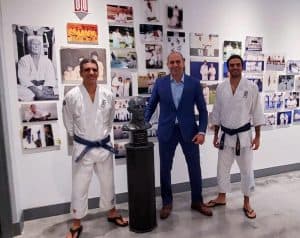 One of the most fascinating and impressive things about Rodrigo is his career in sculpture with clay. Rodrigo started sculpting as he was looking for a new hobby and immediately fell in love with the art form. He was a true prodigy in sculpture having mastered sculpture within a few years.
Rodrigo would eventually learn closely from Kevin Chambers, a world class artist and use this experience to help become the artist he is today. When asked where he got the talent for sculpture from, Rodrigo says creativity is in the blood it as his mother Cristina was creative individual, who was a very talented writer and poet as well as Rodrigo's Father was also incredibly creative having worked for decades in television.
Many of Rodrigo's works have been casted in bronze and are in museums around the world and he continues to this day to follow his passion in sculpture at a professional level
In Conclusion
In martial arts, Rodrigo Arilheiro has done it all and won at the highest level in three different grappling disciplines. Along with being an accomplished athlete in multiple sports, Artilheiro has trained some of the world's best fighters.
Today, Rodrigo is still coaching Brazilian Jiu Jitsu at X3 Sports in Atlanta and runs his own Krav Maga program at RA Defensive Tactics. Running private classes and frequently running workshops for members of law enforcement, SWAT and elite military units such as BOPE.
Then outside of martial arts, Artilheiro creates wonderful art at professional level and is furthering his artistic career with constant sculptures he exhibits on his social media accounts.
If you ever get the chance to learn from Rodrigo, we highly recommend you take the opportunity. He is not only a world class grappling coach, but an incredible person that you can learn a lot from. Rodrigo truly is a Grapplezilla.