Brazilian Jiu-Jitsu has become a massive global martial art with millions of practitioners, hundreds of BJJ instructors and thousands of BJJ coaches all involved in the BJJ lifestyle.
We are all aware of famous BJJ instructors and fighters but sometimes there truly is a BJJ gem that is not that known in the global BJJ community, many times due to physical location and the fact that certain instructors are so focused on their students development and giving everything to their students that they may not be known on a global scale.
Grapplezilla has found a true gem of an instructor, one that needs to be known about as he is a true example for the entire BJJ community. He gives his all to his students, he is there for them in the thick and thin as well as he is a keystone in creating quality human beings through martial arts. The BJJ instructor we are speaking about is Mike Yackulic who teaches out of his school called Arashi Do Martial Arts Edmonton North in Edmonton Alberta Canada.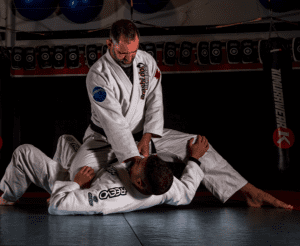 Mike Yackulic has a truly amazing BJJ journey as well as a very well versed martial arts background which started in 1992 in the central Albertan city of Red Deer. Like many young men at the time, Mike wanted to learn martial arts after watching Van Damme's blockbuster movies in the local movie theatre and just like many others, Mike decided to study Karate as his martial art. Mike was super lucky to be in the right place at the right time as he started to train Karate under the world class Karate instructors Gary Vig and Mike Bonde at the Arashi-Do Karate School in Red Deer Alberta who on top of being outstanding Karate instructors were also very open to exploring other martial arts.
Mike would continue his Karate training and eventually achieve his Karate black belt on November 25th, 2000 and until this day Mike continues to practice Karate as well as teach Arashi-Do Karate to his students.
It was in 1997 though that Mike got his first taste of the grappling arts when he entered to compete in a local grappling tournament in Edmonton named Let's Roll run by Kyle Cardinal. Mike faced many different opponents who were veteran Judo black belts and would compete in several matches that day that really had influence on his thoughts of a fighter needing to know how to grapple. Mike's first fight was against a Judo blackbelt who on the spot threw Mike where Mike landed in the guard and would eventually succumb to a cross collar choke.
Mike's second match was very different in that his opponent immediately jumped guard which in return Mike (as a Karate practitioner at the time and not a grappler) instinctively jumped and pancake slammed the opponent on the mat which led to mike escaping the opponent's guard and performing an unorthodox armbar on the opponent leading to the tap and victory for Yackulic. Mike's 3rd and final match of his first tournament was against another Judo fighter where Mike took the initiative and went for a double leg only to succumb to a quick guillotine choke from the Judoka. This whole grappling tournament experience lit a fire in Yackulic and got him hooked to grappling, he needed to know more and learn this truly amazing type of fighting.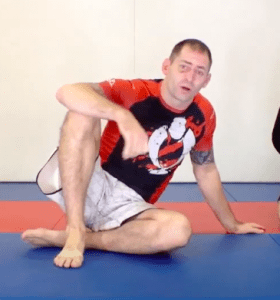 Having the fire within him burning stronger than ever, Mike started to learn grappling techniques from instructors he would fly out to, seminars and videos as well as in the year 2000 start to teach submission wrestling as well as mixed martial arts at Chris Bonde's Edmonton branch of Arashi-do Martial Arts. Mike's team was called Sniper ShootWrestling and had some of Alberta's best upcoming submission wrestlers and MMA fighters at the time including former UFC competitor Victor Valimaki.
Mike would eventually receive his blackbelt on May 26th, 2002 in Sniper Mixed Martial Arts under Gary Vig as well as go on to fight and coach professional MMA.
Mike Yackulic's BJJ Training
Having been training heavily in submission wrestling and focusing on grappling without the gi, Mike started to see that the grappling system he wanted to learn was Brazilian Jiu-Jitsu. Choosing BJJ seemed a bit counter intuitive as Mike did not like training gi but this was the system Mike would choose to follow when it came to his grappling training.
Yackulic would go on to research which BJJ instructor to learn from as he knew he wanted to learn from a credible source in the BJJ community. Mike's research led him to train and study under one of the best instructors in the world, Sylvio Behring.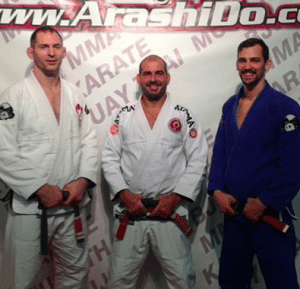 Mike was so extremely serious about training with Sylvio Behring that he travelled to train with Sylvio in Brazil for an entire month which at the time was not something common. Sylvio would award Mike his blue belt during that trip and cement the path in which Mike would take in his BJJ journey.
Mike would continue to represent Sylvio Behring as well as continue to travel to Brazil to train with Sylvio, many times bringing his own student's from Edmonton to train in Brazil as well. Mike would also train with Sylvio Behring's Canadian representative named Shah Franco in Toronto. Shah Franco would help Mike achieve his BJJ blackbelt as well as become the amazing BJJ instructor that Mike is today. Mike would receive his Blackbelt in Brazilian Jiu-Jitsu on May 7th 2009 and would be one of Edmonton's first BJJ blackbelts in the Edmonton martial art community.
A huge contributor in the Edmonton and Alberta MMA community, Mike Yackulic would go on to train in Muay Thai, having travelled multiple times to train Thailand and eventually receive the rank of Kru under his friend and Chris Bonde who is an officially recognised Kru under the world Muay Thai council. The addition of the Muay Thai training would become ever so valuable in Mike's approach to training future MMA fighters and students as not only did Mike have an unbelievable BJJ background but also a world class striking background which would truly complement each other.
Mike Yackulic's Arashi-Do North School
It was in January 2004 that Mike Yackulic decided to follow his dream and open a martial arts school of his own with the help of his close friend Chris Bonde. Mike decided to stay within the Arashi-do Family and open Arashi-Do Edmonton North which would go on to be voted Edmonton's best martial arts school and one of Canada's most well respected martial arts schools.
Arashi-Do Edmonton North offers several classes including Karate, Muay Thai, MMA and Brazilian Jiu-Jitsu as well as has a world class kid's class in each of the martial arts.
Mike Yackulic is an absolutely outstanding martial arts instructor for those looking to learn hope to defend themselves, be healthier and more confident, learn martial arts in a positive atmosphere and have fun. Mike has a great Instagram and Facebook page where you can see he truly cares about his student's development and progression. Yackulic is highly technical and pays extreme attention to making sure his students learn the proper technique in order to become the best they can be as well as student's of any fitness level can be sure to have an instructor who will help them get into the best shape of their life while learning the right skills to defend themselves should need be.
A True Pioneer in Edmonton's BJJ Community
BJJ is a rather new martial art and started off as an underground garage training movement in most North American cities. Edmonton was no different and today's Edmonton BJJ success can partially be attributed to guys like Mike Yackulic who had the courage and insight to follow the BJJ path, to travel to Brazil to learn BJJ when no one really was doing so and to open a school of his own in order to teach Brazilian Jiu-Jitsu.
Mike has been there through the thick and thin of Edmonton's MMA scene, he has competed as a fighter as well as been a coach to many successful fighters. He did this when barely anyone knew about MMA and BJJ and through his efforts and continued persistence helped build what is Edmonton's BJJ and MMA scene.
In Conclusion
Mike Yackulic exhibits the qualities of a world class martial arts instructor, he is humble, knowledgeable, honest, highly talented and approachable. Those lucky enough to train under Mike will all agree, he is a true gem of a Brazilian Jiu-Jitsu instructor and will continue to help educate and grow his students into better BJJ practitioners and human beings.