There are tough sports, there are tougher sports and then there is Greco Roman Wrestling which is considered the absolutely toughest sport to compete in at a professional level.
It is very hard to win a world Greco title and even harder to win an Olympic Gold in Greco Roman Wrestling but to win multiple Golds is one of the hardest feats known to man.
There have been a handful of Greco Roman wrestlers who have won multiple Olympic medals as well as multiple world championships but there is one who has risen above them all and that man is Mijain Lopez, the most beloved athlete in Cuban sports history, the Cuban Olympic teams flag bearer for 4 consecutive Olympic games as well as most successful wrestler in Olympic Greco Roman Wrestling history.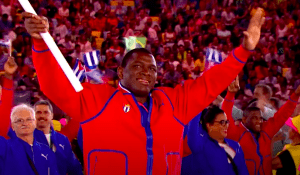 Who is Mijain Lopez
Born on August 20th, 1982 in the La Herradura Neighborhood in the city of Pinar del Rio, Cuba, Mijain Lopez Nunez started life as most kids, playing with friends and trying all sorts of sports out in order to find one that he simply had fun playing. Although Mijain would become a Wrestling legend, the sport he preferred to spend time playing was baseball (which is the most popular sport in Cuba).
Eventually Mijain dropped playing baseball and got into wrestling due to his large size and the fact he was overweight. Mijain had great genetics for the combat sport of wrestling, he came from a family of big boned people with his brother being Michal Lopez Nunez, a top level Cuban Amateur boxer who won the Bronze medal at the 2004 Athens Olympic Games. For boxing at the Super Heavyweight division.
Mijain Lopez's Early Wrestling Years
Wrestling was a great choice for young Mijain Lopez as he would soon find success in wrestling and would win many different wrestling medals as a youngster while wrestling in the youth category at local and national tournaments including Cuban National School Games.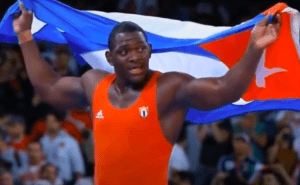 Mijain would train at the famous Cerro Pelado wrestling club in Cuba and luckily have mentorship under world class Greco Roman wrestling coach Pedro Val, who would be his coach until his death in 2018.
Eventually Mijain would wrestle for Cuba internationally at the senior level. Mijain's first few years wrestling at the Senior Levels internationally would be much different than the Mijain Lopez we all know. His First world championship was at the 2002 World Championships in Moscow, Russia where he finished in 13th place in the 120kg Greco Roman Division.
Next year, Lopez would once again compete in the Greco Roman Wrestling World Championships in Creteil, France where Mijain finished 16th place in the 120 kg division.
It was apparent that Lopez needed some more time to build up his skills and experience at the international level and that he did.
Mijain Lopez's Success Starts
After hundreds of hours of practice, Lopez would finally find success in the international wrestling arena. It was at the Pan American Games in Santo Domingo, Dominican Republic that a young 22 year old Mijain Lopez would win the Gold medal which would enable him the opportunity to compete in the 2004 Athens Olympic Games in Greece.
Mijain's first Olympic games would be bittersweet as Mijain finished 5th place after losing his match 2-0 to the eventual Gold medal winner from Russia Khasan Baroev, a man who would become his first true rival in his wrestling career.
The loss at the Olympics ignited a fire within Mijain that would burn during training and preparation for the next competition and lead to Mijain Lopez's first World championship win at the 2005 Greco Roman World Championships in Budapest, Hungary.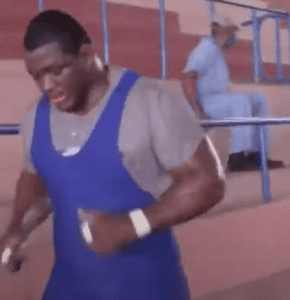 Mijain would go on to win without giving a point as well as score the most points in the entire competition with a staggering 57 total points scored which showed his total dominance in the tournament. This win at the 2005 World Championships was the catalyst towards Mijain Lopez being considered the top dog in Greco Roman Wrestling's Heavyweight division.
2005 would see Mijain also winning Gold at the World Cup in Tehran, Iran as well as a Gold Medal at the 2005 Pan-American Championships in Guatemala City, Guatemala. The winning of Gold at 3 Major international tournaments was something the entire global wrestling community would take note of as now Lopez was a real challenge to anyone wanting to win in the Heavyweight Greco Roman Wrestling division.
2006 in Guangzhou, China would once again see Lopez face off against Khasan Baroev, this time in the finals. Lopez once again would lose to Baroev 6-0 and take the silver medal. Interesting to note that in that specific tournament, Mijain did not have 1 point scored until he met Baroev. It was a simple case of Baroev's style being the type of wrestling style to beat Mijain.
This loss to Baroev influenced both Mijain Lopez and his coach Pedro Val to analyse why Lopez was not able to beat Baroev, they noticed that it was a matter of fine tuning Lopez's technique, focusing more on attacking as well as increasing Lopez's overall conditioning. This proved to be the right formula as in 2007 at the World Greco Roman Wrestling Championships, Lopez and Baroev would once again meet in the finals. This time would be a completely different match than their previous 2 encounters as Lopez would go on to win the Gold medal against Baroev by being more aggressive, proactive and tiring Baroev with constant attacking and pressure.
Mijain Lopez's First Olympic Gold Medal
2008 was a huge year for Mijain Lopez as he would be competing for Cuba at the Beijing Olympic Games. Lopez had his eye on the prize and would start to train and take advice from 1992 Barcelona Olympic Gold Medalist in Greco Roman Wrestling, Hector Milian. 
Hector Milian competed at 130 Kg and was an extremely technical and well versed wrestler so this was an excellent opportunity to increase Lopez's overall technical understanding of what it takes to win gold at the Olympic Games and it worked.
Lopez would win his first Olympic Gold medal at the 2008 Beijing Olympics and it was once against his old Russian adversary Khasan Baroev in a very dominant fashion. It was evident that not only was Lopez the undisputed king of Greco Roman wrestling but he was improving. Lopez tore through the competition with stunning speed, crisp technique and intelligent tactical wrestling, his performance showed he truly was champion material.
Lopez's Wrestling Success Continues
Coming off winning the 2008 Olympic Gold medal, Lopez had no plan of stopping the success as he would go on to win Gold again at the World Championships, World Cup and Pan American Championships all of which showed full dominance. Notably, Russia had decided not to send Kharam Baroev to the 2009 World Championships which was quite surprising considering Kharam's history in competition with Lopez.
Mijain would go onto winning Gold at the world championships in 2010 and Silver at the 2011 world championships losing to Turkish Greco Roman Heavyweight Riza Kayaalp, who would become Mijain's main adversary in the latter years of Lopez's wrestling career.
Lopez would also be seen winning Gold at the 2009 World Cup as well as Gold medals at the 2009 and 2012 Pan American Championships.
Mijain Lopez's Second Olympic Gold Medal
The 2012 London Olympic Games would see Mijain Lopez as the Heavyweight Greco Roman Wrestling Favorite and for good reason, he truly was the best there. Mijain would not forgo one point on his way to winning the Olympic Gold Medal. An interesting point to notice is that Mijain would face Riza Kayaalp in the semifinals and avenge his loss to Riza the year before in the World Championships which would ignite the rivalry even more.

Lopez now had 2 Olympic Gold medals and in no way looked like he would lose the momentum.
Mijain Lopez's Success at 130Kg Greco division
2014 was a big year for Greco Roman Wrestling's Heavyweight division as the 120kg weight limit would be replaced with a 130kg weight limit which would change the division entirely. Changing of weight limits is very common in all Olympic wrestling styles so Mijain was very comfortable with the weight limit change.
Mijain adapted very well to the weight change as he naturally had a larger frame and he would go on to win gold once again at the 2014 Greco Roman Wrestling Championships in Tashkent, Uzbekistan – beating Riza Kaayalp in the finals as well as Gold at the 2014 Pan American Championships in Mexico City.
2015 was a bit of a different year for Mijain as Riza Kayaalp would defeat Lopez in the finals of the 2015 World Championships in Las Vegas. This would build up the ever developing story-line of Lopez vs Kayaalp as the Olympics were just around the corner and it was inevitable that the 2 giants would meet again in competition.
Mijain Lopez's Third Olympic Gold Medal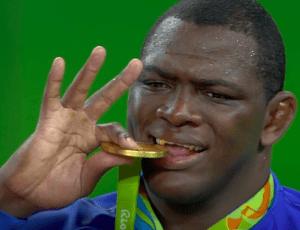 The 2016 Rio Games had arrived and an entirely new Lopez in the 130 kg Greco Roman Weight division had arrived as well. That said, a new Riza Kayaalp arrived at the tournament as well too. Both Lopez and Kayaalp would meet in the finals having both not conceded a point on their way to the finals. Lopez, perhaps with the memory of his defeat to Kayaalp in 2015 went on to beat Kayaalp 6-0 and win his 3rd Olympic Greco Roman Wrestling Gold Medal with a truly memorable after match celebration full of emotion, pride and happiness.
Mijain was now a 3 time Olympic Gold medal winner, tied with Greco-Roman wrestling legends like Aleksandr Karelin and Carl Westergren.
Mijain Leaves Wrestling and Comes Back
Having won everything there is to win in the sport of Greco roman Wrestling, Mijain Lopez would have a small hiatus from wrestling after his big win at the 2016 Olympics as he was already 34 years old which is considered older for the sport of wrestling and needed to focus on his personal life and family.
During his hiatus Mijain still had the desire to wrestle and would eventually return to compete in the sport he so much loved, first taking Gold at the 2018 Central American Games in Barranquilla, Colombia and then taking Gold once again at the 2019 Pan American Games in Lima, Peru.
Mijain Lopez's Fourth Olympic Gold Medal
Coming off the wins in 2018 and 2019, Mijain  Lopez decided to make a run for his 4th Olympic Gold Medal and enter to compete in the 2020 Tokyo Olympic Games (which were held in 2021 due to the world shutting down due to pandemic).
In one of the most amazing performances of sport, Lopez who was 5 days from becoming 39 years of age would defeat all four of his opponents, including rival Riza Kayaalp, without giving up a single point and thus winning his 4th Greco Roman Wrestling Olympic Gold Medal and sealing his wrestling legacy. This was an unparalleled feat as Lopez defeated all opponents with superior technique, speed, tactics and superior wrestling IQ while wrestling opponents much younger than him.
Lopez's 4th Olympic wrestling victory would make him the Greco roman wrestler with the most medals won by any Greco Roman Wrestler in the Olympics. Lopez would become the 5th athlete in Olympic history to win 4 gold medals in the same individual event. Lopez would become the 2nd wrestler to achieve 4 Gold medals, the first wrestler to do so being Japan's women's wrestling phenom Kaori Icho.
Mijain Lopez's Wrestling Style
Mijain had an intriguing Greco Roman wrestling style as for a heavyweight he was extremely fast, utilizing very quick direction changes as well as a master of changing levels at the right time. Lopez being a movement based heavyweight wrestler had phenomenal hand fighting skills, especially his arm drag and snap downs in which he would catch the opponent's back with ease.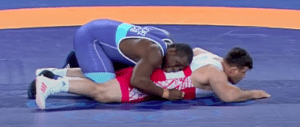 One of Mijain Lopez's best qualities when wrestling was his absolute mastery of Par Terre in both an offensive and defensive aspect. It was very common to see Lopez score when in an advantageous Par Terre position while it was very uncommon to see Lopez score when in a disadvantageous Par Terre position, Mijain was a master of wrestling on the ground and made it look easy against the best in the world.
Mijain Lopez was built for wrestling, with a big head, big neck, huge legs and heavy hips, he had the power, strength, agility and speed to smash through opponents. Mijain, although very powerful, was a true technician and highly efficient in his wrestling style.
In Conclusion
A true ambassador for Greco Roman Wrestling as well as for Cuba, Mijain Lopez is one of the best if not the best Greco Roman wrestlers to step on the mats. He has always acted with respect, on and off the mats and given his huge heart to the sport he loves. He has proven that with consistency, hard work and persistence, anything is possible. Mijain Lopez is the true King of Greco Roman Wrestling.