Wellington "Megaton" Dias is an iconic figure within the Jiu Jitsu world. A 6th degree Gracie Jiu Jitsu blackbelt with 6 decades of experience in the martial art.
Megaton has done it all and seen it all from winning championships to training champions. Including his own superstar daughter and current UFC fighter Mackenzie Dern.
Here is the bio of one of the most respected and well liked figures in all of BJJ. Going from when he started training in the 1970s and going on to build his impressive legacy.
Megaton's start in Judo and transition to BJJ
In the late 1970s, Wellington Dias started training Judo under Rogério Camões. One of Dias' training partners who cross trained at the Judo school was Royler Gracie.
The two actually both lived in the same area and would occasionally go surfing with one another when they weren't training.
One day when they were training, Gracie invited Dias to train Jiu Jitsu with him at Gracie Humaitá. Their Judo instructor Camões approved, so Dias began training with Royler at the Gracie Jiu Jitsu Academy.
From the moment Dias stepped on a Jiu Jitsu mat, he fell in love with the martial art. He knew that he wanted to train for the rest of his life.
Megaton's time training with the Gracie's
At this time, Gracie Humaitá was the premiere Jiu Jitsu school in the world. Wellington was lucky enough to learn from the best Jiu Jitsu practitioners of the era at the Gracie school.
Megaton would spend hours a day training with Royler and other top members of the academy. He would develop an intense pressure style game to go along with the Judo skills he already had.
Dias would become one of the top young Jiu Jitsu competitors in Brazil and would rapidly improve his skill. 
At just 18 years old, Megaton would earn his Brazilian Jiu Jitsu black belt. Being promoted by Joe Moreira, who was running the Gracie school at the time.
After achieving his black belt, Dias had big plans for his future. Including realizing his dream of moving to the US and opening his own Jiu Jitsu school.
Megaton moves to the US
In the early 1990s, Megaton took a trip to the US to compete in a tournament held in Colorado. His original plan was to move to Los Angeles and open an academy, but his plans would change.
Dias enjoyed Colorado and would also meet his future wife Luciana during his stay. This would lead to Megaton staying in the state for two years before making his next move.
During this time it was the first boom period for BJJ in the US. Specifically in LA, where numerous BJJ black belts began migrating to open their own school.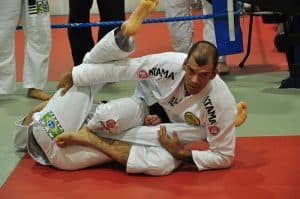 Megaton didn't want to get lost in the shuffle, so he and Luciana decided to move to Phoenix, Arizona. There he would marry Luciana, raise his daughter Mackenzie Dern and open Megaton Brazilian Jiu Jitsu Academy.
Wellington has been a resident of Phoenix for nearly 30 years and is responsible for bringing Jiu Jitsu to the city. He would go on to found the Arizona Brazilian Jiu Jitsu Federation and is still the sitting president.
Megaton's style of Jiu Jitsu
If you have ever seen Megaton Dias compete, you know that his style is the epitome of old school  BJJ. Being a product of the Gracie Jiu Jitsu Academy, Megaton's game is based on solid fundamentals.
Every move he makes is meticulous and he is never out of place. He is also incredibly strong and known for his heavy top pressure and guard passing abilities.
Megaton as a Jiu Jitsu competitor
Megaton is one of the longest Jiu Jitsu competitors that still regularly competes. His tenure as a competitor spans over forty years.
He is the only Jiu Jitsu competitor to have competed in every single IBJJF World Championship since it was created. That marks Dias at 24 world championships competed in and medaled in 4 of the events.(1 silver medal and 3 bronze medals)
Dias may also own the record for most IBJJF events competed in, but there isn't enough data available to confirm that. 
In total of all the major IBJJF championships, Megaton has won 55 major championships. 13x World Master Champion, 22x European Champion, 16x American National Champion, and 14x Pan American Champion.
As of now, Megaton has no desire to stop competing and will continue to compete frequently in IBJJF competitions. Adding to his astounding medal count.
Megaton raises a superstar
In his 5 decades of teaching Jiu Jitsu, Megaton has taught thousands of students and given out numerous black belts. Including UFC veteran Evan Dunham, who fought for the promotion for 11 years.
But by far, who Megaton is most known for teaching is his daughter Mackenzie Dern. From the time Mackenzie was a baby, she was on the mat with her dad. Teaching her everything he knew about Jiu Jitsu.
Like her dad, Dern would fall in love with Jiu Jitsu and actually surpass her father as a competitor. Winning the IBJJF World championships multiple times at every rank and also in Gi and No-Gi.
Later becoming an MMA fighter that is currently fighting in the UFC with an 11-2 record. 
Out of all of the accomplishments Megaton has accomplished in his life and Jiu Jitsu, raising Mackenzie is his greatest achievement.
How did Dias get the nickname "Megaton"
Wellington was given the fantastic apelido or nickname "Megaton" by his Judo instructor Rogério Camões. Master Camões began calling his student Megaton after the way he would throw his opponents in the air. 
Equating the speed and power of Dias' throws to a megaton bomb being dropped from the sky. Needless to say the great nickname stuck to Wellington and he's been referred to as Megaton ever since.
For years, many of the top combat sports websites have ranked Dias' nickname as one of the best in BJJ.
What's next for Megaton Dias?
Wellington "Megaton" Dias has accomplished just about everything you can in Jiu Jitsu. He became a black belt at 18, opened his own school, and has competed in the top BJJ tournaments numerous times.
So after 6 decades of training Jiu Jitsu, what is next for Megaton? Honestly, Dias is going to keep doing what he loves.
He is content and has everything he has ever wanted in his life. Owning a successful Jiu Jitsu school, being a high level competitor, raising a family, being a father, and now a grandfather.
Megaton is a passionate person that loves life and has been an incredible ambassador for the art of Jiu Jitsu. We can expect Megaton to continue doing what he loves, which includes continuing to terrorize the master divisions at competitions.