Having a true legend as one's namesake it's sometimes a burden. However, Mahamed Aly, named after the Boxing genius Muhammad Ali, with a lot of effort, has written his own story. His goal? Greatness.
Mahamed Aly's Early Years
Mahamed Aly was born in 1994 in Rio de Janeiro, Brazil. He was raised in Duque de Caxias until he was 9 years old. At this very early age, he lost his father, murdered with a shot by a car thief. After this tragedy, his family moved to Jacarepaguá and Gardênia Azul. With a childhood in the 2000s in the metropolitan area of Rio de Janeiro, one could expect that Aly would walk, without questioning, the BJJ path. But that didn't happen as a flow.
How Did Mahamed Aly Start BJJ
As a kid who was a huge fan of MMA, the Brazilian first started training Kickboxing. It was only after being submitted with ease during a sparring session with a colleague that he looked for BJJ to strengthen his game. That triangle choke changed his life.

He was all about MMA then and he has never had the intention of competing in Jiu-Jitsu. But, with time, he was convinced by Everaldo Penco, his trainer at that moment.
After winning with dominance his first tournament title in 2012, Aly changed his career focus toward BJJ. He realized he had a talent that could not be wasted, for sure. But also, he discovered by competing that he could make a living out of the "gentle art".
Mahamed Aly Moves to America
He was a blue belt then. In only three years, he won many competitions around the world and was awarded the black belt by Lloyd Irvin. His path toward Lloyd began when he became a brown belt. He realized it was not easy to make a living out of BJJ in Brazil. This led him to move to the USA looking for better opportunities. He doesn't hide that this was the best decision he could ever have made.
Mahamed Aly as a BJJ Competitor
Until this very day, he keeps training in the USA. Currently, Aly holds a card with more than 100 wins, almost half of them by submission. In 2018, he became the IBJJF World Champion in the superheavy category. He was also the runner-up in the same tournament in 2019. Before that, he had already won the 2015 Nogi world championship.
The Brazilian black belt said in several interviews that the main goal of his career in BJJ was winning the IBJJF World Championship. He still declares this was the most important achievement of his career. However, after conquering the highest spot in 2018, he lost perspective and started looking for another challenge.
Aly is known to be a very explosive Jiu-Jitsu fighter. Questioned about his style, he is categoric: aggressive. He successfully incorporates some Judo and Wrestling techniques into his game as well and uses his strength to perfection. He is also a fighter for whom mobility is a key factor. If BJJ is a game of human chess, one could say he's always playing blitz chess.
He said in an interview with the BJJ and MMA fighter, Matheus Miranda:
"Strength, energy… this is important to me. Master Dan once told me: 'man, do you wanna have a technical Jiu Jitsu? You are not technical, man! Your Jiu-Jitsu is to kill or be killed. You're gonna hurt yourself or hurt somebody else. That's your Jiu-Jitsu. If you fight in a different way, you can win or you can lose. But, whenever you really go for the killing, that's when people like to watch you fighting'. And he was right. That's who I am".
In the same interview, Mahamed also talked about his future in the Martial Arts. He had reached a great level by winning the world championship, but he was not feeling complete. He still had the Brazilian National Championship and the ADCC to win, but he felt he wasn't trying enough.
He confessed he would like to win these titles, but he wasn't "sowing the seeds" for doing it. He was not motivated to compete in BJJ, although he had been invited to the 2022 ADCC and was thinking about accepting it. But, after becoming a world champion, what came back to drive him forward was that old desire to pursue an MMA career again.
Mahamed Aly's MMA Aspirations
Mahamed Aly doesn't hide: his goal is to sign with the UFC and fight for the light heavyweight belt.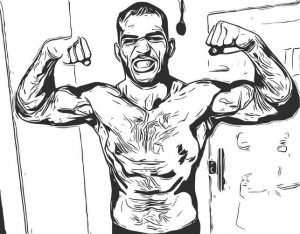 He has been trying to begin his MMA fight career for a long time, but he's having a problem finding a fight due to his BJJ level. He said that, as a beginner in MMA, nobody wants to fight him. He could start higher though, fighting opponents who have already solid careers in MMA, but he thinks he should start from the bottom.
Because of these decisions, it's not clear what the future holds for Mahamed Aly in MMA. Truth to be told, once you set the bar on the highest level, your next challenge is not a matter of choice anymore. The Brazilian fighter must choose between coming back to BJJ and keep climbing that ladder or accepting any fight that could get his MMA career started.
After four long years since his IBJJF World Championship title, he still hasn't debuted in MMA. He is already almost 30 years old and time has no mercy. Mahamed Aly has had many injuries throughout his BJJ career and, eventually, this past can come back to haunt him. Most MMA fighters reach their peaks between 27 and 32 years old.
Other Martial Arts legends have migrated to MMA recently, but none of them started at the top. There is a pathway to walk that usually takes a couple of years. The striking genius Alex Poatan, for instance, signed to the UFC almost two years ago and hasn't had his title shot yet, even though he has delivered amazing fights for the organization. The same is happening with the BJJ legend Marcus Buchecha, who has already 3 very convincing fights in ONE championship: 2 submissions and 1 TKO, all in the very first round. If Mahamed Aly waits too long, it can be too late for writing his name in MMA history.
But, on the 27th of May, 2022, he finally took the first step. He won by KO in his debut in amateur Kickboxing in NFC. A humble beginning for a man with his history, but a necessary one. It would be a waste of name to see a great fighter with so much potential holding himself until it was too late or just stopping before becoming a true legend. Now, hopefully, he can continue his path toward greatness.
In Conclusion
Mahamed Aly is one of the best BJJ competitors to have ever graced the mats, he is a true athlete and an example of true BJJ greatness. Mahamed Aly is a true Grapplezilla.