The United States has a reputation for producing some of the world's top-class athletes. Whether it be in the field of gymnastics, swimming, boxing, wrestling, etc., they have it all. One such fine athlete we want to look at today is professional freestyle wrestler J'den Cox. 
When people talk about freestyle wrestling, J'den Cox is one name that comes up every time. And it is pretty evident why he has such a reputation. Cox has earned a name competing in many levels such as national, regional, world championship, and most prominently, the Olympics. 
He is regarded as one of the best freestyle wrestlers of his generation. Many critics have cited him as a natural-born wrestler, showing signs of promise at an early age. This led to him tasting success and victory at high school and collegiate wrestling. On top of that, he has consistently proved himself at the top level as well, with resounding success. 
Like many athletes, Cox has also had his share of downs in life. His hearing loss and depression phase story and how he overcame it against all odds is inspiring. Let's find out more about his life as one of the best US wrestlers of all time. 
A Brief Look at J'den Cox's Early Years
Cox was born on March 3, 1995, to musicians Michael and Cathy Cox. His birth name is J'den Michael Tbory Cox. J'den was raised in Columbia, Missouri, alongside his older brothers Zach & Drae and little sister Chai. 
He was exposed to the athletic world at an early age (at just four years of age). His mother was an active athlete and was a regular performer at the Tiger basketball games. His uncle Arnold has won the Missouri state championship two times while studying at Hickman High School. During their high school years, Cox and his brothers used the same equipment that their uncle wore during his championship wins. 
High School Years and Achievements
Cox showed promise in football as well as wrestling during his years in high school. Even though he started as early as four years, he entered real competition only during his high school years. 
Like his uncle Arnold, Cox is an alumnus of Hickman High School in Missouri. And he followed into his uncle's footsteps by stepping into the ring and tasting success early on. This is where he bagged a 205-3 head-to-head record where his only three losses came during his freshman year. 
Cox started his wrestling training at ten years of age in 2006 with Mike Eierman. This partnership continued until 2018 when he moved to Colorado's United States Olympic Training Center. 
One of his most memorable achievements at the high school level was winning four state titles in various weight classes. The weight classes include 77, 97, 99 kg, and heavyweight in Freshman, Sophomore, Junior, and Senior years respectively. This was a first-time achievement by any wrestler from Missouri. 
His achievements during high school include: 
Four-time Missouri state champion. 

One of the first to win titles at four different weight categories. 

NHSCA Adam Frey Memorial Award, 2013. 

Secured first place at the MSHSAA Championship in 2011, 2012, and 2013. 

205-3 head-to-head record. 

Dave Schultz High School Excellence Award, 2013. 
Glorious College Years
Cox was part of the Missouri Tigers during his time in college. Although he had plenty of opportunities, he chose to stay at Columbia and join the local team. 
A physical specimen, standing at a height of 6 feet tall (1.83 meters), Cox's reputation grew at the collegiate level as he bagged several MAC wrestling awards. But his most glorious college wrestling achievement was winning the NCAA Division 1 wrestling championship three times in four years. By then, he had written his name in the Tigers' history books. 
He finished the 2014 season with a 38-2 record. Consequently, he bagged the MAC Wrestler of the Year and the MAC Freshman of the Year awards. Cox grabbed the former awards again in 2016 and 2017. 
His head-to-head record improved as the years progressed. He ended the 2016 season with a 33-1 record and another MAC championship to his name. The following year was even better as he achieved a perfect 28-0 record and his fourth MAC title. Plus, he won the MAC Wrestler of the Year on both occasions. 
His accolades in college include: 
Three-time NCAA Division-1 Champion in 2014, 2016, and 2017. 

Three-time MAC Champion in 2014, 2015, and 2016. 

Three-time MAC Wrestler of the Year 2014, 2016, and 2017. 

MAC Freshmen of the Year, 2014. 

Fifth Place at the NCAA Division-1 Championships, 2015. 
It would be essential to note that Cox was also the first Tiger in history to win the national championship three times. He also finished his college level with the highest win percentage and second most number of victories at 136. 
Success in National Competitions
Cox has also amassed an extensive amount of laurels at the national level. He primarily competed as a folkstyle wrestler in national events, bringing success in Greco Roman Wrestling and Freestyle Wrestling competitions. And this was before his illustrious college tenure. 
Through his efforts, he brought home the 2011 Cadet National Championship in Greco-Roman. Plus, he finished third in the freestyle category that same year. The following year, he won the Junior National Championship in freestyle plus bronze in the Greco-Roman Wrestling event. 
It was during this period that Cox developed a rivalry with Kyle Snyder. Cox and Snyder would outwrestle each other, exchanging wins and losses between them in different styles. Consequently, Snyder would become the youngest Olympic gold medalist and youngest World Champion in American wrestling history. 
In the 2013 Class by FloWrestling, Cox came in the third position of overall recruits, and InterMat placed him in the sixth position. 
Freestyle Wrestling and Glory at the Olympics
World Freestyle Wrestling Championships
After a distinguished tenure in high school, college, and national levels, Cox turned his eye on the World Championships. He has repeated the same glory as a freestyle wrestler, winning the World Championships twice in the 92 kg category.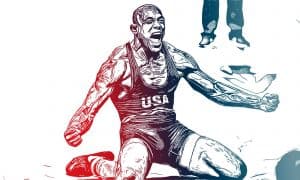 What's more, he won it in back-to-back competitions, i.e., in 2018 and 2019. Before his first win in 2018, he also bagged the bronze medal at the World Championships in 2017. His most recent achievement is winning the bronze medal at the 2021 World Wrestling Championships in Oslo. 
J'den Cox at the Olympics
Many athletes dream of making it to the Olympics, but very few make it. This wasn't the case with J'den Cox. He was determined to make it after qualifying for the team trials as the 2016 NCAA winner. 
After defeating several high-level competitors, he made it to the best of three. At the final, he defeated four-time NCAA wrestling champion Kyle Taylor (2-1) to claim the spot at Olympic glory. But he still had to overcome a field at the qualification tournaments. Nevertheless, after a span of victories against several big names, Cox secured his Olympic spot once and for all.  
However, his dream of winning gold suffered a blow as he lost to Selim Yasar, the Junior World Champion at the semi-finals. He was demoted to the consolation bracket, where he beat Reineris Salas to win the bronze medal. 
Losing his Team USA Wrestling spot
Cox was a member of Team USA's World Wrestling team from 2017 till 2019. He lost his spot in 2020 after a misunderstanding regarding his weight-in schedule, missing the weight in times. As a result, he lost his chance to qualify for the 2020 Tokyo Olympics. J'den tried to appeal the decision but unfortunately did not find success in the appeal. 
Nevertheless, this did not affect his will and determination, and he continued displaying his talent at further competitions. 
J'den Cox's achievements as a Freestyle Wrestler include:
Bronze Medal at the 2016 Summer Olympics in Rio de Janeiro, Brazil (86 kg). 

Two-time World Freestyle Wrestling Champion in 2018 and 2019 (92 kg). 

Two-time World Freestyle Wrestling Champion Bronze Medal winner at 2017 and 2021 (86 and 92 kg respectively). 

Winner at the 2018 US Open Wrestling Championships (92 kg). 

Winner at the 2019 Pan American Freestyle Wrestling Championships (92 kg). 

Winner at the 2019 Yasar Dogu Tournament (92 kg).
His Battle with Depression
Amidst all the success and achievements, J'den Cox has undergone depression due to his hearing loss. But he has battled and overcame it and is now a mental health advocate. 
During his sophomore year in college, Cox began to lose hearing in his left ear. And it escalated further, with partial hearing loss on his right ear. Doctors have pointed out that it could be hereditary as Cox's father is also impaired in one ear. 
He faced several challenges during this period. However, he tackled this issue by learning sign language early on. Cox also posts basic sign language tutorials on his social media handles to help others. He also has a tattoo in the American Sign Language on his left forearm that reads, "If not now, then when?".
Speaking up about his depression phase, Cox cites that even though people think he lives a perfect life, it is not so. He added that depression could affect anyone, and you can tackle it by finding purpose and motivation in the things you love. In his case, his love for wrestling "energized" and gave him the push to overcome this problem. 
In Conclusion
J'den Cox is a true born athlete and one of the best wrestlers of his generation. Not only was he a wrestling phenomenon, but he excelled in football during his college years. Few athletes would dream of being in his spot and achieving what he has achieved. His consistency at the highest level is something we don't see every day. 
His contributions to the amateur wrestling world have made him a highly-regarded member of Team USA Wrestling during his tenure. And despite being partially deaf, he has struggled and overcome all the setbacks of depression. His messages and efforts to aid those facing the same issue are noteworthy. 
J'den Cox has tasted success at every possible stage of wrestling. And we are sure to see the Missourian native achieve more in the years to come.