Sambo is a dynamic combat sport and grappling martial art that has only recently come to light in the mainstream martial arts community. Although many in Russia and the former Soviet republics are very aware of Sambo as well as Sambo being practiced daily by large amounts of athletes form these specific areas, Sambo only has come to light in the west, largely due to Sambo fighter's performing well in the MMA Cage and Ring as well as due to the efforts of Ivan Vasylchuk and his YouTube Channel called Sila Partera.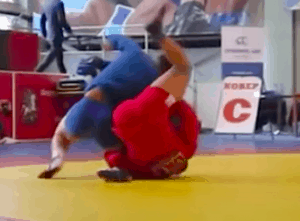 Ivan Vasylchuk was born in the city of Netishin, Ukraine on September 26th, 1984, and he started his Sambo and Judo education early at the sports school of the KDYUSSH. Ivan would be coached by the talented coaches Yuri Ivanovich Savchuk and Honored Coach of Ukraine Gennady Gorokhov.
Ivan would excel at Sambo and found a true love in the combat sport and would eventually decide to start competing in Sambo both nationally and internationally. He would go on to study the grappling arts, Sambo, Judo and Wrestling for 27+ Years, he studied all aspects of the grappling arts and would become a true Sambo master.
With such an illustrious Sambo and Judo education as well as constant world class performance in international Sambo competition, Ivan Vasylchuk has earned the title "Master of Sports of Ukraine" in sambo wrestling (2001), the title of "Master of Sports of Ukraine of international class" in sambo wrestling (2006), the title "Master of Sports of Ukraine" in judo wrestling (2009), the title of "Honored Master of Sports of Ukraine" (2011).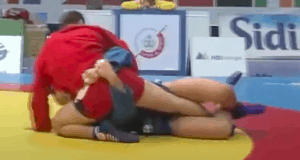 It has been said that Ivan Vasylchuk has trained over 20,000 hours in Sambo and Judo as well as had 60 intensive training camps in preparation for major tournaments. Ivan's dedication is second to none and it can be seen in his constant dominant performance on the world Sambo stage.
Ivan Vasylchuk in Sambo Competition
A true warrior on the mats, Ivan Vasylchuk has one of the most amazing careers in competitive Sambo, he overcame defeats and won and when he won he won big. Ivan always played a very technical Sambo game, having defeated his opponents with over 90% of his matches being won by submission.
Fighting in an astonishing 802 Sambo matches all over the world with 638 wins in national and international competition, not many athletes can claim this type of combat experience in their sport. This drive to compete has led Ivan to compete in 12 world championships where he has taken 2 gold medals, 4 silver medals and 1 bronze medal, a truly outstanding career and a total of 13 medals from World and European Sambo championships.
Some of Ivan Vasylchuk's Sambo career wins include:


I

n 2006, the silver medalist of the European Championship in Serbia

In Bulgaria in 2006, Vaslychuk won the silver medal at the Sambo World Championship

In Bulgaria in 2007 Vasylchuk won the Bronze medal at the Sambo European Championship

Ivan Vaslychuk won a bronze medal at the 2009 Sambo World Championships in Greece

At the 2011 Sambo World Championships in Vilnius Lithuania, Vasylchuk became the World Sambo Champion in the up to 90 kg category.

In Russia in 2021, at the European Sambo Championship in Russia in 2012, Ivan Vasylchuk won a bronze medal in Sambo.

In 2013 in Italy at the European Sambo Championship Ivan won a bronze medal.

In Russia in 2013, at the World Combat Games, Ivan becomes the champion in Sambo in the weight category up to 90 kg

Vasylchuk won the Silver medal at the World SAMBO Championships in 2013 in St.Petersburg, Russia

In Romania in 2014, at the European Sambo Championship in Romania, Ivan Vasylhcuk won a bronze medal.

Ivan won a Silver medal at the 2015 World Sambo Championships in Casablanca, Morocco.
Dominating competitions with amazing throws and quick sambo submissions, Ivan Vaslychuk was a true monster on the mats, often beating opponents within the first moments of the match. Vasylchuk would be remembered as a highly technical and proficient grappler who had superior ground fighting ability and unstoppable Sambo submissions, especially his leg locks which were world class.
Ivan Vasylchuk YouTube and Representing Sambo Worldwide
Ivan came up with the idea to make a YouTube Channel about Sambo after a few years of getting injured in competition and constantly having trouble with his knee dislocating during his training for competition, it was in the end of 2016 that Ivan came to the realization that his knee issues would prevent him from achieving his top form. 
He pondered on how to make a future in Sambo as the average Sambo coach in Ukraine made a monthly salary of $100 teaching Sambo. Ivan had a fantastic idea to try to propagate Sambo worldwide through social networks and especially YouTube and earn money through sharing his deep Sambo knowledge online. Vasylchuk would go on to create 3 YouTube channels in Russian, English and Spanish with a total audience of 185 thousand subscribers and growing daily.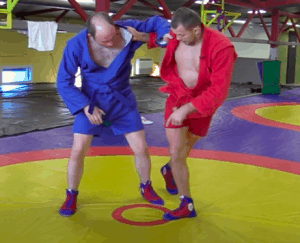 Having invested € 10,000 on his own development over 3 years, Ivan Vasylchuk has taken seriously his YouTube Sambo channel and personal mission to teach Sambo across the globe. He has many different Sambo programs that are for everyone from beginners to advanced Sambo competitors, MMA fighters, Submission grapplers and future Sambo world champions.

Since 2017, Ivan has conducted over 41 Sambo seminars all over the world including Ukraine, Russia, Poland, Spain, Germany and Switzerland. All of these seminars have had one constant result and that was success. Ivan Vasylchuk also has personally trained over 1,100 people (age from 6 to 62 years) and continues to teach his students and help them grow into capable Sambo practitioners at his Sila Partera Academy and through his Sila Partera Sambo website.
Sila Partera is a great Sambo YouTube channel and Ivan always gives top quality instruction, Grapplezilla highly recommends subscribing to Ivan Vasylchuk's Sambo channel as he pumps out amazing content weekly and best part, it's 100% free. Ivan has released several Sambo video series which are available for purchase, all of which are some of the best Sambo courses available.
In Conclusion
There are not a lot of athletes who represent their sport in such an effective and professional manner as Ivan Vasylchuk does with his beloved Sambo, he continues to churn out incredible YouTube Sambo content and showcase the beauty of the art of Sambo. Sambo's future looks brighter than ever with Ivan Vasylchuk helping guide it's growth internationally through his top quality Sambo content. Ivan Vasylchuk is a true Sambo master.