While many of us plan about our future and career goals at 17, one teenager created history by winning gold at the 2004 Athens Olympic Games. Yes, we are talking about Ilias Iliadis, who became the youngest male to grab an Olympic title.
Iliadis is a well-known figure in the world of Judo who dominated the circuit with various wins at different apex events. He has several titles under his belt, including the World Judo Championships, European Championships, and his golden moment at the Olympics.
So how was the early life of Iliadis? How was Iliadis's Judo career? What are the titles won by Iliadis?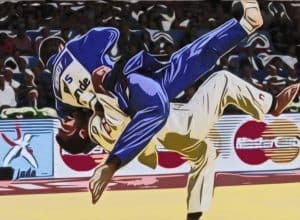 If you want to know more about this Judo legend, this article is for you. We will break down all the crucial moments of his career and how he became one of the best judokas worldwide.
So without further ado, let's get started.
Ilias Iliadis Personal and Physical Details
| | |
| --- | --- |
| Name | Ilias Iliadis |
| Birth Name | Jarji Zviadauri |
| Date of Birth | 10 November 1986 |
| Born | Akhmeta, Kakheti, Georgia |
| Age | 35 |
| Country | Greece |
| Sport | Judo |
| Height | 5 ft 10 in (178.0cm) |
| Weight | 90 kg |
| Weight class | -90kg |
Ilias Iliadis – Early history
Although Iliadis competed in various tournaments for Greece, he is originally from Akhmeta, Georgia. He had to leave his native place with his family following his country's poverty after the USSR split. 
Nikos Iliadis adopted Jarji Zviadauri (Ilias Iliadis' birth name) and started training him as a judoka. He passed his passion to his adopted son, and soon Iliadis began his Judo career.
His father described him as a gifted child as Iliadis showed excellent skills and techniques from his early training days. He fought various local tournaments and judokas before entering professional Judo championships.
Ilias Iliadis Judo Career
 Iliadis started his career at an early age, and as he honed his fighting skills under his father, he began participating in tournaments worldwide at the age of 15. Iliadis got his first breakthrough when he finished 3rd in the 2002 European Championships.
This achievement marked his arrival as a professional judoka. He won two continental titles in the Junior and Cadet category in 2003, paving his way to the golden period.
The 2004 Olympic Games in Athens marked his arrival at the world stage, and while everyone considered Iliadis the favourite to win gold, he prepared hard for the apex event. 
Iliadis Wins Olympic Gold
After a resounding victory over Germany's Ole Bischof in the Senior European Championships, Iliadis set eyes on an Olympic title. He trained hard for the apex event and wanted to give his beloved city an Olympic title. 
The atmosphere was electric, and the frenzied fellow compatriots stood by Iliadis as he went along the fight. Iliadis progressed through the tournament after defeating various tough contenders to lock horns with the Ukrainian judoka.
The match started with both judokas fighting aggressively. However, Iliadis's determination and Judo skills helped him edge past his opponent in the final. He became an Olympic Judo gold medalist at 17, which made him the youngest male judoka ever to bag this honor.
Apart from creating history, the Olympic title influenced Iliadis to set his mark on the world stage. He won the Mediterranean Games in 2004 and bagged the gold medal in the Under 23 European Judo Championships two years later.
Iliadis's World Titles
After winning the Olympic gold in 2004, Iliadis participated in various World Championships to win the title. However, he failed to secure the title in 2005 and 2007 and secured the 2nd position in both tournaments. His wait to win a World Championships title ended when he won the coveted prize in 2010.
He competed in the -90kg category in the 2010 World Championships and qualified for the finals to lock horns with Japanese judoka Daiki Nishiyama. The final saw both judokas fighting cautiously. However, Iliadis managed to win by hammering him with an Ippon.
Following his first world title, Iliadis doubled his count at the World Championships held in Paris in 2011. The Greek Judoka won his third World Championships title in 2014 after defeating Krisztian Toth of Hungary.
Ilias Iliadis – Judo Medals and Titles
Besides becoming the youngest male to win an Olympic Judo title, Iliadis has won several other titles, including the World Judo Championships and European Judo Championships. Here are the medals and titles won by Ilias Iliadis in various tournaments.
Olympic Games
Olympic Games London 2012 – Rank 3 (Bronze)

Olympic Games Athens 2004 – Rank 1 (Gold)
World Judo Championships
World Championships Chelyabinsk 2014 – Rank 1 (Gold)

World Championships Paris 2011 – Rank 1 (Gold)

World Championships Tokyo 2010 – Rank 1 (Gold)

World Championships Cairo 2005 – Rank 2 (Silver)

World Championships Rio de Janeiro 2013 – Rank 3 (Bronze)
Continental Championships
European Championships Istanbul 2011 – Rank 1 (Gold)

European Championships Bucharest 2004 – Rank 1 (Gold)

European Games Baku 2015 – Rank 3 (Bronze)
Continental Open/World Cups
Super World Cup Tournoi de Paris 2008 – Rank 1 (Gold)

World Cup Bucharest 2007 – Rank 1 (Gold)

Super World Cup Moscow 2007 – Rank 1 (Gold)

World Cup Tallin 2009 – Rank 2 (Silver)

IJF World Cup Brazil Sao Paulo 2010 – Rank 3 (Bronze)
International Judo Tournaments
Jigoro Kano Cup Tokyo 2007 – Rank 1 (Gold)

Russia President Cup Podolsk team event 2004 – Rank 1 (Gold)

Balkan Championships Belgrade 2003 – Rank 1 (Gold)
Life as a Coach
After his surprising defeat in the first round of the 2016 Olympic Games, Iliadis retired from the sport. Though his fans miss him as an athlete, you can witness him guiding the Uzbekistan team to success on the Judo mats. 
In an interview with the European Judo Union, Iliadis explains that being a coach is not simple. A coach has to take care of their players every day and learn how to motivate and train them to get the best results.
Final Thoughts
Iliadis is a living Judo legend, and many aspiring Judo fanatics consider him a role model. He won various tournaments and titles for his country, and while we may miss him as an athlete, he is preparing the next generation to follow his path.
Although it might be challenging for anyone to conquer Iliadis's feat, he may train someone to do it even better.