Haji Azer oglu Aliyev is one of the most decorated wrestlers that Azerbaijan has ever produced. Born in 1991, Haji Aliyev started appearing in international competitions at only age 17. Since then, he has won multiple world championships and Olympic medals.
Haji Aliyev has been recognized with honors in Azerbaijan for his success in winning medals for his country. He has received several state awards for his success in wrestling, including the Honorary Diploma of the President of the Republic of Azerbaijan.
As of 2022, his last appearance in international competitions was in Tokyo's 2020 Olympic Summer Games. He made it to the 65kg freestyle category finals, where he won a silver medal.
Haji Aliyev's Early Life
Little is known about Haji Aliyev's personal life, as not much information has been revealed to the public.
Haji Aliyev was born in Nakhchivan on the 21st of April, 1991. Nakhchivan is an autonomous area within the country of Azerbaijan with a population of 459,000.  
Haji Aliyev received his primary education from secondary school no.12 in Nakhchivan. He also received his higher education at the Azerbaijan State Academy of Physical Culture and Sports from 2008-2012.
At age 8, Haji Aliyev began his wrestling training under coach Elman Azimzade. Elman Azimzade is listed as Haji Aliyev's coach till date.  
Haji Aliyev has an older brother, Yashar Aliyev, who has also competed in freestyle wrestling. Yashar Aliyev competed at the European Wrestling Championship in 2013 under the 55kg category. There, he managed to achieve 3rd place, earning the bronze medal.  
Haji Alyev's Early Career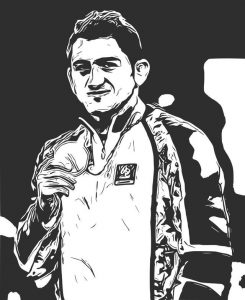 2008
In 2008, Haji Aliyev competed in his first international competition. Haji Aliyev traveled to Turkey as part of the Azerbaijani national team to participate in the Victory Cup, an international wrestling tournament.
Haji competed in the 54kg class in the junior category. In his first international competition, Haji Aliyev won the bronze medal for the 54kg junior weight class. The Azerbaijan national won 2nd place overall in the tournament.
His next tournament was at the European Junior Championship held in Latvia. The 17-year old was able to do one better than his previous tournament and reached the 54kg weight class finals. Haji Aliyev faced against Vladimir Khinchegashvili of Georgia in the finals, which he lost, gaining a silver medal.
In that first year of his career, Haji also competed in the 'Presidential Tournament' in Istanbul, Turkey, but could not win a medal.
2009
After a great start to his career in 2008, Haji Aliyev surpassed himself the following year.  
Haji started his 2009 season at the Azerbaijan Youth Championship. In February, he moved up to the 60kg weight class for this tournament.
Haji achieved great wins in this tournament, again reaching the finals. Unfortunately, his opponent Agahuseyn Muradov defeated him. Nevertheless, Haji Aliyev earned a silver medal.
His next tournament was held in Riga, Latvia, where Haji placed 5th against stiff international competition.
To finish his year, Haji Aliyev saw his greatest successes yet in domestic tournaments. Haji competed in the republican youth freestyle and Greco-Roman wrestling tournament in October. In this tournament, Haji Aliyev won his first-ever gold medal.
In December of 2009, Haji Aliyev had a great start to entering adult competitions. Haji Aliyev managed to win the Cup of Azerbaijan wrestling tournament, placing 1st.
Aliyev's Career 2010-2016
During this period Haji Aliyev would start his real journey towards competing internationally for Azerbaijan by winning in domestic competitions that qualified him for a spot on the national freestyle wrestling team of Azerbaijan.
In 2010, the 18-year-old Haji entered into several international tournaments to face his toughest challenges yet. Haji Aliyev entered the Grand Prix tournament in Krasnoyarsk, Russia but could not win a medal.
At another international tournament in Kyiv, Ukraine, Haji again could not reach the podium.
 April of 2010 saw Haji Aliyev enter his first European Championship at 60kg weight class. Despite persevering through a grueling tournament, Haji lost his quarterfinal bout to Moldovan wrestler Andrei Perpelita. Haji ranked 8th overall in that tournament.
Despite this disappointing lack of success in international competitions, Haji Aliyev remained successful in domestic events.
 Haji Aliyev won gold at two domestic tournaments: the 'Huner Meydan,' held in Baku, and the (Isakh Jafarov memorial tournament) in Ganja.
In 2011Haji Aliyev was able to secure a silver medal in three separate international level tournaments.
In April, Haji entered the Azerbaijan Wrestling Federation cup and won a silver medal.
His next success came at the European Junior championship held at Zrenjanin, Serbia. He reached the finals and won a silver medal.
His last tournament of the year was the Ramzan Kadyrov Cup in Grozny, Chechnya. Haji Aliyev again reached the finals but lost to Ahmad Chakayev of Russia.
2012 Golden Grand Prix
In 2012, Haji Aliyev finally achieved the top result he had been pursuing. He entered the Golden Grand Prix, held in Baku that year, looking for gold.
After a hard-fought tournament, Haji Aliyev reached the finals, where he defeated his countryman Agahuuseyin Mustafaev. This was his first Gold medal on an international stage.
2014 European Wrestling Championship
After a disappointing 2013, where Haji failed to win another Gold medal, he started 2014 with another 1st place finish. Haji Aliyev was the winner of the Dan Kolov – Nikola Petrov Tournament held in Sofia, Bulgaria.
His next target was the European Championship held that year in Vantaa, Finland. The previous year, Haji Aliyev had only finished in 8th place.
Competing in the 61kg weight class, Haji Aliyev reached the finals, facing Bekhan Goygereyev of Russia. In this final match, Haji Aliyev was victorious, winning the gold medal.
2014 World Championship
The new European champion continued his stellar performances that year, winning two more international gold medals. Haji Aliyev won 1st place at the Grand Prix of Germany and the Golden Grand Prix yet again.
Haji Aliyev then focused on his biggest challenge, the World Championship held in Tashkent, Uzbekistan.
His bouts leading up to the finals were all won comfortably by Haji, with the Azerbaijani champion sweeping aside his competition. His final matchup was with Masoud Esmaeilpour of Iran. Though the Iranian put up a good fight, Haji Aliyev was triumphant and took the Gold medal.
Haji Aliyev was now the 61kg weight class World Champion.
2015 World Championship
Leading up to the 2015 World Championship in Las Vegas, Haji Aliyev had a string of 3rd place finishes. Fortunately, these near successes did not affect the reigning champion's performance at the World Championship.
 Haji Aliyev had another stellar performance at the World Championship, reaching the finals to face Nomin Batboldyn of Mongolia. Haji Aliyev dominated the match from the start, sweeping aside his opponent to once again claim gold.
Haji Aliyev in the Rio de Janeiro Olympics 2016
The Olympic Games are well known to be the most challenging stage for a sportsperson to win a medal. For this reason, the Olympics is also the competition where a medal means the most honor for your country.
Haji Aliyev entered the freestyle wrestling tournament of the 2016 Olympics at the 57kg weight class. Haji reached the quarterfinals but lost to the eventual gold medalist, Vladimer Khinchegashvili of Georgia.
Nevertheless, Haji Aliyev managed to fight through the repechage rounds to win a bronze medal for Azerbaijan.  
Haji Aliyev also had the honor of being one of the flag bearers for his home country of Azerbaijan at the Olympics closing ceremony.
2017 World Championship
The 2017 UWW World Championship was held in Paris, France. Leading up to this competition, Haji Aliyev had placed 3rd in the Olympics, the World Cup, and the European Championship.
The winner of the European championship was Vladimer Khinchegashvili, who had also won the Olympic Gold medal over Haji.
Still, Haji Aliyev prepared to defend his gold medal at the Paris World Championship. In Paris, the two-time champion flawlessly swept aside his opponents to reach the finals. The final match was between Haji Aliyev and Rashidov Gadzhimurad of Russia.
Haji Aliyev fought through fierce competition from the Russian to claim his third gold medal at the Wrestling World Championships.
2017-2020
After his victory in 2017, Haji Aliyev failed to reach the podium in the next two World Championships, finishing in 25th and 12th place in 2018 and 2019.
However, the Azerbaijani champion had continued success at the European championships. Haji Aliyev won back-to-back gold medals at the 65kg weight class in 2018 and 2019.
Haji Aliyev also won the gold medal at the European games held in Minsk, Belarus, in 2019.
Tokyo 2021 Olympics
Haji Aliyev had unfortunately lost in the first round of the 2019 World Championship to Rashidov Gadzhimurad of the Russian National Freestyle Wrestling Team. This caused a danger of not qualifying for the Olympics scheduled for 2020.
However, Haji Aliyev fought through this disappointment to finish in the top two in the European qualifiers.
The 2020 Tokyo Olympics were delayed for an entire year due to the worldwide COVID-19 pandemic. The Games eventually kicked off in July 2021.
Haji Aliyev fought his way to the Olympic finals for freestyle wrestling at 65kg. He defeated Indian Bajrang Punia in the semifinals to have a chance at Olympic gold.
In the final match, Haji Aliyev lost an extremely close match to Takuto Otoguro of Japan.
Haji Aliyev finished with a silver medal for Azerbaijan.
Haji Aliyev's Snapdown
A true master of the sport of wrestling, Aliyev has shown true mastery of all the technical aspects of wrestling. That said, there is one technique that Haji Aliyev does on a completely different level from the others and that is his use of the snapdown.
Aliyev uses the snapdown to open into any technique from high level attacks, low line attacks, go behinds, doubles and more. He has used the snapdown to dominate the best of the best in the world and Aliyev's mastery of the snapdown commonly referred to and studied by all major international wrestling programs when trying to show how to effectively and efficiently use a snapdown in wrestling.
In Conclusion
One of the most talented wrestlers to come out of Azerbaijan, Haji Aliyev is always exciting to watch as well showcases his absolute technical mastery of the Freestyle wrestling.
Haji Aliyev will always be remembered as one of the best Azeri technical wrestlers of all time.