A true master of grappling, Erik Paulson has one of the most complete grappling pedigrees in the world. He has competed in MMA, Shooto and been the coach to many famous MMA fighters. Erik is the definition of a grappler and a world class teacher with an amount of knowledge that is next to none.
Erik Paulson started his martial arts journey in Minnesota at the young age of 8, he started in the Japanese art of Judo as many young kids do. Paulson loved martial arts but lost faith in the self defense aspect of Judo after getting into a fistfight and not being able to perform his Judo techniques due to the fact his opponent simply grabbed Paulson's hair (an irony that would later revisit Paulson in his MMA days).
This experience led Paulson to train in striking based martial arts as he was convinced striking arts were superior for self defense. He practiced Karate, Taekwondo, Boxing and Kick-Boxing.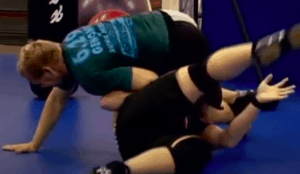 Paulson knew that martial arts was going to be his way of life and thus wanted to train with the best and at that time it meant that he would move to Sunny California to train at the world famous Inosanto Academy. Erik would train hours a day in several martial arts such as Jeet Kune Do, Wing Chun, Silat and the Filipino martial arts such as Kali, Arnis and Escrima.
Paulson's thirst for martial arts knowledge eventually led him to train with the Gracie Brothers in their Garage. He would train the Gracie Self Defense techniques with Rorion Gracie and Royce Gracie and he would later train the ground aspect of Gracie Jiu Jitsu with both Rickson Gracie and Rigan Machado. Paulson's inner fire for attaining grappling knowledge had started and it would only grow more and more throughout the years. Paulson would eventually earn his Blackbelt in Brazilian Jiu Jitsu under the world famous Rigan Machado.
Erik would return to train in the art of Shoot Wrestling  at the Inosanto academy under Yorinaga Nakamura. Shoot Wrestling also known and Shooto was a Japanese hybrid martial art that had a mix of striking, throws and submissions. It was heavily submission based and that really appealed to Erik as he wanted to understand as many easy to finish opponents as possible. 
Erik would also go on to train in Catch Wrestling under the one and only Billy Robinson, This had a large influence on Erik's teaching methodology as Catch was a very "to the point", effective and scientific method of grappling, much similar to what Erik currently teached in his modern CSW curriculum.
Erik Paulson MMA Career
Erik Paulson is no stranger to MMA having fought in 17 MMA and Shooto Bouts with most of his wins coming from submission, which is no surprise considering the fact he is a true master of submission grappling.
Erik was the first American to win the light heavyweight Shooto title in Japan which at the time was a very difficult feat and is one of the pioneers of Shooto in the US.
A true warrior in spirit, Erik Paulson wanted to fight in the first UFC in 1993 but due to the fact he was training with the Gracie brothers, he was not allowed to compete and instead joined Royce Gracie's corner.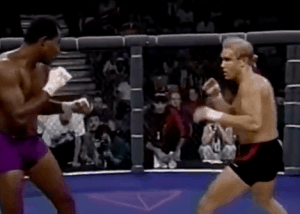 Paulson would once again have a chance to compete in a large scale US MMA event at WCC 1 (World Combat Championships). The WCC was a tournament that had 2 separate divisions where the winner of the divisions would square off against one another in the final. One division was for grapplers and one division for strikers, Although Erik was a grappler he entered the striker division due to the fact that Renze Gracie had entered the grapplers division. Erik would win his first fight but lose his 2nd fight because his opponent grabbed Erik's ponytail for the entirety of the match, Erik refused to cut his ponytail prior to the fight as during that period in his life, he served as a stunt double in the movie industry and the ponytail was very important for his Hollywood career. The irony is that when Erik Paulson was 8, he was unable to use his Judo due to the fact his opponent grabbed Erik's hair as well.
Erik Paulson CSW and Coaching Career
One of the most knowledgeable martial arts instructors in the world, Erik Paulson went on to create CSW (combat submission wrestling) as well as STX Kickboxing in Fullerton California.

Erik is an outstanding coach, he is so amazingly technical and understands how to create systems in order to convey the information to the students that have constantly produced amazing world class grapplers and MMA fighters.
Unlike most modern grappling schools where the curriculum is BJJ focused, Erik pulls from many different arts in which he has trained and mastered and really specializes in grappling for MMA as CSW is heavily influenced by Catch Wrestling and Shooto.

Many people tend to forget that Erik has an absolutely insane amount of striking experience, having learned from some of the best striking instructors in the world.
Paulson has coached many famous and successful MMA fighters such as Josh Barnett, Ken Shamrock, Cub Swanson, James Wilks, Renato Sobral as well as co-coaching Brock Lesnar and Sean Sherk due to his affiliation to Greg Nelson and the Minnesota Martial Arts Academy. Erik has also been an assistant coach on the MMA reality TV show "The Ultimate Fighter" as well as has been involved in many Hollywood movies such as Bloodsport 3, Never Back Down and American Ninja 5.
In Conclusion
There are tens of thousands of grappling schools and instructors in the world but Erik Paulson is at the very top of the tables when it comes to amazing grappling knowledge and coaching ability, He constantly produces amazing videos and grappling curriculums that are enjoyed by students worldwide.

Erik is proof that it is possible to have a complete grappler, one that knows and has mastered multiple styles, he is an innovator and will continue to push the grappling world forward in the years to come.