David Douillet is one of the greatest Judokas of all time. He attracted attention when he became the junior judo champion of France, gradually growing to be a formidable natural athlete and Olympic judo champion. 
David became French champion at the age of 21 and started competing in the Olympics by 22. He went on to win many medals in many international tournaments and became the Olympic champion on two different occasions. He was voted the country's best athlete in 2000 by the French population, beating Zinedine Zidane to that title even though the latter won the European championships that year.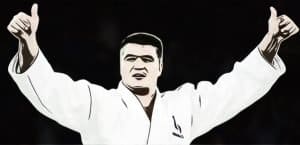 After his illustrious career as a Judoka, David Douillet shifted to politics. He was elected into the French National Assembly in 2009 and became Minister of Sports for France from 2011-2012.
He also faced some tough times when he met with a motorbike accident before the Sydney Olympics. It gave him great motivation to feel reinspired again and compete at the highest level.
David Douillet is considered a legend of the sport and one of the most decorated judokas in judo history. He played a significant role in introducing the sport to people worldwide and is considered a global French icon.
David Douillet's Early Life
David Douillet was born in Rouen, France, in 1969. He grew up under the care of his grandmother after his parents divorced, and he was very young when this happened.
Douillet started practicing the Japanese martial art of Judo at the young age of 11 by taking basic judo lessons from Jacques Lemaitre. This man motivated Douillet to improve his performances, leading to him joining the sport-studies course in a high school not far away from his hometown. As luck would have it, Douillet was spotted by a particular judo world champion during a visit to an exhibition in 1986. This champion was none other than Jean-Luc Rouge. After this event, Jean-Luc convinced Douillet to join France's National Institute of Sport, Expertise, and Performance (INSEP) in Paris. INSEP is a government-run institution that falls under the Ministry of Sports.
Only elite athletes train in this sporting facility center, and Jean-Luc saw the potential in Douillet. He already booked a seat for Douillet in INSEP after seeing him practicing Judo on the mat that day. Douillet improved his overall game by rubbing shoulders with the most excellent French judokas. Little by little, he picked up techniques from the best fighters in the institute and added them to his game. 
He started his professional career as a judoka and won several medals after participating in various competitions. It led to him becoming the French champion in the junior category, and that was his first big step towards getting into the French senior team.
In 1988, he arrived at the third spot in the heavyweight category of the French Senior Championships. He then went on to win a few more medals held in Athens for the European Junior Championships. He was slowly growing to be a serial winner by this time. Then the following year (1989), he won the bronze medal at the European Junior Judo Championships held in Athens.
David Douillet's Road to The Olympics
David Douillet had set his sights higher and higher as he competed in the European Team Championship, where the French team finished in the second position. By the end of 1990, he was already seen as an elite judoka by distinguishing himself in Tokyo's esteemed Jigoro Kano Cup. He competed excellently to reach the final in Tokyo, where he only lost to a three-time world champion Naoya Ogawa from Japan. 
This loss did not stop Douillet from working hard for his goals. He went on to win the title of champion in the French Seniors championship in the following year (1991). It was the first time he was crowned champion in the senior category. He was matched up in the final against Georges Mathonnet, his two-year senior. Georges was also considered another gem for French Judo, and Douillet could pin him down to earn the coveted title.
This victory over Georges Mathonnet resulted in Douillet being called up for his first senior individual championship. It was for the 1991 European Championships held in Prague, Czech Republic. After his defeat to the Polish judoka Rafal Kubacki, he won a bronze medal. A few weeks after winning bronze, he competed in Nimes, winning two silver medals at the World Military Championships. He fought in both the heavyweight category and the open category this time. It showed Douillet's elite mentality, and he wanted to challenge himself in all types of competitions and categories.
David Douillet retained his title in the France Senior Championships held in Paris the following year. He headed for the European Championship to book a spot for the upcoming Olympics after two months. However, he was eliminated by the second round itself this time, but as luck would have it, he could book a berth for the Olympic finals by obtaining bronze in the repechage.
When the Olympic Games were held in Barcelona, Spain, he was drawn with difficult opponents from Germany and Japan. He faced Henry Stohr, an Olympic vice-champion and the four-time world champion Naoya Ogawa. Stohr got disqualified from the bout as he did not commit to attacking during the match.
Douillet failed to beat the Japanese judoka and could no longer compete for the gold medal, but he was drafted against the Cuban Franck Moreno Garcia for the third position. Douillet scored a throw before the end of the bout to give himself a third position finish and his first-ever Olympic medal at 23 years old.
David Douillet's International Judo Success
Before the 1993 World Championships, Douillet already had some titles under his belt. He was third in the Paris Tournament at the start of the year and Europe's vice-champion by May. He had more ambition than ever and was pumped to go to the World Championships. He had his eyes set on the world title since he realized that he had potential from a young age.
He won against Indrek Pertelson from Estonia in the first round. After that, he was pitted against his former opponent Kubacki from Poland in the semi-final, the judoka who beat him in the previous year's European Championships. He could subdue Kubacki this time and advance to the final.
There he met Georgia's David Khakhaleichvili, an Olympic champion by title and people's favorite to win the World Championships. Douillet used a waza-ari on the Georgian at one minute thirty at the bout's end to emerge as the winner. He was finally crowned as the World champion at age 24 and was the first Frenchman to hold that title in the heavyweight category. It was Douillet's most significant achievement by far, which also put France on the elite list of the sport.
He again became the European champion the following year in Poland by beating Rafal Kubacki in the final, a son of the soil. He was also part of the France team that won the European Championships by national teams in October 1993, held in Frankfurt.
For any aspiring judoka vying to qualify for the Olympics, it is necessary to participate in the World Championships. Only then can you secure a berth in the Olympic finals. Doulliet, before the 1996 Olympic Games, had to compete in the 1995 World Championships held in Japan for the same reason. Although he was used to fighting in both heavyweight and all categories, it was the first time he had done so at this high level.
He retained his world champion title in the heavyweight category by winning his bouts by ippon. He did this by beating Japan's Naoya Ogawa, then Ernesto Perez in the semi-finals. He defeated Germany's Frank Moller in less than two minutes in the final. This achievement was only the second time to be achieved by a Frenchman, the first one being Fabien Canu in the late 1980s.
He competed again in the all-category bouts three days after this victory in the heavyweight division. He qualified for the final event in this category by defeating Russia's Sergei Kossorotov by submission, making him only the third judoka to achieve this feat after Yasuhiro Yamashita in 1981 and Naoya Ogawa in 1989.
Douillet's target of reaching the Olympics finally came to fruition when he was selected for the 1996 Olympic Games in Atlanta, USA.
Glory at The Highest Stage of Judo
The stage was set for the Frenchman to shine at the 1996 Atlanta Olympics in the Georgia World Congress Center. Douillet went through the first three rounds without much difficulty as he faced Harry Van Barneveld, Muller and Krieger of Belgium, Luxembourg and Austria, respectively. As he went further and progressed to the semi-final, he met a judoka who had beaten him four years before in Barcelona, Japan's Naoya Ogawa. Douillet had to go with a positive mindset into the fight, and he took the loss in the past as a motivation for this match.
David Douillet described this match as a final before the actual final. The fight was very competitive, and it went to the wire. He progressed to the next round, where he met Spain's Ernesto Perez, the judoka he had defeated at the world championships in Chiba. Douillet performed an uchi-mata on Perez by mowing the inside of his thigh. The judge called an ippon, and Douillet won the heavyweight division becoming only the second Frenchman after Angelo Parisi at the Moscow Games in 1980. He received his gold medal on the same day from a former Olympic champion, Anton Geesink, from the Netherlands.
From Triumph to Tragedy
Just when David Douillet's career was at its peak, he met with an unfortunate motorcycle accident that broke his leg and shattered his shoulders. This accident made him go from having an athlete-level physique to being stuck in a wheelchair.
His shoulders required putting back together, and he risked getting his leg amputated. David's body was not in good shape as the accident also ruptured his spine. He felt very discouraged after this incident, and he also had the pressure of defending his world title in Paris after precisely a year from then.
Not knowing what would transpire from that point onwards took a toll on Douillet's health. The surgeons were unsure if he would walk again, and the rehabilitation process was also not the easiest. So, all these factors drained his physical and mental energy, and everything was up in the air.
However, the French national team's group of doctors and staff conjured up some miraculous procedures to get him back on track for training. They performed electrical stimulation therapy on his injured body, and Douillet's leg was wrapped in a resin band to repair his nerve endings.
These procedures would result in Douillet walking again and moving his shoulders about. His recovery period was cut down by a large margin with applying those techniques.
The Mentality of a Champion
After months of therapy, Douillet got back on the tatami and started his physical training in February to get himself ready for the '97 World Championships and defend his world title. He arrived at the tournament without completely getting back to his best physical shape. That gave him some discomfort, and he sometimes found it hard to deal with, but he kept pushing his limits.
In the semi-final, he went up against China's Pan Song, a very imposing judoka. He dislocated his shoulder in that bout and was left to fight with only one arm in the final. He knew he would find it difficult to subdue Japan's Shinichi Shinohara only with one capable arm, so he turned it into a tactical fight.
Douillet surprised everyone by attacking his opponent more than him, which caused Shinohara to keep inviting penalties. Shinohara got disqualified because of all those penalties, and Douillet was once again crowned world champion.
This event showed what great mental strength Douillet possessed and set an example for everyone. This mindset is what champions are made of.
The Road to The Sydney Olympics
David Douillet's goal of competing in the Sydney Olympics was getting harder by the day. He has been carrying back pain for a few years now, and the motorcycle accident also did not make it any better. His training sessions were tough, and he had to find a complex way of training as he still had that issue with his back.
His osteopath, who was with him till the Games commenced, was a significant factor for him on his road to recovery. A few weeks before heading out to Australia, Douillet's forearm got twisted and spoilt his elbow joint, and he had to continue preparations in that condition.
David Douillet finally reached the Olympic Finals in Sydney and walked his nation out on the first day to do the stadium's lap with the French flag. It was an emotional moment for him as he felt the pressure of carrying the hope of his nation on his shoulders.
Everything felt surreal for him, and he also had it at the back of his mind that this would be his last stint at the Olympics. He had already discussed his retirement with his teammates and close ones before the Olympics started.
Clinching Olympic Judo Gold at Twilight
In the first round, David Douillet was matched up against the Venezuelan Douglas Cardoso. Douillet was ready to test the level of his physical shape against Cardoso, but he forfeited the match and left Douillet frustrated. His opponent did not show up for the match, and Douillet progressed to the next round. He was disappointed as he wanted to test himself in the last competitive tournament of his career.
He took on Selim Tataroglu of Turkey in the second round and defeated him with an ippon. He remembers fondly the quarter-final and semi-final where he had worthy opponents who tested his resolve.
He was the underdog in the semi-final, which was a rare idea to have about him. He fought Estonia's Indrek Pertelson, an excellent fighter against right-handed judokas and hadn't lost in a couple of years. However, Douillet had a trick up his sleeve for this fight.
Before the Olympics, the two fighters happened to have a sparring session. That is how Douillet designed a trap for Pertelson, and he fell for it. Douillet made Pertelson think he had the upper hand and attacked him when he was off-guard. Douillet used an uchi mata on him and won in less than a minute with an ippon. It was seen as one of his best moves in the Olympics. He not only used his brute force but used his experience too.
Douillet had finally managed to reach the final. It was his dream to go out in style by winning gold. He faced Shinichi Shinohara in the final, and there was a moment of confusion in this match. Both players thought that they won after they fell to the ground together.
Saito, Japan's coach, thought it was an ippon for Shinohara and believed he won. However, David was the one who launched the attack, and the judges awarded him a yuko. After that moment, David felt his opponent had lost his energy and spirit to fight, and he took charge of the bout from then on.
He countered one of the Japanese man's attacks and scored a second yuko, ending the fight thus winning the Olympic Judo Gold medal.
A Legend is Born
David Douillet finally achieved his goal of becoming the first French judoka to win two Olympic gold medals. He instantly became a national hero, surpassing even the French Football team's achievements in 2000. He could not handle all the emotions at that moment and felt very grateful to everyone who helped him reach this stage.
After the final, he needed to return to France to have his elbow operated on. He left his team and went ahead, which annoyed him greatly, but that couldn't be helped. He entered the game as a young boy who couldn't have even imagined that he'd reach this far and left a legend of the sport.
David Douillet's Life After His Sporting Career
David Douillet entered the world of business and had a stint in an insurance company. He was also a shareholder of a travel agency that went bankrupt in 1997, and he believed he was a victim of fraud in that case.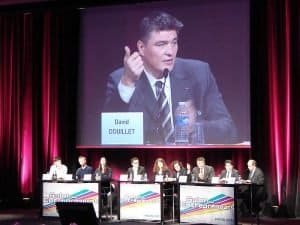 He collaborated with several brands that used his name to sell sporting goods and products, like fitness equipment, hiking equipment, etc. A video game company even released a judo simulation video game called David Douillet Judo. He was also a part of the committee of the French Judo Federation for two years after his retirement.
David Douillet starred in some commercials and reality TV shows as well. He has done several contracts for radio services. David also played some roles in movies, and stage plays.
The most notable part of his life, after his sporting career, would have to be his shift to politics. He entered the realm of politics in 2009 when he was given the post of national secretary for sporting life of the Union pour un Mouvement Populaire.
In September, David Douillet was put up as a candidate in the partial legislative election by the UMP and was elected as deputy against Frederik Bernard. In 2011, he was appointed as the Sports Minister under the Nikolas Sarkozy government.
He managed numerous portfolios in the government through those years and played a significant role in the rise of the UMP.
After getting defeated by Florence Granjus in the re-election for legislative elections in 2017, he took some time off to reflect on his illustrious career. He finally called it quits from political life in 2021.
David Douillet also faced some controversies when he joined politics. He was accused of being sexist because of some of his remarks in the past about the gay community and women.
Personal Life
David Douillet has two sons and a daughter with his ex-wife, Valerie. He also has a daughter with Vanessa Carrara, his present wife now. She is a hypnotherapist, and she also has two daughters from her previous marriage. They got married on the 19th of August, 2017, after their first child was born.
David Douillet's Fame
David Douillet is one of the most popular judokas in the sport's history. He was the first Westerner to win both the world title and European championships in the same year. He is also one of the four judokas to win four world championships. He has only been overtaken by Teddy Riner as the most decorated French judoka in history, with the latter having 10 titles to his name.
A Message of Hope
David Douillet says that nothing matters in the end but hope for the future of humanity. From the day he picked up that white belt to the day he won his second Olympic gold medal, it all comes from the values he learned as a child.
The Olympic Games showed him what this world is truly about. It is about living and sharing what we have in this world—living as one. The Olympic Village gave him an idea of all these thoughts. People come together with all their differences for one common goal: to reach the top.
He says that the most powerful message he took out of his career is that all humans have the same values. Everyone has a goal to achieve, which can be done only through hard work and respecting others. If all humans can come together and share and understand each other with these common values, the world would become a beautiful place. That is the most important lesson he has learned from his long and illustrious career. The titles and medals become secondary.
Blast From the Past
Records are meant to be broken, which Teddy Riner did precisely. Teddy Riner, like his predecessor, is also a Frenchman, and he was starting his career when David Douillet was at the peak of his.
Teddy Riner has 10 judo World Championships to his name and three Olympic Gold medals. He is now the most decorated judoka in the world, having won another three European Championships.
Funnily enough, there is a photo of how they met when Teddy was a kid. David saw the raw energy in this kid and advised him that he would be more disciplined if he focused all that energy on his training. It is like fate brought them together as Riner would then go on to break David's records.
In Conclusion
David Douillet's success story is something we can all draw inspiration from. He had a very disciplined childhood that made him into the man he became. He was sincere in his training and kept pushing to be the best.
Even when he met with an accident that almost changed the course of his life, he never wanted to give up. He was desperate to become the best of the best. That mindset took him to the highest stage, where he won his second Olympic gold medal and became a national hero in France.
He then went on to achieve even bigger things in business and politics. However, he will always be remembered as the man who put France on the world map in the sport of judo. He will always be a legend of the sport and a hero to the people of France.