In the early '90s, the world was introduced to one of the most dominant forces in the 90's wrestling era. A name that deserves much recognition even to this day. A name that lives on in the hearts of fans and athletes alike, a name that instills courage in future wrestlers and athletes, that name being Daniel Igali.
Daniel Igali's Personal and Physical Details
| | |
| --- | --- |
| Name | Daniel Igali |
| Date of birth | 3rd February, 1974 |
| Place of Birth | Bayelsa State, Nigeria |
| Country | Nigeria, Canada |
| Age | 46 |
| Sport | Wrestling |
| Weight | 74kg (163 lbs) |
| Height | 1.68 meters |
The Nigerian Wrestler Who Won Gold for Canada
When Igali started wrestling in Nigeria, he made very short work of the competition there, dominating the Nigerian wrestling scene. This initial success allowed him to compete in the Commonwealth Games in 1994. The event took place in Victoria, Canada, a country far away from his own. This is when the wrestling world would come to know of his wrestling prowess. Here, Daniel would display his potential to the international wrestling community for the first time. 
Due to Nigeria falling under military dictatorship, Igali opted to seek asylum in Canada. While living in Canada as a refugee, Igali began his long journey to the Olympics. A journey filled with complex challenges, hard-fought battles and ultimate perseverance. A journey that would end with him being immortalised in the wrestling world forever. This is the story of how a refugee from Nigeria won Olympic gold for Canada. 
Origins and Early life of Daniel Igali
Daniel Igali was born on the 3rd of February, 1974, to a poor family in Eniwari, located in the Bayelsa state of Nigeria. At the time, his mother had desperately wanted a male child in the family. After finally giving birth to one, she was full of joy. And so, she gave him the name 'Baraladei.', which means 'I got what I wanted in my hands'.
Most of Daniel's childhood much like many in Nigeria was full of family and good memories with them. Daniel came from a well educated family, his father being an accountant and his mother being a teacher. Growing up in Nigeria, Daniel understood early on the value of family and of providing for the family as like many in Nigeria, the day was full of interactions with the family and friends.
Like many villages in Nigeria, food sometimes could be scarce but coming from an educated family like the Igali family, the family had food on the table and he had to share it with his 20 siblings. However, coming from a strong family unit and living with these circumstances are what ultimately shaped his tenacity and discipline for wrestling. 
Daniel was born into the ljaw tribe, who are naturally born wrestlers. For the ljaw, wrestling is an integral part of life and is embraced by every able-bodied man. Growing up, Daniel would wrestle his other siblings just like many young brothers and sisters do. One could say that this need to wrestle his siblings as well as being a member of the Ijaw tribe instilled the wrestling spirit into him. 
In 1984, Igali went through a life-changing event. Appah Macauley, the famous Nigerian Olympic wrestler, had visited his village that year. Macauley was an inspirational figure in the minds of all Nigerians and still is to this day. This encounter with a real-life hero set Daniel on the path to becoming an Olympic wrestler. Igali knew from then on that he wanted to be just like Appah Macauley, if not greater.
Igali's Early Career and The Commonwealth Games
After training for several years, Igali signed up for the Nigerian freestyle wrestling competition in 1990. He went on to win the competition four times. Later on, he won the Nigerian Greco Roman Wrestling Championships and the African Freestyle Wrestling Championships. He achieved these feats not just once but two times. However, the real competition was yet to begin.
In 1994, Daniel Igali had the honour of representing Nigerian Wrestling in the international arena during the Commonwealth Games. He managed to secure a disheartening 13th place; however, the whole experience was a game-changer. Igali realised that he could learn a lot from Canada. Compared to his home country, which was going through political turmoil, Canada had much more to offer.
Igali had come to admire the academic prospects that Canada offered its wrestlers. He also had a lot of respect for the Canadian wrestlers that he came across during this time. This prompted Igali to make the most crucial decision of his life. The same year, Igali applied for refugee status and began living in Canada.
He met with Greg Edgelow, a Commonwealth gold medalist, and Tom Murphy, a Commonwealth Games volunteer. These meetings ultimately led him to two wrestling coaches who would impact his training later on. Mike Jones and Dave Mckay were coaches at Simon Fraser University and Douglas College. Igali enlisted at Douglas College for one year between 1996-1997 training with Coach Dave McKay. A truly talented wrestling coach who coached at the Burnaby Mountain Wrestling Club as well as at Simon Frasier university, Dave McKay would also be Daniel Igali's Olympic Wrestling coach.
Igali would eventually enroll and attend at Simon Fraser University (SFU) to pursue a criminology degree. 
Simon Fraser University was a top level academic university as well as had one of the best if not the best wrestling program in Canada. A well known wrestling team, Simon Fraser University Wrestling was known for producing talented athletes among the Canadian and even American wrestling community. SFU is Canada's only NCAA wrestling team, which competes in NCAA Division 2 wrestling.
In an interview, Dave Mckay stated that Igali had a lot of natural skill but needed more training in the technical aspects of wrestling. Igali, who was from a traditional Nigerian wrestling background, had done most of his wrestling on the bare earth. This was very different from the mats used in other countries and proved a disadvantage for him. 
For Igali, it wasn't just the unfamiliar mats that troubled him. His initial stay in Canada was filled with constant uncertainty. He found himself alone in a foreign land and constantly worried about the crisis back home. He was concerned about the safety of his family and loved ones. There were even times when Daniel contemplated giving up and going back home. 
On the other hand, Mike saw that Igali had the makings of a champion but lacked strategy and technique needed to really compete with the best international wrestlers. When Mike came into the training process, he unleashed Igali's full athletic potential. The two of them formed a strong bond as they trained together. Within a year, Igali quickly picked up the pace and turned himself into a force to be reckoned with on the wrestling mat.
Canadian Citizenship and The Road to The Sydney Olympics
1997 was the year when Daniel Igali dominated the National Association of Intercollegiate Athletics. During his career at Simon Fraser University, he had an undefeated streak of 116 wins, a marvellous feat. In the same year, he won the Canadian National Greco-Roman Welterweight championship. Things were finally going the right way for Igali. 
In 1998, Daniel Igali was finally granted Canadian citizenship during his second year in SFU. After years of hard work, Daniel came out on top despite facing cultural difficulties and missing his family back home. Even though he went through some troubling times, Igali's love of wrestling kept him from losing himself. 
Apart from wrestling, Daniel also enjoyed a brief career in Kabbadi. He showed exceptional skill in the game and was termed Kabbadi's Michael Jordan. However, he left the game shortly after and continued his focus on wrestling. 
Daniel won the Canadian National Freestyle Wrestling Championship in 1998 and secured the fourth position at the World Freestyle Wrestling Championships. However, it was only in 1999 when he received considerable attention from the world. That was the year when Daniel won gold at the World Championships, defeated heavy favourite Lincoln McIlravy of the US and bronze at the Pan American Games. After these significant achievements, the world finally knew who Daniel Igali was. His accomplishments over the past years brought Igali the opportunity to represent Canada at the 2000 Summer Olympics. 
Daniel Igali in The Sydney 2000 Summer Olympics
The stage was set in the year 2000, in Sydney, Australia. The Summer Olympics started in full swing, bringing the best athletes from across the globe. Daniel performed in the 69 kg category, where he faced off against the elite of elite in wrestling, all opponents coming from international wrestling powerhouse countries such as Georgia, Iran, Cuba, USA and Russia.
After beating Emzar Bedineishvili of Georgia and Amir Tavakkolian of Iran in pool 1 of the elimination pool, Igali would face off against Cuban wrestler Yosvany Sánchez to open the knockout round. Once again Igali would face off and beat Lincoln McIlravy of team USA.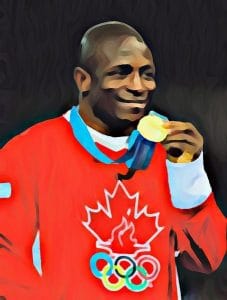 The final match would see Daniel Igali in the finals against Arsen Gitinov of Russia, a truly amazing match as it showcased Igali's wrestling skills to the world.
Gitinov was a massive persona and a challenging opponent for Igali. Having the advantage of size, Gitinov possessed a looming edge over Igali. However, Igali knew that all his training had brought him to this moment, and no matter what, he had to win. 

The score was comparatively even during the halfway period, but a decisive gut wrench from Igali won the day. What followed after is a moment written down in sports history. Overcome with emotion, Igali placed the Canadian flag on the mat and kissed it. All of his hard work had finally paid off as he became the first Canadian wrestler to win Olympic gold. 
Continuing The Igali Legacy
After becoming yet another national hero, Igali won the Canadian championships in 2001 and 2002. He won another gold during the Commonwealth Games in 2002. Daniel competed in the 2004 Olympics held in Athens but was defeated by Cuban wrestler Iván Fundora. Igali would finish off in 6th place at the 2004 Athens Olympic Games and would make the decision to retire from competing in wrestling shortly after. 
After such a prosperous career, Igali became a prominent figure in the sports fraternity. He was inducted into several halls of fame (Canadian Sports, Canadian Olympic, International Wrestling and British Columbia Sports). Igali also coached the Nigerian Wrestling team on several occasions and would become the head national coach of the Nigerian Freestyle Wrestling Team. 
Igali has had a huge impact on Nigerian Wrestling having produced some absolutely amazing talent. The future of Nigerian and African wrestling looks very bright with Igali in charge as he truly cares and has the knowledge and coaching ability to transform Nigeria into an international wrestling powerhouse.
Having made his goals come true, Daniel turned to more humanitarian aspects of life. He felt it was time to give back what he could to his country and the wrestling fraternity. One of his dreams was to establish a school in his native home of Eniwari. He accomplished this dream in 2009 after he received funds worth $ 400,000. He named the school after the late Maureen Mathny, his surrogate mother. 
Daniel competed in the elections for the political office of British Columbia but was defeated. However, he became a member of the Assembly House in the Bayelsa State of Nigeria in 2011 and is currently a 2 time member of the Bayelsa State assembly. Igali is also the state's sports commissioner and is constantly working to develop the culture of sport within his region as he believes sport has an extremely positive impact on youth development. 
Daniel Igali remains a champion for change, an inspiration to the world to this day and will continue to help people become the best they can be as this is what true champions do.