A highly technical wrestler, Anuiar Geduev has always been at the top of the top when it comes to the international 74kg weight class for Freestyle Wrestling. 
Geduev has beaten some of the best wrestlers at 74kg such as Jordan Burroughs and Jabrayil Hasanov and is considered one of the best Russian wrestlers of all time at the weight class.
Who is Aniuar Geduev?
Born in a small village called Psygansy in the Urvansky District in Kabardino-Balkaria, Russia on January 26th, 1987, Aniuar Geduev started life off in a tough part of the world. 
Geduev is a Kabardian by nationality, the Karbadians are the largest Circassian tribe in the world and are spread out in Russia, Egypt, Turkey, Jordan and other Middle Eastern Countries. Being Circassian had a lot of influence on Geduev's fighting spirit as Circassians are known to be extremely tough and resilient people.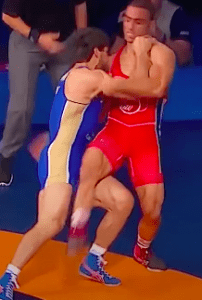 Aniuar Geduev's first time wrestling would showcase his toughness and fortitude. At 11 years of age, Aniuar attended his first freestyle wrestling practice with his older brother Alim and after his first wrestling match, Anuiar fractured his right arm which would be the first of many wrestling injuries Geduev would have during his youth.
Although Aniuar injured himself, Aniuar continued to wrestle, showing the resilience he would be known for in the future. A coach at the club named Arsen Khasanov, who would become Geduev's first wrestling coach , immediately noticed Geduev's natural talent for wrestling and told Geduev's family that their son has a very bright future ahead of him in wrestling should he continue as wrestlers like him are born one in a thousand.
Having full support from his family and friends, Geduev started training and training hard. His life was a mix of wrestling and school, each of which he took very seriously and achieved a lot of success in wrestling as a youngster.
Geduev's wrestling intensity led to many injuries, one after another and due to being injured so much, Geduev missed many major junior level wrestling competitions. Although he missed many wrestling competitions, his coaches noticed his talent as well as grit and decided to allow Geduev to wrestle at the senior level.
Having immense strength for his size, Geduev could bench 175kg and deadlift over 280kgs, all at 74kg weight. This strength and athleticism would be seen all throughout his wrestling career. Geduev would develop a truly dynamic wrestling style and was the master of the Russian Wrist Snap, a move that when done correctly, makes the opponent look like they are being rag dolled like a child.
Geduev's Wrestling Career
The decision to allow Geduev to wrestle at the senior level was the right decision as Geduev would win a Bronze medal at the 2009 Russian National Wrestling Championships at 74kg. The 74kg division was truly stacked with talent at that time with the star Denis Tsargush being top in the division.
2010 would be a great year for Geduev as well seeing him winning a Silver medal at the Ramzan Kadyrov Cup and then a Bronze Medal at what is known as the toughest wrestling tournament in the world called the Golden Grand Prix Ivan Yarygin.
Geduev would find success once again at the 2011 Russian Wrestling National Championships at 74kg where he would take a Silver medal and then in 2013 at the European Championships in Tbilisi, Georgia, Geduev would convincingly take Gold in a truly dominant performance.
2014 saw Geduev winning a Gold medal at the European games and in 2015, Geduev went full out taking home a Gold medal form the Russian National Wrestling Championship and European Freestyle Wrestling Championships as well as a Bronze medal at the World Freestyle Wrestling Championships. In the same year, Geduev would show a truly amazing performance against Turkish wrestling star Soner Demirtas, destroying Demirtas 10-0 and showcasing to the world what they had to deal with when facing the Russian at 74kg.
Geduev's Olympic Journey
The 2016 Rio Olympic Games were right around the corner and in order to make it to the Olympic Games, Geduev needed to win a Gold at the Russian National Wrestling Championships and this would be no easy feat as he would have to get through Denis Tsargush, who a 3 time Freestyle Wrestling World Champion and considered one of the best wrestlers in the world at the time.
Geduev gave it his all and had an outstanding performance including beating Denis Tsargush to take the Gold medal and make the 74kg spot for the Russian Olympic Freestyle Wrestling team.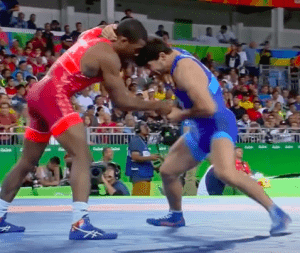 The 74kg Freestyle Wrestling weight class at the Rio Olympic Games was absolutely stacked and Geduev would have to bring his "A" game in order to take home a medal as all of Aniuar Geduev's matches would be against the toughest in the world.
Geduev's first match was against Bekzod Abdurakhamov of Uzbekistan in which Geduev won 10-5 against the talented Uzbek wrestler.
Geduev's second match was considered one of the biggest upsets ever in the history of US wrestling in which he beat 2012 Olympic champion Jordan Burroughs 3-2. A truly exciting match, the wrestling world was amazed at how Geduev mitigated Burroughs much feared double leg takedown and gave a masterclass in how to beat Jordan burroughs. One memorable incident from the Geduev-Burroughs match was during the match when the wrestlers were broken up, Burroughs aggressively pushed Geduev's face in a disrespectful manner in which Geduev powerfully pushed Burroughs backwards in return. 
A tough match with Jabrayil Hasanov from Azerbaijan would showcase the true talent that Geduev had as Hasanov's style was a threat to the Russian. Geduev beat Hasanov 5-4 and was now on his way to the finals against Iranian wrestling phenom Hassan Yazdani.
The Gold Medal match was one of the most intriguing wrestling matches of all time as prior to this match, Geduev sustained a very bad cut over his eye that had to be bandaged.
The first few minutes of the match had Geduev dominating the match but as time progressed there were many stoppages due to the bandage needing to be reset. Each time there was a pause, Yazdani got well needed rest from the much stronger Geduev. Frustration seemed to settle in and Yazdani scored the final points to beat Geduev 6-6.
A truly difficult site to see as Geduev won Silver, an upset Geduev walked back to the changeroom to collect himself. Moments later, in true sportsmanship, Geduev was awarded the Olympic Silver medal.
Due to this absolutely amazing and resilient performance, Geduev earned the nickname "Circassian Lion" due to the size of his heart, strength and fighting spirit, a perfect nickname for the wrestler.
After the Olympics, Gaduev wrestled for the famous wrestling club of CSKA in the Krasnodar Territory and Kabardino-Balkaria, one of a few hotbeds of wrestling in Russia. Gaduev's coaches are Alexei Kaziev, Akhmed Magomedov and Arsen Khasanov.
In Conclusion
Russia is a leader in wrestling, the country produces an amazing amount of wrestling talent and in order to compete for the Russian National Freestyle Wrestling Team, you can be certain the wrestlers on the Russian team are the elite of the elite.
Aniuar Geduev was truly the elite of elite, he was a wrecking ball and perhaps one of wrestling's pound for pound strongest athletes. Geduev always showcased respectful behavior on and off the mats, he showed the world the beauty and intricacies of Russian wrestling and he will always be remembered as the Circassian Lion of Russian Wrestling.