One of the most talented BJJ practitioners of all time is Amaury Bitetti. A true warrior on the mats, Bitetti was a true nightmare for anyone competing against him and is known as one of the best Jiu-Jiteiros of all time.
How did Amaury Bitetti Start BJJ
Born and raised in Rio de Janeiro, Brazil, Amaury was already on the mats as far back as he can remember as his father (who was also named Amaury) was a good childhood friend of Carlson Gracie Sr and also practiced Brazilian Jiu-Jitsu. In fact, Amaury's father was one of the partners in the famous Carlson Gracie Academy at Figueiredo Magalhaes. Amaury started BJJ at the young age of 5 and was always one of Carlson's best students.
The Carlson Gracie Academy at the time was a hotbed of BJJ talent with many BJJ champions such as Mario Sperry, Ricardo De La Riva and Murilo Bustamante training at the academy each and every day.
How did Amaury Bitetti Start Competing in BJJ
Competing in tournaments was second nature to Bitetti as he had been competing since his childhood, being one of the best BJJ athletes in his junior years as well as all throughout his adult years. Amaury would be feared for his effective guard passing techniques and top game as well as he went 11 straight years without losing a match and not conceding 1 point, a true feat in itself.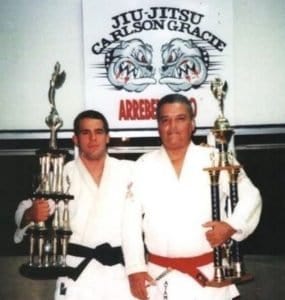 It was truly apparent that Amaury Bitetti was a cut above the rest when Carlson Gracie decided to enter Amaury in a BJJ tournament both as a Junior and as an Adult in the Black Belt category. Destroying all his opponents like a tiger on its prey, Amaury won 4 gold medals, 2 in his weight category in both junior and adult as well as 2 gold medals in the open category in both junior and adult, this is the first time in history this was done by any BJJ practitioner.
A true beast on the BJJ mat, Amaury has notable wins over Fabio Gurgel, Royler Gracie, Ryan Gracie and Alexandre Paiva in top level BJJ competition. Bitetti won the BJJ World Championships in 1996 and 1997 in the Absolute Division, beating many larger and stronger opponents. He would also win the Brazilian National Jiu-Jitsu Championship in 1998 and 2000. 
Amaury Bitetti Starts Training with Osvaldo Alves
During the very late 90's early 2000's Carlson Gracie decided to move to the US in order to try to build BJJ in the US as well as manage his top MMA fighter, Vitor Belfort. This would eventually lead to most of the famous Carlson Gracie fighters leaving the gym in order to pursue other paths in BJJ. Mario Sperry, Murillo Bustamante, Ricardo Liborio and Luis Roberto Duarte went on to start the Brazilian Top Team whereas Amaury Bitetti decided to train under one of the best BJJ instructors of all time Osvaldo Alves and eventually earn his Coral belt under Alves after being a BJJ black belt for 31 years.
Osvaldo Alves was at the time the pinnacle of technical BJJ training, often training and preparing champions from other teams prior to competing in the world championships. Alves was a perfect coach for Bitetti to continue training under and flourish his BJJ skills.
Amaury Bitetti's Last BJJ Competition
Bitetti's last competition was against BJJ legend Roberto Traven at the 2017 Abu Dhabi Pro. A great match between 2 true legends of BJJ, Bitetti would win the match by advantage (2-1) and take the middleweight championship of the Jiu-Jitsu legends series of the tournament.
It was an epic end to a long career as Amaury Bitetti wanted earlier in his career to compete against Roberto Traven in the ADCC but the bout never came to be.
Amaury Bitetti's MMA Career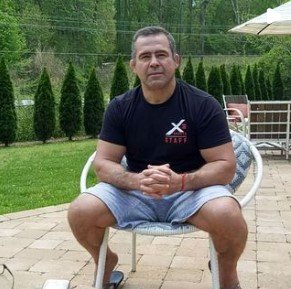 Bitetti not only has a great career in BJJ but he also competed in MMA as well as fought twice in the early days of the UFC. Amaury has a record of 7 fights, 5 wins and 2 losses.
Starting his MMA career in 1991 in an event which placed Jiu-Jitsu vs Luta Livre in Desafio, Bitetti was supposed to fight against Luta Livre superstar Marco Ruas but Ruas pulled out fo the fight thus leaving Bitetti declared victor.
Amaury Bitetti's real MMA debut was at the Desafio where he fought 3 matches in one night in the International Vale Tudo Tournament. Bitetti defeated his first opponent, Francisco Nonato who was a Karate specialist via submission via punches in the first round. The 2nd fight was against a kickboxer named James Adler, where Bitetti also won via submission via punches in the first round. Unfortunately, the last fight did not go Bitetti's way as he lost by an unfortunate KO against Capoeira stylist Meste Hulk when Bitetti got caught by a hard right hook while trying to shoot for the takedown.
Bitetti would go on to compete in UFC 9 against UFC legend Don Frye after in an interesting turn of events replaced Marco Ruas due to Ruas being injured. The fight showed the tenacity and toughness of Bitetti as he would take a lot of punishment by the American after unsuccessfully being able to take Frye down. Eventually the referee stopped the fight leaving Frye to take the victory.
That same year, Bitetti would go on to fight in a Brazilian event called Vale Tudo O Lutador in Rio de Janeiro where he would defeat Maurice Travis by Rear Naked Choke in the first round.
It would be 4 years until Bitetti would enter an MMA event again, this time once again in the UFC 26 against Lions Den standout Alex Andrade. Bitetti came with fire into the match, going after Andrade with Andrade landing a kick to the face which happened to be illegal according to the UFC rules as Andrade was wearing wrestling shoes and was not allowed to kick to the head with the shoes on. The fight would continue with Bitetti delivering punishment on Andrade only to have Andrade disqualified because he kicked Bitetti in the head once again.
The last fight of Amaury Bitetti's MMA career was against a truly talented MMA fighter and UFC veteran Dennis Hallman a year later at Shogun 1 in Honolulu, Hawaii. The fight was a war with both fighters giving their all for 3 full rounds with Bitetti winning a split decision for the victory.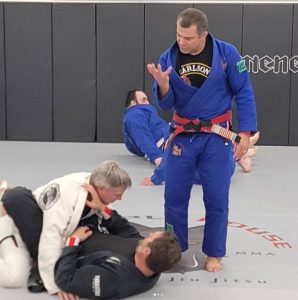 Amaury Bitetti's Life After MMA
Amaury decided to hang up his gloves afterwards and focus on teaching BJJ as well as MMA to his friends and students of whom include MMA legends the Noguiera brothers and Vitor Belfort. 
On top of being a world class BJJ and MMA instructor, Amaury Bitetti also founded Bitetti Combate, which is one of Brazil's top MMA organizations. Bitetti Combate help bring up many top Brazilian UFC fighters such as Fabio Maldonado, Glover Teixeira and many others.
Currently Amaury Bitetti now runs a world class BJJ and MMA school called Grapple House BJJ in Edwardsburg, Michigan, helping his students achieve their goals and continue the development of BJJ in Michigan.
In Conclusion
Amaury Bitetti is a true example of a BJJ master, he is extremely talented and a man of character. Bitetti beat the best of the best and will always be remembered as one of the best BJJ fighters of all time. Amaury Bitetti truly is a Grapplezilla.